Gender Sensitization workshop held for the mental Health of Women at SMS Lucknow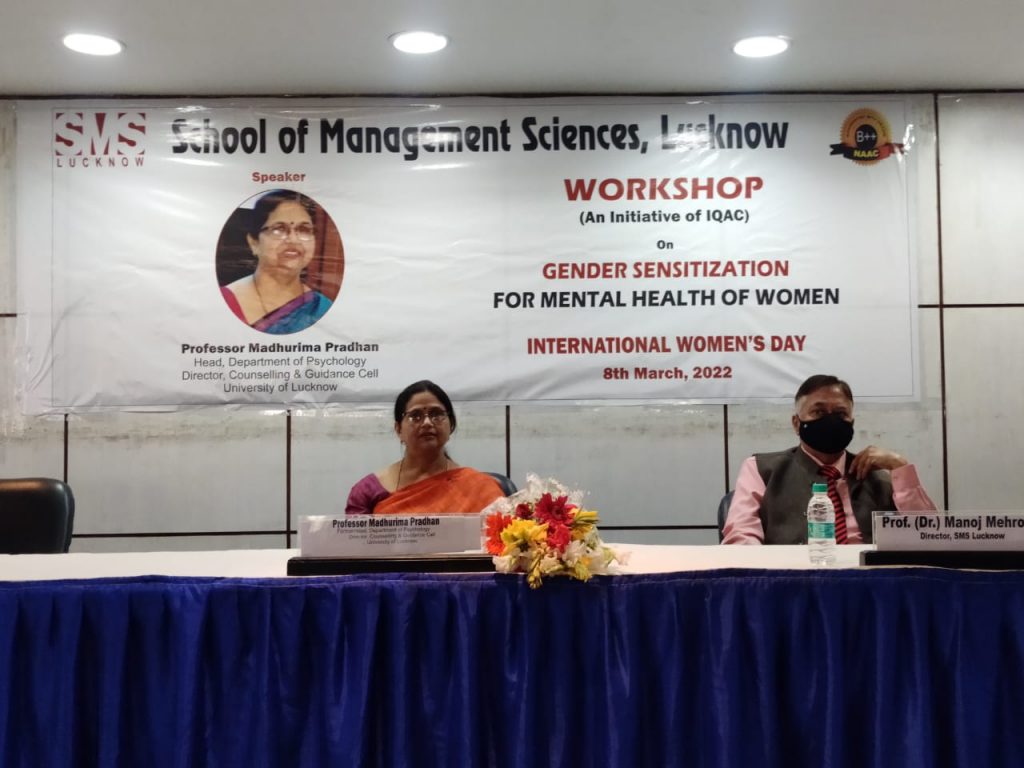 Lucknow: A workshop was organized on 8th March, 2022 in the auditorium of School of Management Sciences, Lucknow on the occasion of "International Women's Day". The workshop was organized on the topic "Gender Sensitization for Mental Health of Women". On this occasion Professor Madhurima Pradhan, former Head of Psychology Department of Lucknow University and Director, Counseling and Guidance Cell, was the keynote speaker.
Prof. Madhurima Pradhan, while addressing the students, faculty and staff present in the auditorium, said that the difference between a boy and a girl starts from a family, which can lead to a huge gap in the society. We should eliminate the mentality of division among boys / girls from our family itself. To assess the mental state of a woman, to be aware of her mental health, to provide her a healthy mental environment is the first responsibility of a family. We should provide a good environment to the women of our house and without making any distinction between boy and girl. We should educate them that no work is divided between men or women to live life, which are used in daily life. Execution of tasks is a skill and not task scheduling, which must be learned by every man and woman.
The Secretary and Chief Executive Officer of the Institute Shri Sharad Singh said that progress cannot be made in any society unless the people of that society are educated, whether it is a man or a woman, further he said that if a woman from a family educated, then she can contribute more in getting her children educated, so special emphasis should be given to women's education.
Director of the institute, Prof. (Dr.) Manoj Mehrotra and Director General (Technical) Prof. (Dr.) Bharat Raj Singh were also present on the occasion. Prof. Mehrotra said the students and personnel present in the auditorium from the table that since our country became independent, the circumstances of today have changed completely. In government and non-government institutions, women have supported men shoulder to shoulder and achieved social and economic progress. Therefore, men should also cooperate with women and make them partners in progress.
नोट:
अगर आपको यह खबर पसंद आई तो इसे शेयर करना न भूलें, देश-विदेश से जुड़ी ताजा अपडेट पाने के लिए कृपया The Lucknow Tribune के  

Facebook

 पेज को 

Like

व Twitter पर 

Follow

करना न भूलें...
------------------------- --------------------------------------------------- -------------------------------------------------------------------------------------------------------------------------------------------------