Get ready for the thrill and action-packed performance of Sunny Deol with the world television premiere of 'Chup' on &pictures!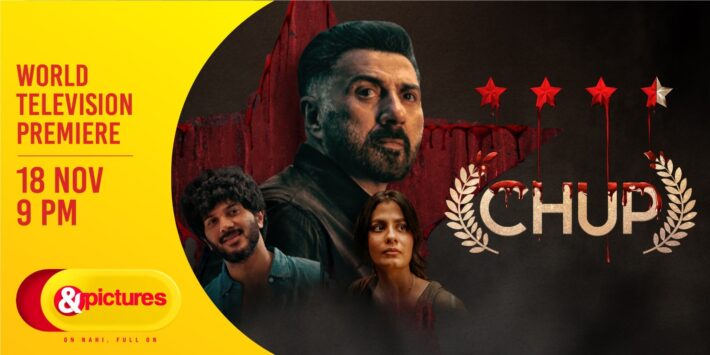 ~ Hold on to your seats because the mystery and thriller film 'Chup' is coming straight to your homes, on &Pictures ~
Mumbai: &Pictures brings to its audiences the world television premiere of Chup: Revenge of the Artist. It is a psychological thriller that explores the dark corners of human thinking and goes to the dark depths of the film industry. The film narrates the stark reality of the cinematic world, where film critics unknowingly become victims of their own harsh judgments and face a painful end. When the entire city is going through such gruesome incidents, Inspector General Arvind Mathur, played by Sunny Deol, is given the difficult task of exposing the serial killer who is responsible for these brutal murders. . The film 'Chup' shows the audience the dark, horrifying and sensational side of film reviews. In this, such shocking incidents of serial murder take place, which have plagued our city. While &Pictures staying true to its promise of full on thrill, the channel brings the World Television Premiere of the film Chhup on 18th November at 9 PM.
Highly appreciated by critics and fans for its great direction and stellar acting, Chup: Revenge of the Artist has received a rating of 7.6 on IMDb. Director for this film R. Balki has also won the Best Director Award at the Dadasaheb Phalke International Film Festival. The film has a great cast and some questionable characters, including the extremely talented Danny, played by the likeable actor Dulquer Salmaan. For this film, Dulquer Salmaan also received his first Bollywood award at the Dadasaheb Phalke International Film Festival Award. In this he has played the role of a flower seller, which is a very complicated character.
In this film, Shreya Dhanwantri plays the role of Neela, an aspiring journalist who has her own deep secrets and Pooja Bhatt plays the role of Dr. Zenobia. The story focuses on some key suspects and how all these characters come across very mysterious circumstances in which no one is beyond suspicion.
The mastermind behind the film Chup is director R. Expressing his excitement about its world television premiere, Balki said, "I am very excited to take this film to a wider audience with the world television premiere of Chup on &Pictures because this film won me the Dadasaheb Phalke Award. Has given a big honor like (Best Director). We have worked hard to create this psychological thriller that challenges and engages the audience with its intriguing story and suspenseful presentation. With this premiere, Chup will create a new level of excitement on the small screen and I look forward to seeing how the film once again keeps the audience on the edge of their seats."
Shreya Dhanwantri said, "Chup has been a wonderful journey for me as an actor and viewer of an exciting story. I diligently did extensive research to capture this character and its complex nuances. The psychological aspect of this film took me out of my comfort zone as an actor and added a depth to my character that will surely enthrall the audience. However, what really attracted me to this project was its unique script and the opportunity to work with a talented team. Chup is an extremely exciting journey and I look forward to seeing audiences experience this deeply cinematic experience at &Pictures."
So get ready for an intense and heart-wrenching experience with this masterpiece full of suspense and thrill on 18th November at 9 PM only on &Pictures.
नोट:
अगर आपको यह खबर पसंद आई तो इसे शेयर करना न भूलें, देश-विदेश से जुड़ी ताजा अपडेट पाने के लिए कृपया The Lucknow Tribune के  

Facebook

 पेज को 

Like

व Twitter पर 

Follow

करना न भूलें...
-------------------------