Gomti Hatchery to be developed as model hatchery in state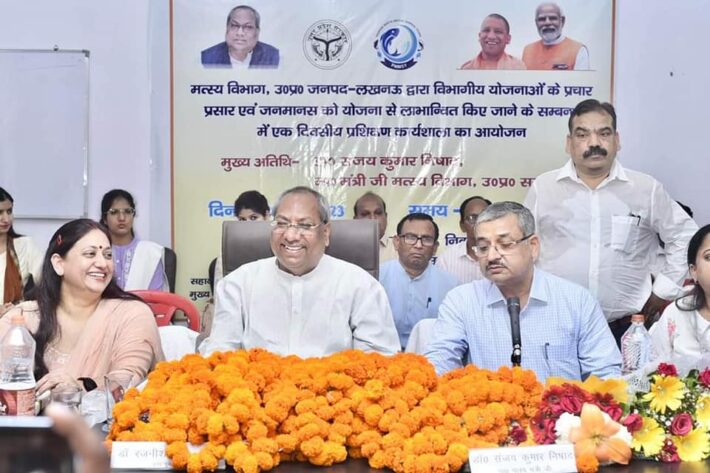 Lucknow: Uttar Pradesh Fisheries Development Minister Dr. Sanjay Kumar Nishad said that Gomti Hatchery Fish Seed Production Center will be developed as the first state-of-the-art hatchery in the state. In the first phase of the work of Gomti Hatchery located in Bakkas village of Lucknow, hybrid boundary wall, entrance gate, construction of tube well etc. have been developed with own resources at a cost of Rs 195.44 lakh, which was inaugurated by the minister.
In the programme, the Fisheries Development Minister said that the second phase project has been sent to the Government of India for approval at a cost of Rs 06 crore. Under Pradhan Mantri Matsya Sampada Yojana, State of Art Training cum Demonstration Center will be set up at 05 hatcheries under corporation management namely Gomti Hatchery- Lucknow, Saryu Hatchery- Ayodhya, Triveni Hatchery- Prayagraj, Coach Hatchery- Jalaun, Parikshitgarh Hatchery- Meerut.
For which the proposal of the total project cost of Rs 3062.42 lakh has been sent by the Department of Fisheries to the Government of India. On this occasion, an MoU was also signed with the National Bureau of Fisheries Genetic Resources, Lucknow, for the rearing and promotion of Operation Chitala and Operation Pabda Meen in the state.
Dr. Nishad said that it is necessary to promote and increase chitala fish in the main rivers of the state and in the ponds by fish farmers. In which work will be done to rehabilitate chitala fish through river ranching with the help of National Bureau of Fisheries Genetic Resources, Lucknow. In the first phase, river ranching is proposed to be done in the month of August in the district- Ghaghra in Ayodhya, Ganga in Varanasi and Yamuna river in Agra.
Dr. Nishad said that with the help of National Bureau of Genetic Resources of Fisheries, technology will be developed for rearing and culture of Pabda fish. Due to the high value of this fish, it will prove helpful in doubling the income of the farmers. On this occasion, the schemes run by the Fisheries Department, such as Prime Minister's Fisheries Estate Scheme, Chief Minister's Fisheries Estate Scheme, Nishadraj Boat Subsidy Scheme, Fishermen's Welfare Fund, Kisan Credit Card, Fishermen's Accident Insurance and a brief summary of the programs run by Fisheries Development Corporation and Fisheries Co-operative Union .
The Minister also released the booklet published by the department for the knowledge enhancement and publicity of the fish farmers. On this occasion, Additional Chief Secretary of Fisheries Department, Dr. Rajneesh Dubey said that Gomti Hatchery will be developed as a state-of-the-art model hatchery and through Operation Chitala, Operation Meen, the field of fisheries development will get a new direction and this will increase fish production. There will be continuous growth and there will be creation of self-employment opportunities.
This year, early breeding was done at the hatcheries of State Corporation in the month of April and May also, from which 70 to 80 MM was obtained. Big size fish seed will be fed and stored in reservoirs, which will increase the income of hatcheries and fish production will also increase in reservoirs. Dr. Dubey said that the work of management of 20 reservoirs of the state is also being executed by the UP Fisheries Development Corporation.
Last year Rs 1060.62 lakh was recovered from the above reservoirs and in the year 2022-23 Rs 1861.09 lakh has been recovered. Which is 175.47 percent more than last year's recovery. For the purpose of diversification in the species of fish seed produced from the corporation's hatcheries, availability of fish seed of Amur carp, black carp and pangasius species will also be made available to fish farmers.
Seeds of Amur carp and black carp have been obtained, which will be cultured to prepare brooders. On this occasion, Special Secretary and Director of Fisheries Department  Prashant Sharma said that the main objective of Uttar Pradesh Fisheries Development Corporation is to make available high quality fish seed, fingerlings of different species, to ensure availability of fish seed throughout the year and high price.
Fish seed technology has to be developed for which Uttar Pradesh Fisheries Development Corporation Limited is fully prepared. The program was attended by  Viru Sahni, President of UP Fisheries Cooperative Union, President of Fisheries Development Corporation  Ramakant Nishad, Director of NBFGR Dr. Uttam K Sarkar, CGM of UP Fisheries Development Corporation Ejaz Ahmed Naqvi, Joint Director  NS Rahmani, Deputy Director  Puneet,  Monisha and  Anjana and a large number of farmers and fishermen were present.
नोट:
अगर आपको यह खबर पसंद आई तो इसे शेयर करना न भूलें, देश-विदेश से जुड़ी ताजा अपडेट पाने के लिए कृपया The Lucknow Tribune के  

Facebook

 पेज को 

Like

व Twitter पर 

Follow

करना न भूलें...
-------------------------