Good actors with knowledge of theatre are now making the cut in Bollywood – Dr Anil Kumar Rastogi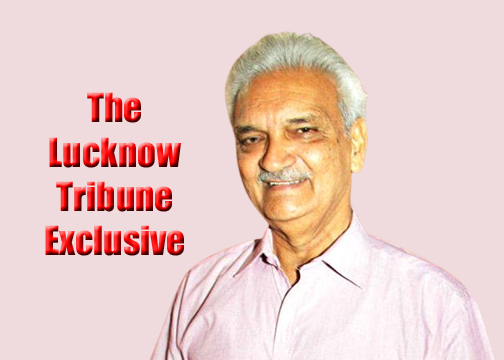 Arijit Bose
Lucknow: He has worn many hats, one as a scientist with a deep understanding of Biochemistry to that of an actor who started life on theatre stage and then became a force to reckon with in Bollywood. For him Mumbai is his Karmbhoomi, but the city of Lucknow till this date remains what he calls his aangan. Having shot to fame with DD One's Udaan, he has to his credit several good films and plays.
Dr. Anil Rastogi, a scientist by profession, had such a passion for theater that he brought laurels to the city by giving quality presentations even in those days when there were no comfortable auditoriums like Rabindralay and Rai Umanath Bali. The alleys of Raja Bazar and Rastogi Tola still are testimony of his popularity.
His family has been living in Raja Bazar's Gamle Wali Kothi for many generations. Since the father had six brothers, there used to be more than twenty-five children in the joint family itself. In the early days studies were conducted in lanterns. He studied up to eighth grade in Rastogi Pathshala near Jhageshwar Mahadev Temple, then did high school and inter jubilee. In 1954, his father came to his house in Rastogi Tola.
When he did MSc after BSc from LU, in the same year the subject of Biochemistry started as a two year independent course. While doing that, he applied for the scholarship of CDRI, which was approved. He joined CDRI in 1964 and retired in 2003 as the equivalent of Director. His interest in science was awakened after meeting cosmonaut Yuri Gagarin in 1960 at CDRI.
In 1958, he saw the plays Chandragupta, Chanakya, Mandhata, Pannadhay in Bagh Mecca and Ashrafabad under the direction of Sudhanshu Bose.
When Rabindranalaya started, in 1964 he acted in the stage play 'Maa Ki Pukar' under the direction of Rajeshwar Bachchan. Directed by Rajeshwar, he starred opposite KP Saxena in the play 'Taj Mahal 2016'. Acting in popular plays like 'Hybadan', 'Harishchannar ki Baadhai', 'Panchhi Aa Panchhi Jaa' staged at Begum Hazrat Mahal Park was commendable. In 1972, he joined Darpan Sanstha. The result of his efforts was that he got o work with big people like BV Karanth, Bansi Kaul, Balraj Pandit, Ravi Baswani, Shyama Jain, Dinanath, Ajay Karthik, Alopi Verma, Ranjit Kapoor, Sanjeev Wilson.
He is best remembered for productions like Na Bole Tum Naa Maine Kuch Kaha, Razia Sultan, Aashram, Shiksha Mandal, Main, Meri Patni Aur Woh, Ishaqzaade, Raid, Batla House , Acting Ka Bhoot, A suitable Boy among others. Here is an excerpt of our conversation with the veteran.
In 60 years how do you think Darpan has helped stagecraft evolve and reinvent itself? 
I can't say that Darpan has helped in evolution of Stage Craft but certainly Darpan has set certain parameters of High Standard plays by way of regular theatre all these years with plays directed by mostly eminent Directors of town and from National School of Drama alumni.
Acting is not rocket science but how would you describe the science behind acting?
The science behind acting is that it is meticulous like science. In science we do experiments to find some thing new or unknown, in theatre we try to be , what a character or role requires and create some thing other than what a person himself or herself is.
What is the feeling like when you see a humble scientist like yourself onscreen? 
Now it looks like routine, but of course it gave a great feeling when I first heard myself on Radio or saw myself on small screen. Now it gives a feeling how better I could have done by taking some extra precautions.
Do still theatre actors hold sway in Bollywood Or is it now easier for people to make a foray minus prior experience on stage?
In my opinion more and more good theatre actors will get chances in films and theatre training will become an important part of acting. Because as I see stardom is fading out and good actors with theatre background are making roads for themselves in films. As yet anybody without any training could do theatre like me but now time is coming training in a proper school or attending theatre workshops will become important to learn basics of acting.  More theatre one does with different good directors, more one learns  . So taking theatre casually will not work.
Any memory from Darpan that will stay with you forever? 
My association with Darpan is  now 51 years old and there are several memories but I would like to quote two instances . One was role of Pratosh in play Surya Ki Antim Kiran Se Surya Ki Pehli Kiran Tak ( 1976 )  directed by Urmil Kumar Thapliyal where I portrayed the role of Pratosh , the one whom queen  Sheelwati  chooses to spend night with her to have a heir for the kingdom as the king was impotent. We had a bed room scene and Thapliyal ji designed it in such a way that through sounds and dialogues in background  by me and Neerja Gupta ji, who acted Sheelwati  and special light effects by late Peer Gulam ji on bed lying empty on stage , audience ( even with closed eyes ) could have the real feel  of scene. Even Mr Surendra Verma , the writer of the play who was there in the audience , appreciated the idea which was absolutely new to him also as a writer. This could be possible because both of us were Radio artists as well. That is why I very much emphasize that during rehearsals speech  modulation should be an important part of training , which mostly directors  ignore.  The other instance is acting as Yehoodi in play Yehoodi Ki Ladki by Agha Hashra Kashmiri (1979) again directed by Urmil Thapliyal. The role was initially being done by Sri Anupam Kher , but he had to leave in between due to some very important assignment at Mumbai.  Thapliyal ji asked me to take the role which was very challenging and moreover being portrayed earlier by an actor so powerful as Kher Sahab.  I agreed to that at only one condition that Thapliyal ji will rehearse with me each and every single dialogue of the play with me for almost  a week  or so  and  then also if I and he, both are convinced that I will do justification to the role . We rehearsed one to one for almost 10 days and then we announced that I was portraying  the role of Yehoodi and I can say ,  this role is amongst my very few best roles  and is still very close to my heart.
How do you see the Bollywood of today ?
I very rarely see films so my comment may not be justified.
Who according to you is the most bankable actor among the current crop, why? 
The promising and rising stars of today are actors like Manoj Bajpai, Pankaj Tripathi, Nawazuddin, Prateek Gandhi and so on simply because they are not stars but actors.
Why do you think Lucknow has suddenly emerged as a hot destination for Bollywood? 
The reasons are many. First is Government policy of subsidy on films be it Hindi,  or in regional languages  like Awadhi, Bhojpuri and so on, and to products on OTTs. It also pays fee to artists . Then Lucknow has very good locations in and around city.  Lucknow having traditions of theatre and having BNA provides good talent in form of artists at comparatively cheaper rates . Besides, Lucknow food also attracts big producers to make films here.
My limited experience tells me media is not glamorous, it's a lot of hard toil, what's your take on showbiz? 
I do not agree. Electronic  Media is most glamorous and that's why more and more people are getting attracted to it. It gives you overnight recognition. I remember when I worked in serial UDAAN  of Kaveta Chowdhry in 1989, it gave me recognition all over the country as the serial was very popular. My role in Ishaqzade took me to Mumbai for acting at the age of almost 70 years. Rather I would say it's the only field which gives me fastest recognition. Of course , good acting is not simple and you have to work hard to achieve the goal.
With Film City where do you see local talent heading.?
It's very good for local talent. Because as I said UP has no dearth of artists.  In fact if we look at the Industry in Mumbai, a huge percentage of on screen and off screen artists are from this region. Many in State can not move to Mumbai for family or other compulsions, and their talent gets wasted. That way film City would provide them ample opportunity to work while sitting at home.
Where do you stand in the debate around Bollywood versus South? 
As said I don't see many films but have heard South pictures are more glamorous with many scenes drawn by computer graphics with lavish sets and costumes so are getting more popular in Hindi belt but with OTTs getting more and more popular its difficult to compare.
Films like The Kerala Story, kashmir files are not a one off case. These are part of discourse off and on. Is controversy good publicity? 
Any controversy positive or negative, generates curiosity in audience and is the reason
Of making it popular.. It is heard that sometimes even producers make it controversial to get free publicity.  Kerala Story and Kashmir files had different reasons to be controversial because they tried to show the reality of society from which we want to shy away..
Have you still kept the scientist in you alive? 
No, once I retired from job, for some time I continued with science as I was co coordinator of an Indo Danish project for one year after retirement. But later I bade Tata to science as to continue with two different disciplines was getting more and more difficult for me. Moreover science particularly my discipline Biochemistry is developing so fast that to cope up with modern developments is almost impossible.
How do you think science can be turned into a fun element beyond formulae and laws? 
Actually modern science is a fun beyond formulae and laws which are initially important but at advanced stages its a fun like theatre where you create something new every day. The pleasure that one derives as an actor when he performs on stage is no less than when you perform a successful experiment in lab. My colleague Dr Pradeep Srivastava has developed a new science which has now been introduced in courses also  named Scientoons,  means learning science through cartoons.
Your message to lucknow youngsters ?
Simple. See good theatre, Do good theatre with good directors. Take theatre seriously and not just a past time and ladder to ride to go to films. Rehearsals are to be taken seriously with full concentration on own role and on roles of others being  told by director. Never get disheartened on rejection. Its part of the game. Take care of your health and maintain good health.
Any big projects that you may like to highlight ?
There are many but one which is really big is Capsule Gill with Akshay Kumar, Parineeti Chopra and other big names of Industry, but derived from theatre.
नोट:
अगर आपको यह खबर पसंद आई तो इसे शेयर करना न भूलें, देश-विदेश से जुड़ी ताजा अपडेट पाने के लिए कृपया The Lucknow Tribune के  

Facebook

 पेज को 

Like

व Twitter पर 

Follow

करना न भूलें...
-------------------------