Governor distributed kits to make 69 Anganwadi centers functional in Kanpur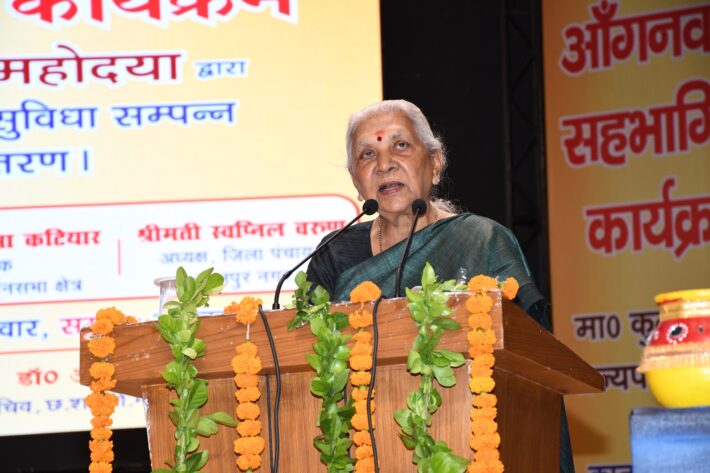 Lucknow: During her one-day visit to Kanpur, the Governor of the State  Anandi Ben Patel distributed essential materials to make 69 Anganwadi centers of the district functional in the Anganwadi participation program organized at Chhatrapati Shahu Ji Maharaj University, Kanpur.
The material was provided by five organizations of the district to strengthen the Anganwadi centers. Training of Anganwadi workers of Kanpur district was also organized in this program organized at Veerangana Rani Lakshmi Bai Auditorium of the University. In this program, Anganwadi workers were taught language in sports, let's learn maths, let's learn science by doing, song-story/physical and yoga in a very simple and interesting way by the trainers.
Addressing on the occasion, the Chancellor and the Governor said that the materials provided at the Anganwadi centers are very useful for the overall development of the children. She said that cultural programs should also be presented by the children of Anganwadi. The children who give the best presentation should also be rewarded. On this occasion, Chancellor and Governor  Anandiben Patel appreciated the efforts of the University in empowering the Anganwadis.
She said that children studying at Anganwadi centers should be motivated for higher education in future and become university students, for this they should be motivated for education from childhood. She called it everyone's responsibility necessary to take forward the last person of the society and said that there is a need to work with a sense of service.
All of you must work for social service. She told about the Jal Bharo campaign regarding water harvesting and how important it is to make potable water available. Expressing happiness over the increase in enrollment of children in schools through Anganwadi kits, she stressed the need to strengthen all Anganwadi centers in future also. On this occasion, the Governor also gave the message of water conservation along with Jal Bharo program by flowing water in Matki.
A documentary related to the Anganwadis strengthened by the university was screened in the programme. In this documentary, the details of the work being done in the Anganwadis strengthened by the University were shown.
Mayor of Kanpur city, Pramila Pandey and  Baby Rani Maurya,  Minister, Women Welfare, Child Development and Nutrition also expressed their views in the programme.
They were present along with Mayor, Kanpur City and public representatives were present. Pranveer Singh Institute of Technology – 20 Kits, Rama Medical College and University, Kanpur – 17 Kits, Narayana Medical College and Research Center – 17 Kits, RK Jalan, AFPL Global Pvt Ltd, Kanpur – 10 Kits provided in Anganwadi Partnership Program KIT, Kanpur Institute of Technology, Kanpur-05 KIT institutes were awarded by  Vice Chancellor.
On this occasion, Ayurvedacharya, Dr. Vandana Pathak, Vice-Chancellor of Uttar Pradesh Rajarshi Tandon Open University, Prof. Seema Singh, Finance Officer of the University,  Ashok Kumar Tripathi, Dean of Student Welfare, Prof. Neeraj Kumar Singh, Prof. Sandeep Kumar Singh, Dr. Praveen Bhai Patel, Dr. Sandesh Gupta, media in-charge Dr. Vishal Sharma, Dr. Rashmi Gore, Dr. Manas Upadhyay, Dr. Sneh Pandey, Dr. Pushpa Mamoria and Dr. Pankaj Dwivedi etc. were present.
नोट:
अगर आपको यह खबर पसंद आई तो इसे शेयर करना न भूलें, देश-विदेश से जुड़ी ताजा अपडेट पाने के लिए कृपया The Lucknow Tribune के  

Facebook

 पेज को 

Like

व Twitter पर 

Follow

करना न भूलें...
-------------------------