Gram Chaupals are helping rural areas build a stronger future – Keshav Prasad Maurya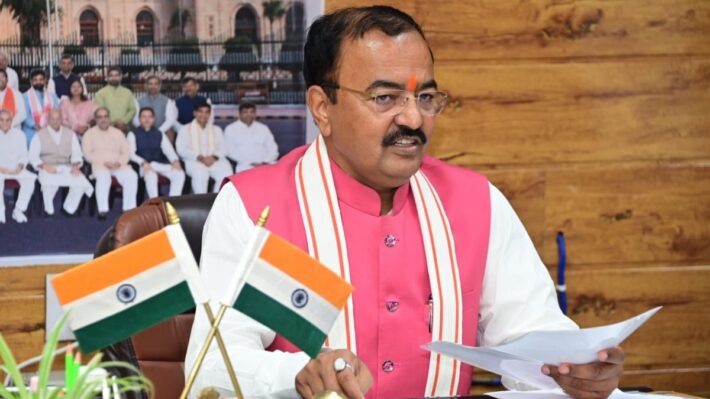 Lucknow: Deputy Chief Minister of Uttar Pradesh Keshav Prasad Maurya has said that the organization of village chaupals has increased the pace of implementation of village development schemes and with the beautification of the villages, the standard of living of the villagers is improving, the government itself is reaching out to the villages and the poor.
While village chaupals reveal the ground reality of various projects going on in the villages, the implementation of social sector schemes is gaining momentum, not only this, for the solution of the problems the villagers have to approach the tehsil, district or capital. And a solution is being found in their own village.
Encouraging results are emerging from the Gram Chaupals being organized every Friday in 2 Gram Panchayats of each development block in the state. While people's problems are being understood and solved by organizing village chaupals on Fridays in the state, the ground reality of development and construction works including beneficiary-oriented schemes is also being examined.
According to the information received from the Rural Development Department, from January 6, 23 till now, Gram Chaupalos have been organized in 43119 Gram Panchayats of the state, in which more than 32 lakh villagers were present and more than 2 lakh 17 thousand problems/issues were resolved.
Deputy Chief Minister  Keshav Prasad Maurya has directed the high level officials of the Rural Development Department to give a more grand look to the village chowpals and to install a big bank drop in the village chowpal and there, the Pradhan Mantri Awas Yojana-Rural and Chief Minister of that gram panchayat. The list of beneficiaries of the housing scheme, different types of pensioners and the list of beneficiaries of other schemes of that village should be displayed. The Deputy Chief Minister directed that this arrangement should be ensured through block development officers. Apart from this, a two-month roster of village chaupals should be issued and publicized, so that more and more people can reach the village chaupals and get their problems resolved.
नोट:
अगर आपको यह खबर पसंद आई तो इसे शेयर करना न भूलें, देश-विदेश से जुड़ी ताजा अपडेट पाने के लिए कृपया The Lucknow Tribune के  

Facebook

 पेज को 

Like

व Twitter पर 

Follow

करना न भूलें...
-------------------------