Holi festivity in Techno Group of Institutions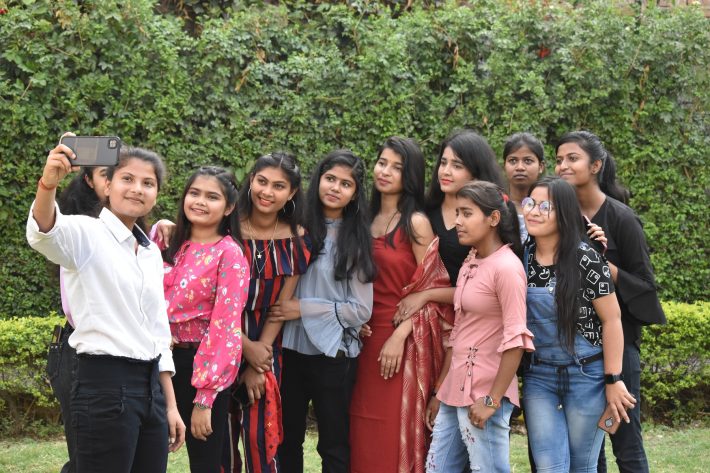 Lucknow: The college campus was in its full splendour as DJ music was played with fervour full swing during Holi celebrations of 2022. Students were seen in beautiful colorful dresses. The colors of happiness were sparkling through their faces. The event was the Pre-Holi celebration in Techno Group of Institutions. The programme went on for more than 3 hours. The Chairman  R.K. Agarwal, President Vidhi Agarwal, Managing Director Rishi Agarwal  along with the faculty members were present during the event.
The students danced with full energy on songs like "balam pichkari", "rang barse", "do me a favour, lets play holi", "badri ki dulhaniya"etc. Infact holi mashup songs were on fire. The students took numerous selfies while enjoying.
The chemical colors were prohibited in campus but DJ appeared as a bonanza.
The Chairman  R.K. Agarwal gave the message of "Happy and "Safe Holi". He also added that Peace and harmony is a vital segment of society. President Ms Vidhi Agarwal promoted love and mankind to the students. She also said that we should take care of the environment and water resource management. The MD Mr.Rishi Agarwal stated the intrinsic and historical values of the festival and wished a safe Holi to the students.
नोट:
अगर आपको यह खबर पसंद आई तो इसे शेयर करना न भूलें, देश-विदेश से जुड़ी ताजा अपडेट पाने के लिए कृपया The Lucknow Tribune के  

Facebook

 पेज को 

Like

व Twitter पर 

Follow

करना न भूलें...
------------------------- --------------------------------------------------- -------------------------------------------------------------------------------------------------------------------------------------------------