How and what did you study and become "IAS", the girl innocently asked the Director General of Atal Residential School.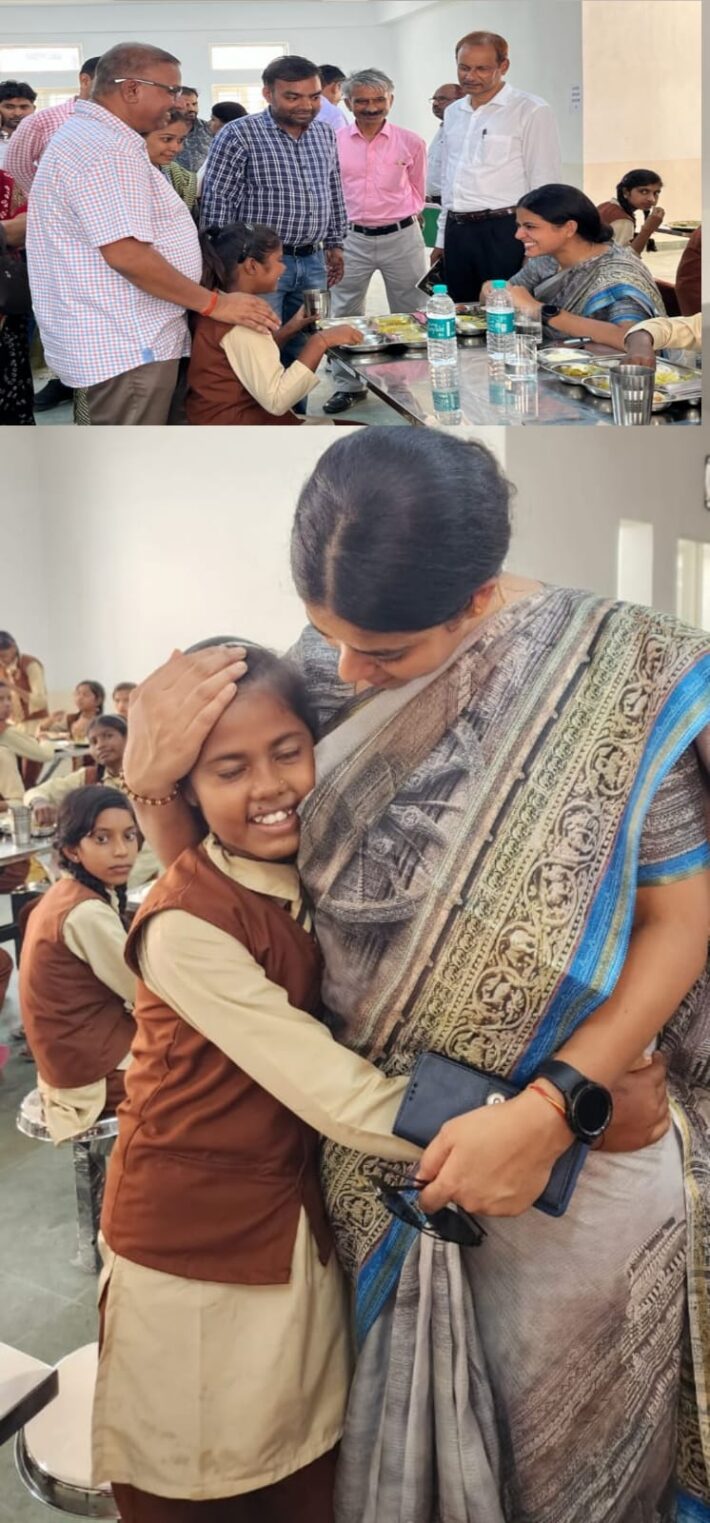 Ravindra Kesari
Sonebhadra: How and what did you study to become an "IAS"? When a little girl innocently asked a direct question to the Director General of Atal Residential School, Atal Residential School Committee, the Director General  Nisha Anant hugged her with love. During the inspection of Atal Residential School, Gurmura Sonbhadra, Nisha Anant was one of the innocent questions asked to the Director General, Atal Residential School Committee during the informal conversation with the children while sitting among the children studying in  the school.
On September 16, the Director General conducted a surprise inspection of the Atal Residential School constructed in Gurmura, Sonbhadra, in which he discussed with the children in the class the quality of education, teaching, facilities provided to them etc. with love and affection.
During the talk, the children told about their dreams and plans and also learned the mantras to be successful in competitive examinations. During this time, the Director General also became aware of the hidden talent of the children. Atal Residential School will be formally inaugurated by the Prime Minister on 23 September in Varanasi district and along with this, these schools built in all the divisions of the state will also be formally inaugurated in a virtual manner.
As part of the preparations for the inauguration,  Nisha Anant, who came to see the ground reality of this school, inspected all the arrangements made in the school and expressed satisfaction, finding all the preparations and arrangements to be of quality. During this time,  Anant also had food in the mess with the children.
The children were happy to have the Director General among them. On the basis of feedback from children, their services were immediately terminated on the spot after complaints were received about harsh treatment of children by 02 teachers. On this occasion, the Director General directed the Deputy Labor Commissioner, Mirzapur Zone, Pipri – Sonbhadra to regularly inspect the school, keep a vigilant eye on the quality of food, working efficiency of the staff, teachers and their teaching, working system etc.
नोट:
अगर आपको यह खबर पसंद आई तो इसे शेयर करना न भूलें, देश-विदेश से जुड़ी ताजा अपडेट पाने के लिए कृपया The Lucknow Tribune के  

Facebook

 पेज को 

Like

व Twitter पर 

Follow

करना न भूलें...
-------------------------