I admire the innocence of Sunny Deol – Amisha Patel on Gadar 2 experience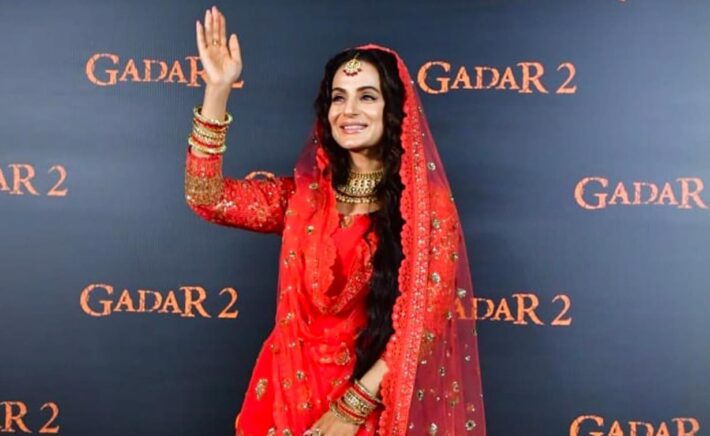 1. How did it feel to reunite with Sunny Deol?
It's always a pleasure working with Sunny Deol. This time, it was like revisiting a memorable chapter of the past, with both curiosity and familiarity! It gave me a chance to develop myself and our characters. I think Sunny and I are very real in our lives, and Tara and Sakina are also like that. Some weaknesses and innocence are still present and I like this very thing about Sunny. They bring out your best qualities. Seeing them after such a long gap, I felt a deep connection and the memories of the moments spent together became fresh. It felt as if time had not moved forward.
2. Sakina connected deeply with audiences across cultures. What do you feel about this?
The film has created its own fanbase across the world. So much so that husbands wanted their wives to be Sakina and wives wanted their husbands to be Tara – as Sunny rightly said. To make Sakina the way she is, I had to understand the nuances of her identity, and that was the most important thing. This required being sensitive to his feelings and experiences. It was a complex task to convey the turmoil of deep emotions and the patience of a woman torn between her love and loyalty to her family on the one hand and her new love across cultural boundaries on the other. To present Sakina's inner struggle and strength with complete credibility, I had to delve deep into the character.
3. Gadar 2 is being aired on television for the first time with Zee Cinema. What do you think about this film reaching a large audience?
This is a story that has an infinite charm, and I believe audiences from all walks of life will connect with the patriotism, culture, pain, customs and power of true love. This is a great opportunity for more people to experience the magic of this film and the world it depicts. For us, this film is because of the audience and we are excited to take it to every corner of India through Zee Cinema.
A great war, a mega blockbuster and a film that united the entire nation… Now Gadar will happen again, because Zee Cinema has announced the world television premiere of 'Gadar 2' on Saturday, November 4 at 8 pm. Is. Directed by Anil Sharma and starring a stellar cast including Sunny Deol, Ameesha Patel, Utkarsh Sharma, Simrat Kaur, Manish Wadhwa and Luv Sinha, the sequel takes forward the legacy of 'Gadar – Ek Prem Katha' and explores love, family and unity. Shows a heart-touching story of the strong relationship between father and son.
So be a part of this historic journey of cinema with love, emotion, pride and of course, the legendary Sunny Deol. Experience the grandeur of 'Gadar 2', a film that won millions of hearts, on Zee Cinema!
नोट:
अगर आपको यह खबर पसंद आई तो इसे शेयर करना न भूलें, देश-विदेश से जुड़ी ताजा अपडेट पाने के लिए कृपया The Lucknow Tribune के  

Facebook

 पेज को 

Like

व Twitter पर 

Follow

करना न भूलें...
-------------------------