IIT Kanpur and Engineers India Limited launch 'Hackathon EngSUI Startup Innovation Quest' for aspiring entrepreneurs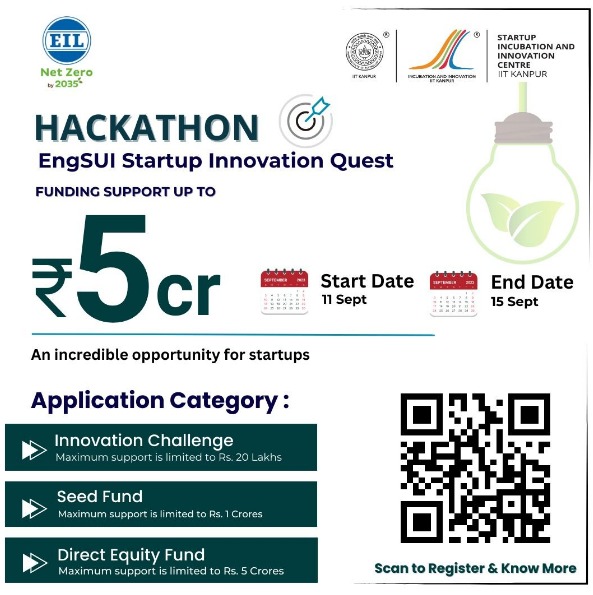 • The "Hackathon EngSUI Startup Innovation Quest" program offers impactful opportunities for aspiring entrepreneurs to bring innovative ideas to life
• The Hackathon offers three distinct funding categories: the "Innovation Challenge" (up to Rs. 20 Lakh), the "Seed Fund" (up to Rs. 1 Crore), and the "Direct Equity Fund" (up to Rs. 5 Crores), catering to a wide range of entrepreneurial aspirations
• EIL's Startup India Initiative encompasses key areas, including oil & gas hardware, hydrocarbon innovation, IT solutions, IIOT, lube packaging, renewable energy, green materials, and sustainability initiatives like waste-to-energy, biofuels, and eco-friendly projects, empowering startups to drive growth and promote environmental sustainability
Kanpur: The Indian Institute of Technology Kanpur (IITK) and Engineers India Limited (EIL) have introduced a startup program named "Hackathon EngSUI Startup Innovation Quest" for aspiring entrepreneurs. Commencing on September 11, 2023, and accepting applications until September 15, 2023, this unique initiative offers aspiring entrepreneurs an unparalleled chance to bring their innovative concepts to life and nurture them into prosperous enterprises.
The heart of the EIL Hackathon Program lies in its three distinctive funding categories, which include "Innovation Challenge" (up to Rs. 20 Lakh), "Seed Fund" (up to Rs.1 Cr), and "Direct Equity Fund" (up to Rs. 5 crores). These funding opportunities are designed to empower entrepreneurs from different professional backgrounds, offering essential financial support to transform their innovative ideas into successful startup ventures.
EIL's Startup India Initiative identifies certain key focus areas for proposals. These include manufacturing hardware for the oil & gas industry, developing innovative processes and technologies for the hydrocarbon sector, and implementing IT and IIOT (Industrial Internet of Things) solutions designed for the industry. Additionally, opportunities extend to Lube Packaging, Renewable Energy and storage, Nano Materials, Waste-to-energy, Biofuels, Engineering plastic from petrochemical product slate, Replacement of Raw material/catalyst, and Health, Safety & Environment (HSE).
The "Hackathon EngSUI Startup Innovation Quest" program is carefully designed to empower visionary minds and support aspiring entrepreneurs. It addresses the common challenge of securing funding for startups. IIT Kanpur and EIL, dedicated to nurturing innovation and assisting entrepreneurs in a world filled with an abundance of ideas, aim to foster entrepreneurship and innovation, both nationally and globally, through this initiative.
नोट:
अगर आपको यह खबर पसंद आई तो इसे शेयर करना न भूलें, देश-विदेश से जुड़ी ताजा अपडेट पाने के लिए कृपया The Lucknow Tribune के  

Facebook

 पेज को 

Like

व Twitter पर 

Follow

करना न भूलें...
-------------------------