IIT Kanpur showcases model of rural development through Online Rural Education Initiative (OREI) platform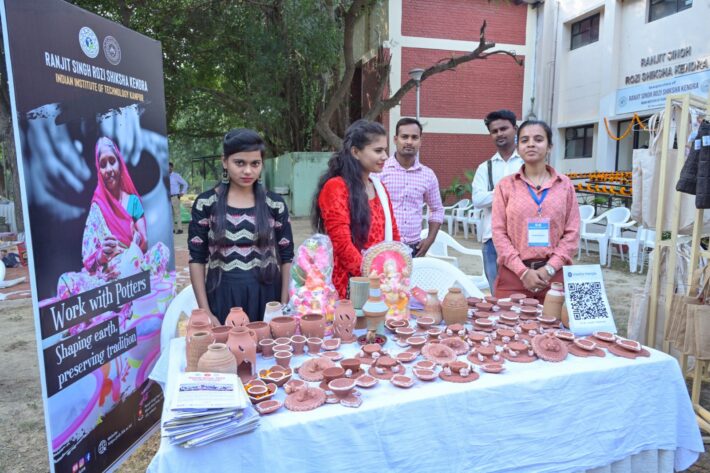 • The OREI platform is used by doctoral students at IIT Kanpur to virtually connect with rural students to teach them concepts
• OREI is a unique model of imparting education supported by the Government of Uttar Pradesh
Kanpur: The Ranjit Singh Rozi Shiksha Kendra of the Indian Institute of Technology Kanpur (IITK) showcased a model of rural development in a unique ceremony in the presence of the Chief Guest Shri Durga Shankar Mishra, Hon. Chief Secretary of the Government of Uttar Pradesh, and special guest  Raju Jalan, Vice Chairman of Council of Leather.
The doctoral students from IIT Kanpur demonstrated teaching the students at remote rural schools through the Online Rural Education Initiative (OREI) platform. The Chief Guest, along with other distinguished guests at the event, actively participated and interacted with children after their classes. When the Chief Guest inquired about how the IIT Kanpur classes were benefiting them, the children responded enthusiastically, stating, "OREI classes make difficult concepts simple. The math classes are especially interesting, and we love them." Another student commented, "Physics is taught through simple experiments, making it much easier to understand." When asked about her future aspirations, Swati, a Class X student at Ram Janki Inter College, replied, "I want to become a big officer." The Principal of the school praised the IIT volunteers for their boundless enthusiasm that brings the subjects come alive for the children.
Professor Sandeep Sangal, the Head of Rozi Shiksha Kendra (RSK), guided the Chief Guest through the classroom's backend, showcasing hundreds of simple experiments developed by volunteers for use in smart classes. He explained, "When children are introduced to concepts through these models, it captivates their attention quickly, leading to better retention of concepts."
Durga Shankar Mishra, Hon. Chief Secretary of the Government of Uttar Pradesh engaged in a free-flowing conversation with student volunteers from IITK and commended on their dedication, saying, "You are going above and beyond your call of duty, and your efforts are truly commendable." He noted that OREI is a unique model supported by the Government of Uttar Pradesh and encouraged the RSK to expand its reach by connecting with more universities and aiming to reach 500 students by the following year. The Unnat Bharat Abhiyan program, which connects higher learning students with children in remote village schools, was also praised. He highlighted the positive impact of IIT students for making lectures exceptionally clear and understandable.
The Chief Guest also presided over the certificate distribution and award ceremony for Rozi Shiksha Kendra's skilling program. He emphasized that training in leather and garment industries is a wise choice, as they are also part of Kanpur district's ODOP (One District One Product) initiative. He encouraged the trainees to enter the industry, become job creators instead of job seekers, excel in their work, and consider setting up their own businesses, leveraging schemes like ODOP and Vishwakarma Yojna. He expressed his happiness at witnessing the transformative effect of education and skill development on the lives of numerous young girls.
The Chief Guest highlighted that IIT Kanpur not only excels in science and engineering education but also works for the betterment of society. He fondly recalled his time as an IIT Kanpur student when he used to cycle to villages and participate in NSS and NCC activities. He urged the trainees to recognize their own talents and aim for the highest achievements.
He praised the RSK Centre's efforts in bringing together various stakeholders and emphasized that partnerships and networks are essential for any successful program, aligning with the government's current objectives. He stressed the importance of technology and design inputs to enhance product quality and market appeal, noting that IIT Kanpur is well-equipped for this purpose.
Professor S. Ganesh, Officiating Director, IIT Kanpur, shared information on the inception of RSK and its remarkable progress in just two years, presenting a model of rural development, suggesting the state government to adopt this model and facilitate its expansion on a larger scale.
Prof. Sudhanshu Shekhar, Prof. Ark Verma, Prof. Shikhar Mishra, Prof. Santosh Misra, Dr. Sandip Patil and Mr. Sandeep Saxena are also associated with OREI platform.
नोट:
अगर आपको यह खबर पसंद आई तो इसे शेयर करना न भूलें, देश-विदेश से जुड़ी ताजा अपडेट पाने के लिए कृपया The Lucknow Tribune के  

Facebook

 पेज को 

Like

व Twitter पर 

Follow

करना न भूलें...
-------------------------