IIT Kanpur to Mentor IIS Kanpur to Establish State-of-the-art Laboratories and Cutting-Edge Curriculum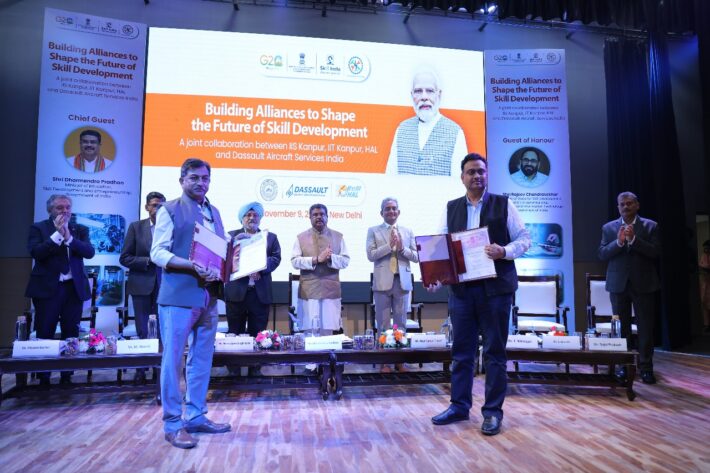 Kanpur: The Indian Institute of Technology (IIT) Kanpur and Indian Institute of Skills have entered into a memorandum of understanding (MoU) in which IIT Kanpur will mentor the Indian Institute of Skills (IIS) for the next five years. The MoU was inked in the presence of Shri Dharmendra Pradhan, Minister of Education and Minister of Skill Development & Entrepreneurship.
Our Honorable Prime-Minister has aimed at making India the Skill-Capital of the world. To implement this vision, we need first of all a well-planned technical environment to demonstrate how high skill works take place, provide experienced mentors to help students navigate and identify the areas of improvement and ways to achieve, and above all a networking environment with the professionals related to the field.
To keep pace with the development and to maintain our Honorable Prime Minister's direction of "Sabka Sath Sabka Vikas – Sabka Viswas and Sabka Prayas", we need to create a new bridge. The two key results of technology – Knowledge and Skill must meet in a new-age environment where the vast group of people without any access to quality education must acquire the skills relevant for the modern world while the learned people must utilize their knowledge towards the development of an ecosystem where it is applied towards the development of our societal needs and aspirations.
Aligned with the objective of Ministry of Skill Development and Entrepreneurship, to empower and prepare the local youth for the aerospace and defence sector particularly to support the Defence Industrial Corridor in Uttar Pradesh, IIS also exchanged MoUs with Hindustan Aeronautics Limited (HAL) and Dassault Aircraft Services India (DASI).
Shri Dharmendra Pradhan, Hon'ble Union Minister of Education, and Skill Development & Entrepreneurship said, "This collaboration between IIT Kanpur, Indian Institute of Skills Kanpur, HAL India, and Dassault Aircraft Services India, marks a significant chapter towards shaping the future of skill development and empowering India's youth. For the first-time ever educational institute, skilling institution and industry are coming together to synergise efforts to certify and future-proof youth".
The idea of Indian Institute of Skills was conceptualized by the Honorable Prime Minister during his visit to Singapore's Institute of Technical Education and the decision of the establishment of IIS was taken in the cabinet meeting held on 24th October 2018. It was envisioned that the Indian Institute of Skills would be the first of its kind in the country which would benchmark and a range of best practices for skill development.
Prof. Subramaniam Ganesh, Officiating Director, IIT Kanpur, said, "IIT Kanpur continuously strives to make education more accessible breaking the barrier of socio-economic inequity and effective to meet the rising demands of high skill technology. In a unique effort to expand our horizon, we have agreed to the proposal of mentoring the Indian Institute of Skills. We intend to mentor IIS for at least five years and hope to make it self-sustaining once we establish all the laboratories, engage skilled manpower and course works for training".
Prof. Bishakh Bhattacharya, HAL, Chair Professor, Department of Mechanical Engineering will lead the team from IIT Kanpur along with Dr. Abhilash Patel, Department of Electrical Engineering, and Dr. Keval S Ramani, Department of Mechanical Engineering as the co-coordinators. Subsequently, more faculty members from IIT Kanpur will join this endeavor.
Prof. Bishakh Bhattacharya, HAL, Chair Professor, Department of Mechanical Engineering, IIT Kanpur who is leading the team from IIT Kanpur said, "With the rapid advancement in the industry world-wide, it is extremely crucial to upskill the working force and the youth of our country to the new age technologies such as Robotics & Automation, Advanced Manufacturing, Agriculture 4.0: Smart Farming, Advanced Defense Technology and Healthcare. This is a wonderful opportunity, and we are delighted to extend our mentorship to IIS in its formative years".
IIT Kanpur will be involved in the mentoring the development of laboratory infrastructure at IIS Kanpur, developing suitable course curriculum based on the laboratory system, offering joint certificate and diploma courses as approved by the two institutes (IITK and IIS), and the development of Center for Deep-Skill Training and Research (CDSTAR) at IIT Kanpur which will be complementary to the training at IIS Kanpur.
To further enhance the experiential learning and create a fusion of the Skill and Knowledge between the students of IIS and IITK, there will be at least six Deep-skill laboratories housed at the CDSTAR at IIT Kanpur including, Noise and Vibration Lab (NVH), Advanced Control Systems Lab (ACSL), Advanced Robotics Lab (ARL), Semiconductor Packaging Lab (SPL), Medical Imaging Lab (MIL) and Drug and Pharma Lab (DPL). IIT Kanpur will integrate the skilled professionals from IIS into the entrepreneurship ecosystem at the SIIC and Technology Park of IIT Kanpur. Faculty members of IIT Kanpur would seamlessly integrate with the Deep skill laboratories, bring industrial consultancy, and create economically viable operations of the system.
The foundation stone for IIS, Kanpur was laid by the Honourable Prime Minister Shri Narendra Modi on 19th December 2016. In an area of 16000 square meter the building is now ready for the Laboratory development at the NSTI complex. This complex will be housing at least 12 state-of-the art laboratories related to Skill Development under the following four major categories such as Machining and Manufacturing: Related laboratories are Aerospace Technology, Welding and NDT, Subtractive Manufacturing like CNC machining, Automobile and Sustainable Urban Mobility lab; Digital Technology: Related Laboratories are Digital Tween and Additive Manufacturing, Industrial Automation and Robotics, Mechatronics, Phygital Design Lab; Information Technology: Related Laboratories are Building Metaverse, Cyber-security and Networking Lab, Smart Systems Lab, Data Analysis Lab; Special Purpose Technology: Smart Textile Laboratory, Leather Technology, Agriculture 4.0 related Technology, Automobile and Sustainable Urban Mobility Technology.
नोट:
अगर आपको यह खबर पसंद आई तो इसे शेयर करना न भूलें, देश-विदेश से जुड़ी ताजा अपडेट पाने के लिए कृपया The Lucknow Tribune के  

Facebook

 पेज को 

Like

व Twitter पर 

Follow

करना न भूलें...
-------------------------