In last 2 U.P. phases star campaigning on shoulders of PM, CM Yogi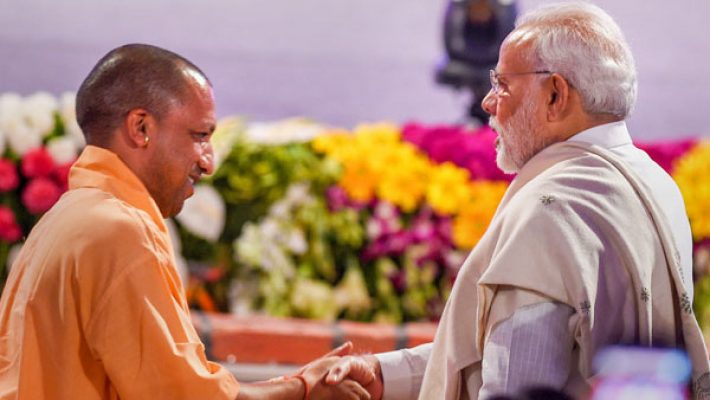 Lucknow: In the last two phases of the Uttar Pradesh assembly elections, the BJP candidate seems to be more dependent on Prime Minister Narendra Modi and Chief Minister Yogi Adityanath. The desire of the candidates is to get both of them in the constituency in any case. The demand for PM and CM was also high in the earlier phases but they have special importance in both these phases. The reason is that all the assembly constituencies of the sixth phase will be around Gorakhpur and all the assembly constituencies of the seventh phase around Varanasi. The voters of the constituencies of both the phases feel a direct connection with the Prime Minister and the Chief Minister.
Gorakhpur is also the constituency of Chief Minister Yogi Adityanath as well as the Karmabhoomi. Being the Mahant of Gorakhnath temple of Gorakhpur, the people of the surrounding areas have been taking his words very seriously. Gorakhnath Temple is also the biggest religious place of Gorakhpur and Basti Mandal. Gorakhpur is the center where people from Bihar and Nepal keep visiting these two divisions as well. This is the reason that every candidate of this area wants that CM Yogi Adityanath's program should also be in his assembly constituency as soon as PM's program is received. Even in terms of the prestige of the Chief Minister, most of the seats in this phase must be in the account of BJP.
The seventh phase covers Prime Minister Narendra Modi's parliamentary constituency Varanasi and adjoining districts. Every political activity of the Prime Minister in Varanasi has an impact on the people of the surrounding districts. The past elections are an example of this. Be it the Lok Sabha elections or the assembly elections, the PM spent more time in Varanasi and has been participating in many programs. This time also the same is expected. The PM has started this on Sunday, February 27 by attending the meeting of booth officials of all the eight assemblies of the district in Varanasi. Due to all these reasons, the BJP candidates of all the assembly constituencies of the seventh phase want to see the PM in their assembly constituency.
It is worth noting that with the noise of the fifth phase of election campaigning, Prime Minister Narendra Modi, Chief Minister Yogi Adityanath, Defense Minister Rajnath Singh, Home Minister Amit Shah, Union Minister Smriti Irani etc. CM and PM have started holding many meetings in a day.
Districts covered in Phase 6: Siddharthnagar, Maharajganj, Kushinagar, Basti, Sant Kabir Nagar, Gorakhpur, Deoria, Ballia, Balrampur and Ambedkar Nagar. Districts included in the seventh phase: Azamgarh, Mau, Ghazipur, Jaunpur, Bhadohi, Varanasi, Mirzapur, Chandauli and Sonbhadra.
नोट:
अगर आपको यह खबर पसंद आई तो इसे शेयर करना न भूलें, देश-विदेश से जुड़ी ताजा अपडेट पाने के लिए कृपया The Lucknow Tribune के  

Facebook

 पेज को 

Like

व Twitter पर 

Follow

करना न भूलें...
------------------------- ----------- -------------------------------------------------------------------------------------------------------------------------------------------------