In Yadav belt, U.P's political players make their presence felt on voting day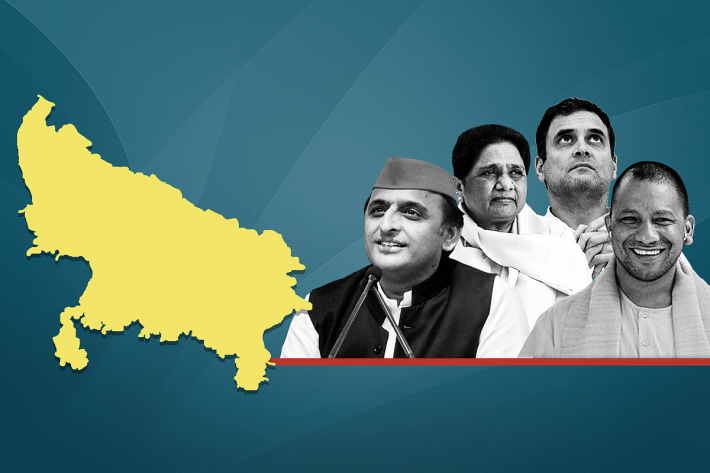 Lucknow: Voting has started for 59 seats in 16 districts in UP. Voting will continue from 7 am to 6 pm. All the people who are queuing in the premises of the polling stationwill have the right to vote. All necessary preparations have been completed for the voting. In the third phase, more than two crore 15 lakh voters will decide the fate of 627 candidates who have entered the electoral battle.
At the same time, voting is going on in Karhal assembly seat today. From here the reputation of former Chief Minister Akhilesh Yadav is at stake. Apart from this, the fate of veterans like Shivpal Yadav, Cabinet Minister SP Baghel, Ramveer Upadhyay, Satish Mahana, Irfan Solanki will be locked in EVMs today.
In the third phase on Sunday, the 59 assembly seats in UP where voting is going on include Hathras, Firozabad, Etah, Kasganj, Mainpuri, Farrukhabad, Kannauj, Etawah, Auraiya, Kanpur Dehat, Kanpur Nagar, Jalaun, Jhansi, Lalitpur, Hamirpur and Mahoba districts.
Akhilesh-Shivpal's fate will be locked in EVMs. SP national president and former chief minister Akhilesh Yadav is contesting from the Karhal assembly seat of Mainpuri.  Against Akhilesh, BJP has fielded cabinet minister Professor SP Singh Baghel. Akhilesh is trying his luck in the assembly elections for the first time from Karhal region. In the year 2017, even in the BJP wave, SP's Sobran Singh Yadav had retained his victory in this seat. The contest has become interesting with the Union minister coming out as the BJP candidate against Akhilesh. Apart from this, Akhilesh's uncle Shivpal Singh Yadav is contesting from his traditional Jaswantnagar seat in Etawah district.
Voting is to be held here today as well. Satish Mahana hoping to score a hat-trick Cabinet Minister Satish Mahana is the BJP candidate from Maharajpur seat of Kanpur district. Desperate to break the winning record, Mahana has been registering consecutive victories for the last 32 years. He is such a leader of BJP who has never tasted defeat. Mahana has won twice from Maharajpur seat. Apart from this, he has been an MLA for five consecutive terms from the Cantt seat.
The SP has given ticket to Fateh Bahadur Gill against him. Irfan Solanki's reputation is at stake. The reputation of SP's Irfan Solanki is at stake from Sisamau seat of Kanpur. He is a three-time MLA. Prior to this, his father Haji Mustaq Solanki used to contest elections from this seat for 10 years. This seat has been occupied by the Solanki family for almost 25 years.
BJP has fielded Salil Vishnoi in the election battle against him. Earlier, Vishnoi used to contest from Aryanagar seat. He has been MLA thrice and is currently an MLC. Ramveer Upadhyay hoping to win for the sixth time Sadabad seat of Hathras district, which is called Jatland, is VIP.
The main reason for this is that former Energy Minister Ramveer Upadhyay is in the fray for the sixth time from here. This time his reputation is at stake in the midst of a tough fight. He is in direct contest from RLD-SP alliance candidate Pradeep Chaudhary.
Strong leader Ramveer Upadhyay has left the BSP and joined the BJP. He has been a cabinet minister thrice. He holds the record of winning elections five times. Apart from this, BSP has bet on Dr. Avin Sharma from here. Congress has given ticket to youth face Mathura Prasad. These 13 seats are sensitive The Election Commission has made tight security arrangements for the polling. The commission has kept 13 out of 59 seats in the sensitive category.
Apart from Karhal assembly seat, these include Aliganj, Sadabad, Arya Nagar, Sisamau, Kidwai Nagar, Kanpur Cantt assembly constituencies. Voters will cast their votes in these seats Hathras S., Sadabad, Sikandrarau, Tundla S., Jasrana, Firozabad, Shikohabad, Sirsaganj, Kasganj, Amapur, Patial, Aliganj, Etah, Marhara, Jalesar S., Mainpuri, Bhogaon, Kishni S., Karhal, Kayamganj S., Amritpur, Farukhabad, Bhojpur, Chhibramau, Tirwa, Kannauj S., Jaswantnagar, Etawah, Bharthana S., Bidhuna, Dibiyapur, Auraiya S., Rasulabad Akbarpur Rania, Sikandra, Bhognipur, Bilhaur S., Bithoor, Kalyanpur, Govindnagar, Sisam Aryanagar, Kidwainagar, Kanpur Cantt, Maharajpur, Ghatampur S., Madhaugarh, Kalpi, Orai S., Babina, Jhansi Nagar, Mauranipur S., Garautha, Lalitpur, Mehrauni S., Hamirpur, Rath S., Mahoba and Charkhari.
नोट:
अगर आपको यह खबर पसंद आई तो इसे शेयर करना न भूलें, देश-विदेश से जुड़ी ताजा अपडेट पाने के लिए कृपया The Lucknow Tribune के  

Facebook

 पेज को 

Like

व Twitter पर 

Follow

करना न भूलें...
------------------------- --------------------------------------------------- -------------------------------------------------------------------------------------------------------------------------------------------------