India basks in the many colours of Holi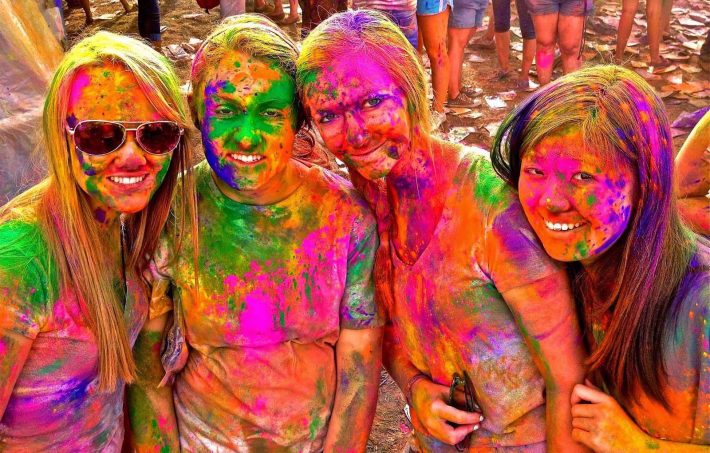 Lucknow: We all know that India is a diverse country, so a festival like Holi is not the same. Everywhere you go it is not the same. Mostly associated with Lord Krishna, and the arrival of spring, it is celebrated in various ways across the country. Here are some of its many variants –
Dol Jatra, West Bengal
Holi is known as Dol in West Bengal. The festival is just a normal exchange of colours, and everyone is on the streets. But a variant of this in the state is Basant Utsav, which is celebrated especially in the town of Shantiniketan. The festival celebrates the arrival of spring, and was first started by Rabindranath Tagore.
Lathmar Holi, Uttar Pradesh
One of the most unique Holi festivals in the country is celebrated in Uttar Pradesh. In this festival, women lift sticks or canes, and beat men in a playful manner. The whole thing sounds like a lot of fun, and there's definitely colors, sweets, music, and festivities. This must definitely be one of the types of Holi that you must experience once in your lifetime.
Shigmo Festival, Manipur
It is Goa's own Holi celebrated every year in the month of March. It is mainly celebrated by the Konkani community living in Goa, but certainly like every other festival in the country, Shigmo is celebrated by all. Interestingly, there are two versions of this celebration, the Dhaktoshigmo or small shigmo, and the Wadhloshigmo or large shigmo.
Dola Purnima, Orissa
Celebrated in Falgun, or March as we know, Dola is a spring festival, a variant of Holi. In Odisha, the festival is celebrated for five days, and finds mention in ancient texts, such as the Puranas and other Sanskrit texts. There is a big procession with drums and pipers and bhog is offered in front of every house. Certainly on the last day, on the day of Holi, people apply colors to each other.
Yoshang, Manipur
Manipur has its own festival of colours, it begins on the first full moon day of Lamda. In the festival devotees worship Sri Chaitanya Mahaprabhu and offer things. The festival sees Manipuri folk dance, devotional music, and involves the entire community in the celebrations. It is a great way to explore a truly unique Indian culture.
नोट:
अगर आपको यह खबर पसंद आई तो इसे शेयर करना न भूलें, देश-विदेश से जुड़ी ताजा अपडेट पाने के लिए कृपया The Lucknow Tribune के  

Facebook

 पेज को 

Like

व Twitter पर 

Follow

करना न भूलें...
------------------------- --------------------------------------------------- -------------------------------------------------------------------------------------------------------------------------------------------------