India ready to take a diplomatic standpoint to douse tensions in Ukraine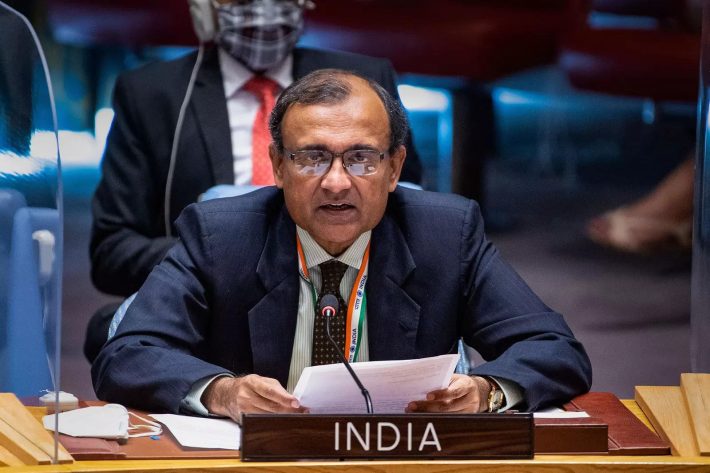 New Delhi: During the meeting of the United Nations Security Council, the United Nations appealed to all countries to meet humanitarian needs in Ukraine. India has also supported this initiative. India said that it is ready to engage in diplomacy to end the war in Ukraine.
India's Permanent Representative TS Tirumurti said that we stand ready to continue with these objectives in the sides (to the conflict) with the Security Council in the coming days. Modi has spoken to both Russian President Vladimir Putin and Ukrainian President Volodymyr Zelensky and urged them to hold direct talks.
Under-secretary-general Rosemary DiCarlo said there were serious fears about the fate of the millions of residents who have been facing intense attacks, saying there have been some positive developments in talks between Russia and Ukraine, but to no avail.  He said that this week, there have been positive signs regarding the ongoing direct talks between the representatives of Ukraine and Russia. We welcome all such engagements.
After the talks Vladimir Medinsky of Russia and Mykhailo Podolik of Ukraine held a round of video talks. Russian Foreign Minister Sergei Lavrov offered a note of optimism in the 22-day war, saying they were close to an agreement.
At the same time, Tirumurti said that we reiterate our call for an immediate end to hostilities across Ukraine. Humanitarian aid should not be politicized and should be guided by the principles of humanity, neutrality, fairness and independence. Tirumurti said India has already sent over 90 tonnes of relief supplies to Ukraine and its neighbors since March 1. We are in the process of identifying other such requirements and dispatching more supplies in the coming days.
World Health Organization (WHO) Director-General Tedros Adhanom Ghebreyesus outlined the health disaster in Ukraine, saying that the life-saving medicine we need now is peace. The WHO has confirmed 43 attacks on health care facilities, in which 12 people, including health workers, have been killed and 34 have been injured.
US Permanent Representative Linda Thomas-Greenfield said she had met with Ukrainian civil society leaders who reported the terror. The terror that Russia is spreading throughout Ukraine, including the shooting of people standing in the bread line. China's Permanent Representative Zhang Jun said an opportunity for a ceasefire was emerging.
Russia's Permanent Representative Vasily Nebenzia acknowledged the humanitarian crisis in Ukraine, but denied allegations of Russia attacking medical facilities or places that shelter people, such as theaters or mosques. He said that we regret that Ukraine has always been a pawn in the struggle against Russia and still remains a pawn.
नोट:
अगर आपको यह खबर पसंद आई तो इसे शेयर करना न भूलें, देश-विदेश से जुड़ी ताजा अपडेट पाने के लिए कृपया The Lucknow Tribune के  

Facebook

 पेज को 

Like

व Twitter पर 

Follow

करना न भूलें...
------------------------- --------------------------------------------------- -------------------------------------------------------------------------------------------------------------------------------------------------