India Transformed: Modi Government Completes Nine Eventful Years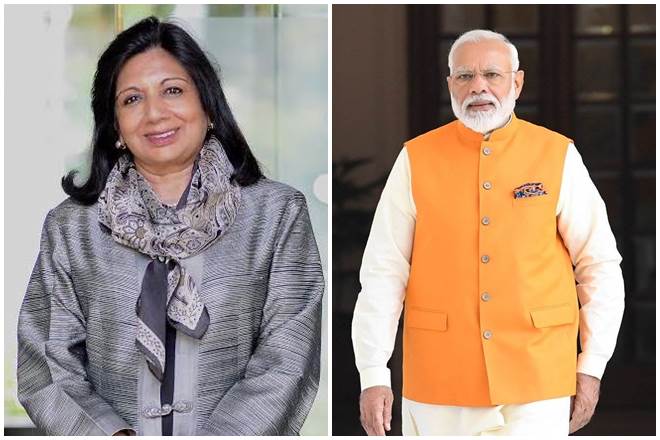 By Kiran Mazumdar-Shaw
"It is time for us to realize that we're too great a nation to limit ourselves to small dreams. We're not, as some would have us believe, doomed to an inevitable decline. I do not believe in a fate that will fall on us no matter what we do. I do believe in a fate that will fall on us if we do nothing. So, with all the creative energy at our command, let us begin an era of national renewal. Let us renew our determination, our courage, and our strength. And let us renew our faith and our hope. We have every right to dream heroic dreams."
The above quote from former US President Ronald Reagan resonates with how it is India's time to dream big.
When Shri Narendra Modi took the Prime Minister's office nine years ago, India's slow
economic growth, high unemployment and high fiscal deficit were similar to those of the US in the 1980s. Under the leadership of PM Modi, the government implemented several transformative initiatives that have impacted the lives of all sections of Indian society to take our great nation to greater heights.
Transforming Healthcare
As someone involved in the healthcare, pharmaceutical and biopharmaceutical industries, and as an entrepreneur myself, I believe that one of the standout areas of this administration is its
commitment to building a better and more resilient national healthcare system.
When the whole world was struggling to cope with the COVID-19 pandemic in 2020, India was able to effectively tackle the deadly virus through decisive leadership, proactive planning, and innovations such as the Aarogya Setu and CoWIN apps. As a result, India not only successfully administered over 200 million vaccines to over 90% of its population, but also reached out to various other countries, sending vaccines as part of the Vaccine Maitri initiative.
In the last nine years, the Modi Government has built a digital platform for healthcare that aims to deliver healthcare to all. eSanjeevani, the Government's innovative telemedicine service, helps people reach specialist doctors in major cities without leaving their homes. This is a great help
for the elderly and those living in remote areas with inadequate medical care. It also allows day labourers to consult without fear of losing their wages. Over 120 million patients have accessed quality health services remotely via eSanjeevani till date.
Under the Jan Aushadhi Pariyojana, the Government is providing high quality, generic medicines, that are equivalent in quality and efficacy to expensive branded drugs, to the masses at affordable prices through dedicated stores. India sold generic medicines worth over $160 million in the fiscal year 2023.
The Ayushman Bharat Yojana is playing a crucial role in creating a healthy and productive new India through its network of over 1,54,000 health and wellness centres, as well as providing insurance cover to the economically weaker sections of the society. Nearly 220 million citizens of India have benefited from this mega health insurance scheme.
Spurring Entrepreneurship
Another great change that I have noticed as a businesswoman is the evolution of the country's entrepreneurship landscape over the past nine years.
Today, so many dynamic young people are finding innovative solutions to our everyday problems. This is only possible thanks to highly-targeted Government initiatives such as 'Make in India' and 'Start-Up India'. Political leadership has played an important role in India's transition to a pro-business nation. The number of start-ups has grown from just around 350 before 2014 to more than 90,000 in 2023 with over 100 unicorns, according to latest Government data.
It's great to see the Prime Minister himself applauding the nation's youth, their ideas, and their achievements, which has been a great source of inspiration for many others who want to make a difference to society but are afraid of the risks involved. Today, the youth of our country are no longer afraid to plunge into nation-building and are transforming India as a hub of innovation.
In fact, the business-friendly changes in the country's laws and regulations have improved infrastructure such as roads, air connectivity, etc., which have helped India Inc.
Today, many multinational corporations are looking to India as a promising destination for manufacturing. Both foreign direct investment (FDI) and exports have increased tremendously in the last nine years. India has been ranked among the world's top 10 largest recipients of FDI and received highest-ever inflows worth US$ 84.8 billion in FY22.
Championing Social Reforms
Another important achievement, I believe, lies in women's empowerment. The Beti Bachao Beti Padhao program has changed the whole perception of Indian society towards their daughters.
Today, the birth of daughters is being celebrated, and women are making India proud in each and every field, be it sports, science, entertainment, defence, or aviation.
I believe, this is a big achievement, not only for this Government, but for each and every Indian woman.
Over 408 million women have become self-reliant thanks to the MUDRA loan project for small and micro enterprises. The Ujjawala Yojana has helped as many as 96 million women from the most underprivileged sections of society get access to LPG (Liquefied Petroleum Gas) at subsidised rates. This scheme is saving millions from acute respiratory illness resulting from indoor air pollution caused by unclean cooking fuel.
Conclusion
In these nine years, PM Modi's policies have boosted India's global standing, attracted substantial FDI, strengthened infrastructure, spurred investment in technology, and created huge opportunities for entrepreneurs. Today, India is the fifth-largest economy which is growing twice as fast as the world economy. Under his visionary leadership, India has transformed into a more confident and self-reliant nation that is in tune with its rich cultural heritage and historic legacy.
Author Kiran Mazumdar-Shaw is Executive Chairperson, Biocon Ltd. and Biocon Biologics Ltd.
–PIB
नोट:
अगर आपको यह खबर पसंद आई तो इसे शेयर करना न भूलें, देश-विदेश से जुड़ी ताजा अपडेट पाने के लिए कृपया The Lucknow Tribune के  

Facebook

 पेज को 

Like

व Twitter पर 

Follow

करना न भूलें...
-------------------------