Indira Marathon sends out a No Plastic message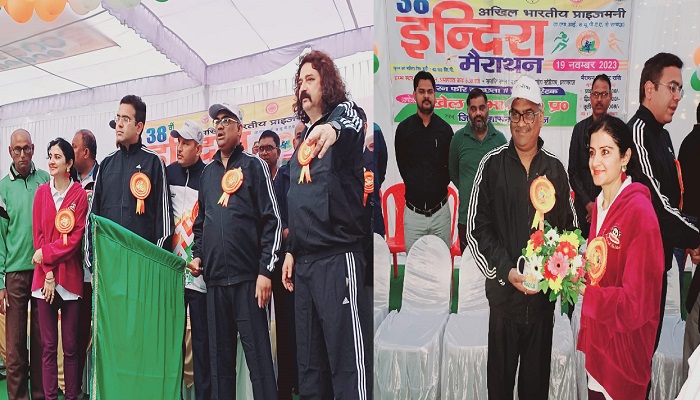 Lucknow/Prayagraj: Like every year, on the birthday of former Prime Minister Indira Gandhi, this year too the 38th All India Prizemoney Indira Marathon was organized at the national level in Sangam city Prayagraj. 394 runners from across the country participated in this marathon, in which 345 male and 49 female runners participated. In which Jaswant Baghel stood first, V Siranu of Army stood second and Anil Kumar of Prayagraj stood third.
Sports Minister Girish Chandra Yadav, Mayor Umesh Chandra Ganesh Kesarwani and DM Navneet Singh Chahal welcomed the runners participating in the Indira Marathon organized on the birth anniversary of former Prime Minister Indira Gandhi (November 19) in Prayagraj at 6.30 am from Anand Bhawan. Sent off after showing the green flag. In the year 1985, before the beginning of the 42 kilometer Indira Marathon under the international beads, former Prime Minister Late. Indira Gandhi was honored by garlanding her portrait.
In continuation of the cleanliness and plastic free campaign being run by Swachh Bharat Mission Urban, this time the theme of Indira Marathon was kept as "Run for Cleanliness No Plastic". A lot of enthusiasm was seen from all the famous runners who came to the marathon from across the country. Refreshments and medical ambulance have been arranged for the runners at 16 places on the marathon route. NCC cadets have been deployed as volunteers at every kilometer. Approximately 1000 employees have been deployed for this event. For the first time, male and female runners were sent off together in the 42.195 km Indira Marathon.
Indira Marathon
While addressing the program, Sports Minister Girish Chandra Yadav said that the state government is doing historic work to promote sports in the entire Uttar Pradesh. Runners participating in Indira Marathon proceeded from opposite Allahabad University towards Myohal intersection via Teliarganj and the marathon concluded at Madan Mohan Malviya Stadium at 2.30 pm.
Jaswant secured first position in the marathon. In which he completed the race in two hours, 21 minutes and 50 seconds. B Siranu of Army Pune stood second. He took two hours, 21 minutes and 56 seconds. Anil Kumar Singh of Prayagraj stood third. He took two hours, 22 minutes and 21 seconds. Pradeep Singh stood fourth. It took 2 hours, 23 minutes and 11 seconds.
The winner of this 42.195 kilometer long marathon got Rs 2 lakh, the second prize got Rs 1 lakh and the third place winner got Rs 75 thousand. Apart from this, consolation prizes of Rs 10,000 each were given to the runners finishing fourth to 14th.
This time, last time's winners Olympian Sudha Singh and Olympian Gopi T did not participate in the marathon. While former winners Hetram, Rahul Pal of Varanasi, Rahul of Army Pune, former runners-up Ranjana, Divyanka, Siranu of Army, Pradeep Jaswant, 2021 runners-up Anil Kumar Singh, Neeraj Kumar, Aarti Patel, Tamsi Singh, Shyamali Singh, Neeta Patel, Anita Rani, Rani Yadav were included.
​
नोट:
अगर आपको यह खबर पसंद आई तो इसे शेयर करना न भूलें, देश-विदेश से जुड़ी ताजा अपडेट पाने के लिए कृपया The Lucknow Tribune के  

Facebook

 पेज को 

Like

व Twitter पर 

Follow

करना न भूलें...
-------------------------