Inter Group Championship Banner and Award Presentation Ceremony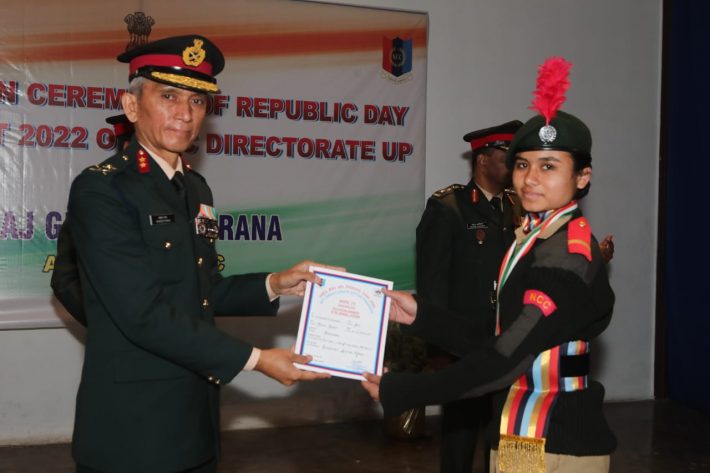 Lucknow: A felicitation and awards ceremony was held at the St Fidelis College, Vikas Nagar, Lucknow on 03 Feb 2022 to welcome the UP State Republic Day Parade NCC Contingent 2022 on the their return from Delhi. Uttar Pradesh Governor's Gold and Silver medals to NCC Cadets and the NCC Inter Group Banner was awarded by the ADG UP NCC Maj Gen Rakesh Rana, on behalf of the hon'ble Governor at St Fidelis College, Vikas Nagar, Lucknow.
Maj Gen Rakesh Rana, ADG NCC UP presented Governor's Gold and Silver Medals to the selected best Cadets. Awards were also presented to contingent, ANOs & PI staff.
Governor Gold Medals : Under Officer Udayveer Raghuvanshi, Senior Under Officer Ashutosh Choubey, Under Officer Aman Pushp, Junior Under Officer Aditi, Cadet Rojita Gurung and Sergeant Deepika Negi. Governor Silver Medals: Junior Under Officer Priyanshu Dixit, Cadet Faiz Raja, Cadet Subhash Chandra, Cadet Abhishek Kumar Singh, Sergeant Divyakriti Bajpai and Junior Under Officer Jyoti Bisht.
During the ceremony Defence Secretary Commendation Card was awarded to Cadet Astha Rastogi. DG NCC Commendation Cards were presented to Lt Divya Kumar, Capt Dr. Rajshree, Maj Akhileshwar Rao, Capt Kiran Lata Dangwal, Maj Praveen Kumari, Lt Meenu Sharma, Capt Sanjay Kumar, Arti Saxena, Ajay Kumar Trivedi, Aman Kumar, Shipra Singh, Mohit Kumar, Amit Kumar Rai, Aman Dubey, Nidhi Yadav, Shubham Yadav, Pranay Pratap Singh, Chandni Chauhan and Pari Hasan.
The UP NCC Directorate was adjudged first in the Cultural Competition. UP NCC Directorate has achieved over all sixth position amongst the seventeen Directorates in Country. This has been a big improvement over previous years when UP Directorate position used to be double digits. 57 NCC Cadets from Uttar Pradesh participated in RDC-22 at New Delhi. 09 Senior Division (Boys) Cadets and 08 Senior Wing (Girls) cadets from NCC Directorate UP were selected for the NCC Rajpath Contingent. 02 Senior Divison Cadets were selected for Guard of Honour. In addition, the prestigious Inter Group Championship Banner for Best NCC Group was also presented to the winner Group NCC Group HQ, Agra. The winning Group is selected out of 11 Groups of Uttar Pradesh after culmination of exhaustive Inter Group competition for the best Group. Events including Drill, Firing, Weapon Training and Obstacle Courses etc. form part of above event.
Maj Gen Rakesh Rana addressed the august gathering at St. Fidelis College, Lucknow. The ceremony was attended by other Senior Army and Civilian dignitaries and NCC Cadets, which culminated with high tea for all in attendance. A multi event cultural show was presented by cadets. The award winning group dance by RDC Contingent was highly appreciated by the guests.
नोट:
अगर आपको यह खबर पसंद आई तो इसे शेयर करना न भूलें, देश-विदेश से जुड़ी ताजा अपडेट पाने के लिए कृपया The Lucknow Tribune के  

Facebook

 पेज को 

Like

व Twitter पर 

Follow

करना न भूलें...
-------------------------
------------------------------------------------------
--------------------------------------------------------
-------------------------------------------------------------------
---------------------------------------------
---------------------------------------------------------------
---------------------------------------------------------
--------------------------------------------------------------------------
  -----------------------------------------------------------
--------------------------------------------------
----------------------------------------------------------------------------------------- ----------- -------------------------------------------------------------------------------------------------------------------------------------------------