Jatayu Cruise Boat sets sail in temple town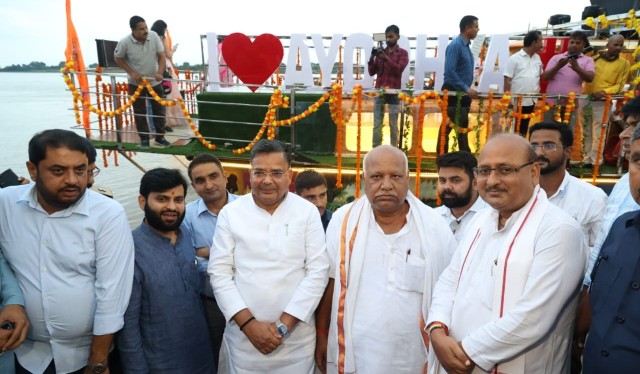 Ayodhya: Uttar Pradesh Tourism and Culture Minister Jaiveer Singh said that Uttar Pradesh Water Transport Authority will soon be formed to promote local water transport in the state. Through this, cruises will be operated in rivers like Rapti, Ganga and Saryu for local business, employment and quick transportation of agricultural products from one place to another. He said that this will also reduce the traffic pressure on the roads and the general public will get fresh vegetables and local products. Along with this, farmers will also get fair price for their produce. He said that the state government is committed to promoting water transport.
Tourism Minister addressed on the occasion of starting operations of Jatayu Cruise Boat at Chaudhary Charan Singh Ghat in Ayodhya. He flagged off the newly built Jatayu cruise boat. He said that the state government is committed to give Ayodhya the grandeur and divinity of Treta Yuga as per the vision of Prime Minister Narendra Modi. State Chief Minister Yogi Adityanath is refurbishing Ayodhya to implement the Prime Minister's vision.
Jaiveer Singh said that large scale development work and international level infrastructure facilities are being developed in Ayodhya, the city of Lord Shri Ram. The construction work of the much awaited grand temple in Ayodhya is in the final stages. Next year, a crowd of domestic and foreign tourists and devotees will gather to visit the grand temple of Lord Shri Ram in Ayodhya, the center of faith for devotees from all over the world. This will provide employment to the local people and will also increase the number of tourists manifold. He said that soon the work of cruise operation will also be started in Mathura and Tirtharaj Prayag. Cruise service is already operating in Varanasi.
The Tourism Minister said that with the start of cruise service today, a new chapter will be added to the grandeur of Ayodhya. Jatayu Cruise is equipped with state-of-the-art facilities. It has seating facility for 100 passengers. It will start from Ayodhya and reach Guptarghat covering a distance of 18 km. This journey will take about one hour. The fare will be Rs 300 per passenger. In this cruise, 70 passengers will be able to travel inside and 30 passengers will be able to travel in Batam. Through this cruise, various places associated with the memories of Lord Shri Ram can be seen while sailing on the calm waters of Saryu River.
Before this, the Tourism Minister reviewed various development works being carried out by the Tourism and Culture Department at Saryu Hotel, Ramkatha Park. He instructed the executing agencies and officials to use high quality materials in the construction works. If sub-standard and substandard material is found, strict action will be taken against the concerned. He said that quality and transparency should be followed while giving top priority to the stipulated time for completing the construction works. On this occasion, various senior officials also gave their suggestions.
On this occasion, MD of Ayodhya Cruise Lines Pvt. Ltd. Rahul Sharma said that our Jatayu cruise boat is dedicated to providing an unforgettable travel experience to the passengers. This cruise encompasses the grandeur and modernity of Ayodhya. He said that in view of the demand of passengers, an ultra luxury cruise ship named Pushpak Viman is being built. Pushpak Viman with a capacity of 150 passengers will add to the beauty of Ayodhya.
On the occasion of the inauguration of Jatayu Cruise, a large number of dignitaries, devotees and other people including local MP Lallu Singh, MLA Ved Prakash Gupta, Divisional Commissioner, District Magistrate, Municipal Commissioner, Mayor and VC Ayodhya Development Authority were present.
नोट:
अगर आपको यह खबर पसंद आई तो इसे शेयर करना न भूलें, देश-विदेश से जुड़ी ताजा अपडेट पाने के लिए कृपया The Lucknow Tribune के  

Facebook

 पेज को 

Like

व Twitter पर 

Follow

करना न भूलें...
-------------------------