K-POP meets Bollywood: AOORA and FRIDAYY Electrify Kanpur in a Spectacular Musical Showcase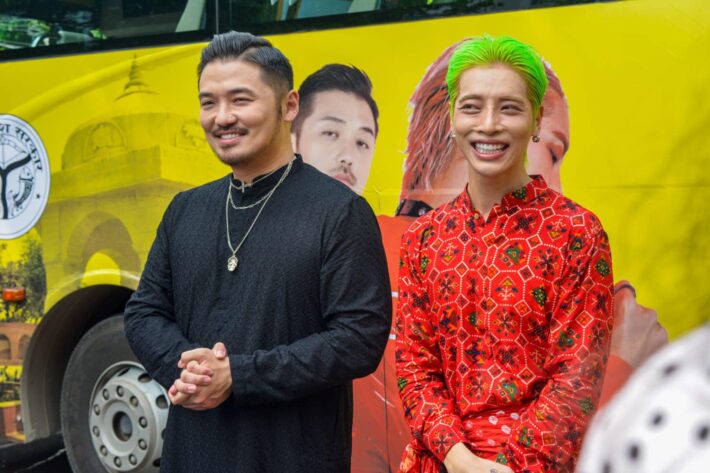 Mukesh Kumar Meshram, Principal Secretary Tourism and Culture Extends Heartfelt Farewell to K-Pop Troupe
Kanpur: Kanpur witnessed a historic cultural convergence as K-Pop sensations AOORA and FRIDAYY lit up the iconic Allenhouse Group on Saturday evening. The concert was organized by UP Tourism to commemorate the 50 years of India-South Korea relations. This enchanting evening was a mesmerizing blend of K-pop and Bollywood melodies, leaving thousands of fans from across Kanpur spellbound.
AOORA and FRIDAYY, two internationally acclaimed K-Pop artists, wowed the audience with their sensational performances. Known for their exceptional talents and global fan base, they delivered an unforgettable show that transcended language barriers and brought people together through the universal language of music in the presence of RK Swarnakar, Commissioner of Police Kanpur, and other dignitaries.
The performance featured a delightful medley of Bollywood favourites, including the iconic songs "UP Wala Thumka", "Jimmy Jimmy," and "Auva Auva." Aoora and Fridayy's unique –K-Pop twist breathed new life into these timeless classics, transforming them into high-energy dance numbers that had the crowd on their feet.
In addition to the Bollywood hits, the artists showcased their versatility by performing popular Korean songs that have earned them a dedicated fan base worldwide. The seamless transition between cultures and musical styles exemplified the power of music to bridge boundaries and connect people from different walks of life.
Aoora and Fridayy expressed their gratitude, saying, "Performing in Kanpur and bringing together the magic of Bollywood and K-pop was a dream come true. The energy and love from the audience were incredible."
This event marked a significant milestone in the 50-year history of India-South Korea relations and highlighted the deepening cultural bonds between the two nations. It served as a reminder of the enduring friendship that has been forged through diplomacy, trade, and cultural exchanges.
Meanwhile, due to his busy schedule, Jaiveer Singh, the Minister of Tourism and Culture, was unable to attend the event in person. However, he conveyed his greetings through a video message, emphasizing the profound impact of music as a bridge for forging emotional connections. Singh expressed his belief that South Korean pop music would play a vital role in fortifying the bonds between the two nations. He underlined how these emotional ties could significantly boost tourism in the state, foreseeing opportunities for artists from the region to venture to South Korea in the future.
Earlier in the day Mukesh Kumar Meshram, Principal Secretary Tourism and Culture, along with Ashwni Kumar Pandey, Special Secretary Tourism extended a warm and enthusiastic send-off to the K-Pop troupe at the Tourism Department office in a heartfelt gesture of appreciation for their contribution to the cultural exchange event in Kanpur. His presence added a touch of official elegance to the farewell, reaffirming the government's commitment to strengthening cultural ties between Uttar Pradesh and South Korea.
नोट:
अगर आपको यह खबर पसंद आई तो इसे शेयर करना न भूलें, देश-विदेश से जुड़ी ताजा अपडेट पाने के लिए कृपया The Lucknow Tribune के  

Facebook

 पेज को 

Like

व Twitter पर 

Follow

करना न भूलें...
-------------------------