Kanpur Airport all set for first flight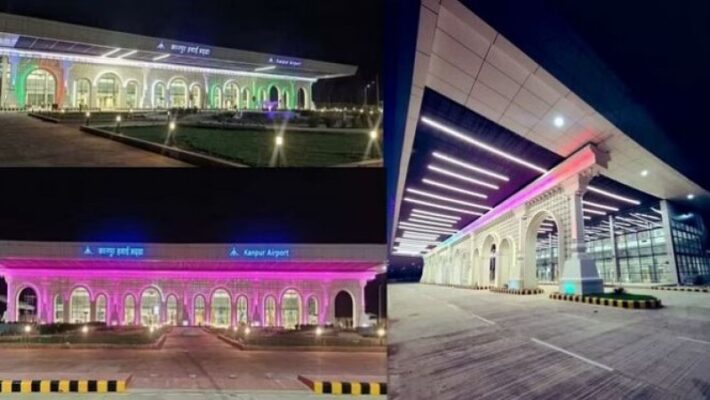 Kanpur: The new terminal of Kanpur airport is set to make easy plane landing and flight on Friday. CM Yogi Adityanath and Union Civil Aviation Minister Jyotiraditya Scindia are about to inaugurate it. This new terminal, built at Mawaiya, two and a half km away from Chakeri Airport, is going to be 16 times bigger than the old airport. The demand raised by the citizens and entrepreneurs for a new commercial airport in 1980 is going to be fulfilled after 43 years. With the commencement of flights to big cities from here, the dependence on Lucknow's Amausi airport is going to reduce.
The Chief Minister is going to arrive at Chakeri Airport at 12:15 pm. He is going to participate in the program from 12:20 pm to 1:35 pm at the new terminal. After which he is going to leave for Ghaziabad from Chakeri Airport at 2 pm. Union Minister of State for Civil Aviation and Road Transport and Highways Retired General Dr. VK Singh, Speaker of Uttar Pradesh Legislative Assembly Mr. Satish Mahana, Industrial Development Minister in Uttar Pradesh Government Nand Gopal Gupta "Nandi", Akbarpur MP Devendra Singh Bhole, Kanpur Nagar MP Satyadev Pachauri and Mayor Pramila Pandey are going to be present.
Demand from CM to increase Delhi flight: SpiceJet flight from Kanpur to Delhi has been closed on May 20, while most passengers from the city go to Delhi. Vijay Kapoor, chairman of Kanpur Industrial Development Costate, has also appealed to the CM to start the Kanpur-Delhi flight. Along with this, SP leader Fateh Bahadur Singh has appealed to Union Minister Jyotiraditya Scindia to start flights to Mumbai, Surat, Ahmedabad for the convenience of traders along with four flights to Delhi. There has also been a demand to connect the airport with the metro corridor.
Facilities aplenty at the new terminal: 
The new terminal building is going to be built in an area of ​​6243 sq.m. at a cost of Rs 150 crore. It is 16 times bigger than the existing terminal.
Three big (A-321 and B-327) aircraft are also going to arrive in the apron at one go. It can be extended up to six aprons. Only one aircraft could land in the old terminal.
Due to the installation of enhanced capability ILS-2 and approach lights, the aircraft will be able to approach even in low visibility in fog and night. Now flights are also canceled due to low visibility.
The waiting hall in the new terminal has a seating capacity of 400 passengers. Till now only 50 passengers will be able to sit.
150 vehicles can be parked in the parking lot of the new terminal. Two buses can also come. Parking of only 20 vehicles is hardly possible in the old airport.
There are 8 check-in counters for quick check-in process for the passengers. There are three conveyor belts to facilitate easy maintenance and collection of goods. It has one departure hall and 2 arrival halls.
There is also a large shopping hall spread over 850 square meters. In which various types of food facilities are also being provided for the passengers for shopping and eating.
Provisions have been made for the visually impaired passengers for touch path.
The roof of the terminal building is made of double insulated metal. It does not let heat and sound inside.
There is rain water harvesting, water treatment plant, sewage treatment plant, 100 kW capacity solar power plant to recharge ground water. It has got GRIH-4 rating for green building.
नोट:
अगर आपको यह खबर पसंद आई तो इसे शेयर करना न भूलें, देश-विदेश से जुड़ी ताजा अपडेट पाने के लिए कृपया The Lucknow Tribune के  

Facebook

 पेज को 

Like

व Twitter पर 

Follow

करना न भूलें...
-------------------------