King of Fruits bears the brunt as Climate change takes a toll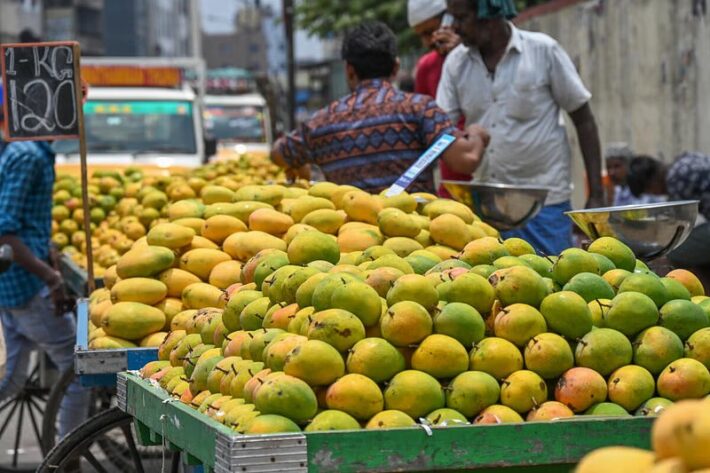 Lucknow:  Climate change is affecting weather conditions around the world. Due to this, natural disasters are also emerging. Even the taste of food is being affected. Especially in Uttar Pradesh, as strange as it may sound. Winters are sometimes colder than normal and sometimes much colder. Summers are hot, but winds, called 'loo' in the local language, are absent.
The rains come and go before and after the monsoon season and the onset of spring also varies alarmingly. This irregular weather pattern is affecting foods that are naturally produced and also those that are man-made.
For example, 'Mango', known as the 'pride of Uttar Pradesh', is gradually losing its taste. Bad weather and unseasonal rains are adversely affecting the king of fruits.
Insram Ali, president of the Mango Growers Association, says, "Unexpected storms in February and March prove to be disastrous for the mango crop. This is their flowering season. The flowers, known as 'blossoms', can be damaged by strong winds. And fall due to rain.
Mango growers believe that the warm winds of May bring sweetness to the fruit. They help in cooking it naturally. Now the summers are hot, but the heat waves do not blow and due to this the taste of mango is being lost.
Another local fruit, which has almost become extinct due to climate change, is 'Phoot', a fruit that belongs to the melon family and is also known as snap melon.
'Foot' is a summer delicacy, which was grown on the sandy banks of rivers in summer. It ripened when hot winds blew in the plains. For the past decade, Snap watermelon has not been seen in the markets. Farmers claim that due to changing weather the crops do not ripen.
Apart from these fruits bearing the brunt of changing weather, some man-made dishes have also been affected.
'Makhan-malai' has been a much-awaited winter dish in Lucknow. Often known as 'Daulat ki Chaat' in Delhi, this sweet is made from milk and prepared in the morning dew. As the temperature falls, the taste of this dish increases.
Ram Kishore, who sells 'Makhan-Malai' in the Chowk area, says, "People have tried making 'Makhan-Malai' by using ice to keep the mixture cold, but never got the desired results. If you Even if one sacrifices one's life, it is impossible to achieve the same result as in winter. It is the dew that works."
He lamented that over the past three years, dew has reduced – mainly due to intensive construction activity – and this impacts the taste of the 'butter-cream'.
Another sweet that is special to Lucknow and largely depends on the season, is 'Dhodhi' barfi made from 'Khoya'. There is a layer of pure ghee on it.
Ravi Gupta's shop is famous for this dish. He says, "If the winters are not cold enough, the layer of ghee on top of the barfi melts and the sweet loses its taste. Till a few years ago, we started making this sweet from Diwali, but , Now we only make it from mid-December onwards."
Prayagraj was once known for its 'lauki ke lachha', where gourd pieces were cooked in sugar syrup and then dried until crisp. This delicious dish was sold in summer. It is believed that it is a coolant.
It is no longer manufactured on a large scale because the summer heat is no longer stable.
Gopal Babu, famous for his expertise in making it, said, "As soon as it starts raining, the dish loses its flavour, so now we make it in very small quantities."
Interestingly, the fruits and dishes that are said to be influenced by weather conditions are all sweet. Citrus fruits or salty dishes are not affected by climate change. Neither fruit growers nor sweets manufacturers have any explanation for this strange phenomenon.
News courtesy – IANS
नोट:
अगर आपको यह खबर पसंद आई तो इसे शेयर करना न भूलें, देश-विदेश से जुड़ी ताजा अपडेट पाने के लिए कृपया The Lucknow Tribune के  

Facebook

 पेज को 

Like

व Twitter पर 

Follow

करना न भूलें...
-------------------------