Lakshman Path work in progress to add new sheen to Ayodhya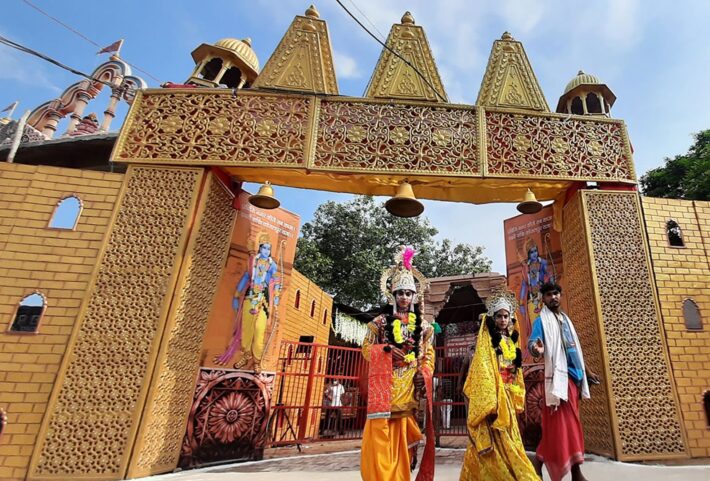 Ayodhya: Yogi government of Uttar Pradesh is trying its best to establish Ayodhya as the most beautiful city. Continuous work is being done to bring back Ayodhya to new heights and its forgotten identity.
The construction work of the grand temple at Shri Ram Janmabhoomi is going on at a fast pace. Ramlala will also be seated in his temple in January. Amidst all this, the connectivity of Ayodhya is also being continuously upgraded.
Four-lane connectivity is being provided through different routes. Now the new name Lakshman Path is going to be added to it. It will be 12 kilometers long.
The path will be built at a cost of Rs 200 crore
The construction of Ram Path is going on at a fast pace in Ayodhya, which is a 13 kilometer long route from Nayaghat to Sahadatganj. After this, after Janmabhoomi Path, Bhakti Path, Dharma Path, now Yogi government has started preparing to make Laxman Path. A complete action plan is also ready for the construction of this new alternative route which will be built in the name of Lord Ram's younger brother and Sheshavatar Lakshman ji. According to District Magistrate Nitish Kumar, Laxman Path will be built from Guptarghat to Rajghat. This path will be four lane.
The path will be built at a cost of Rs 200 crore
SP Bharti, Executive Engineer of Construction Unit II of the Provincial Block Public Works Department, the executing agency designated for the construction of this path, said that this approximately 12 kilometer long path is proposed parallel to the Uday Harishchandra Ghat embankment. The width of the embankment was earlier six metres, which has been increased by one meter to seven metres. Here the width of Lakshman Path has been fixed at 18 meters. Its construction will cost approximately Rs 200 crore. A proposal to this effect has been sent to the government and is awaiting approval. Work on this will start as soon as approval is received.
नोट:
अगर आपको यह खबर पसंद आई तो इसे शेयर करना न भूलें, देश-विदेश से जुड़ी ताजा अपडेट पाने के लिए कृपया The Lucknow Tribune के  

Facebook

 पेज को 

Like

व Twitter पर 

Follow

करना न भूलें...
-------------------------