Lionel Messi proves he is the ultimate boss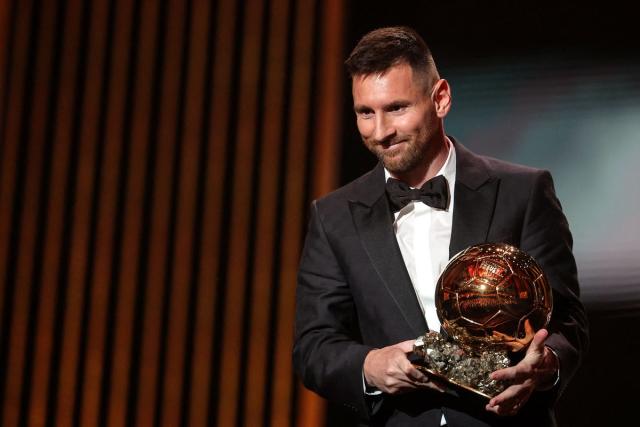 Buenos Aires: Argentine football star Lionel Messi has won the Ballon d'Or award for a record 8th time. This award can be given to the best footballer in the world. Messi was given this award in a program organized in Paris. Under the leadership of 36-year-old Lionel Messi, Argentina won the FIFA World Cup title held in Qatar last year.
This is also Messi's first World Cup title. In the final, Argentina defeated France in a shoot-out. Talking about the Ballon d'Or, Erling Holland of Norway came second and Kylian Mbappe of France came third.
After winning the award, Lionel Messi said that it is a pleasant experience for me to receive this award once again. Winning the FIFA World Cup last year was like the fulfillment of my dream.
Talking about the Ballon d'Or award, 100 journalists from all over the world vote for it. Messi has reached America after winning the World Cup. He has scored 11 goals in 14 matches for Inter Miami. They have also won the League Cup title.
Ronaldo has won 5 awards
Lionel Messi has always been compared to Portugal's Cristiano Ronaldo. But till now Ronaldo has been able to win the Ballade d'Or award only 5 times.
Ronaldo was not even shortlisted for the award this year. Talking about Erling Holland at second place in the list, he scored 52 goals in the last one year. Due to this, the English club was successful in winning the title of Premier League, Champions League and FA Cup.
Before Messi, Barcelona and Spain midfielder Etana Bonamati won the Ballon d'Or Féminine after a record-breaking year with club and country. Before leading Spain to World Cup glory, he helped Barcelona win Liga F and the Champions League last season.
Among other awards, Messi's Argentina teammate Emiliano Martínez won the Yashin Trophy for best goalkeeper and England and Real Madrid midfielder Jude Bellingham was handed the Copa Trophy as the world's top player under the age of 21.
नोट:
अगर आपको यह खबर पसंद आई तो इसे शेयर करना न भूलें, देश-विदेश से जुड़ी ताजा अपडेट पाने के लिए कृपया The Lucknow Tribune के  

Facebook

 पेज को 

Like

व Twitter पर 

Follow

करना न भूलें...
-------------------------