Lucknow Farmers market, Tirva farms to celebrate the power of Yoga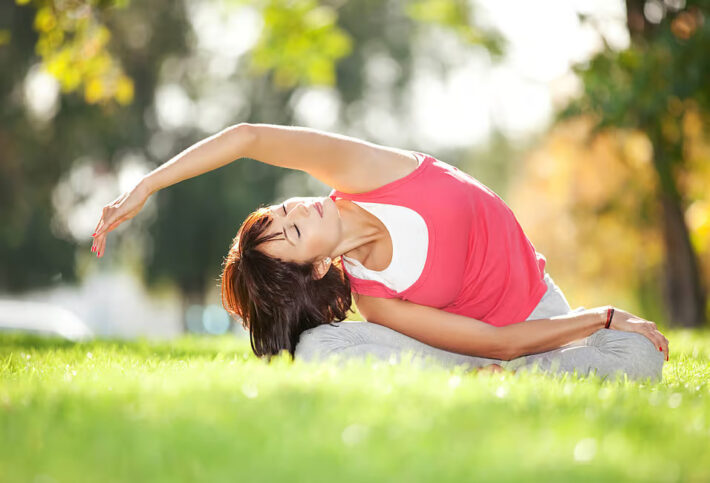 Lucknow: Lucknow Yoga Day is being celebrated from 20th to 24th June, 2023 by Lucknow Farmers Market in collaboration with Tirva Farms. Yoga is an ancient practice, which has deep roots in Indian philosophy. It started as an intense spiritual practice, but with time it gained popularity globally and has now become a medium for physical and mental peace and well-being of people.
To celebrate Yoga Day on June 21, 2023, Lucknow Farmers Market, in association with Tirva Farms, a week-long Yoga Day session is being organized daily from 08:00 am to 09:00 am at Habibullah Estate, to train the mind to control the body. The power of the organization can be promoted and it can get a new freshness. With an aim to integrate the mind and body, the sessions are held amidst nature in exotic gardens with the chirping of birds and the soothing natural beauty of the early morning to inhale the clean and natural air and our body be fresh.
Leading yoga and Pilates instructor Ila Hasan is conducting the sessions, she is well known for the yoga therapy of Pilates (Traditional) and the benefits it brings.
It is practiced by the BASI community. She completed a 200-hour Yoga Teacher Training course certification and began treating back pain through teaching and training with the blended techniques of yoga flexibility and core strengthening of Pilates.
Jyotsna Habibullah said, "There are many yoga classes in the city, we are enabling people to connect with nature by conducting sessions in the open. We have received an overwhelming response from people and are extremely happy to see participants from all age groups participating in this workshop. We plan to make it a year-round activity."
Shruti Shandilya, Co-Founder, Tirva Farms said, "The world is moving towards health and wellness, which is reflected in our lifestyle choices, the food we consume, some of the changes we try to make by conducting these sessions Very happy to do this and create awareness about Yoga among people, which can have a direct impact on people's lives. Yoga has become extremely popular globally and it is time we go back to our roots and reap the benefits of this age-old practice.
Lucknow Farmers Market has been launched to expand its reach on a pan India basis and to provide a platform to producers and small grassroots entrepreneurs to supply completely natural and organic products across India. We have an online and physical presence. From time to time through this market a farmers market will be set up across the country to help producers, farmers and entrepreneurs to connect with our representatives and understand our business model and come online to sell their products through our platform Operations are also done. Lucknow Farms Market provides a platform for people to live their life organically, provide natural resources and unadulterated things which helps people to reach the farmers directly connected to the grassroots level.
With a motto of Rethink-Reduce-Reuse-Recycle, we proudly offer 100: natural chemical free products, commit ourselves to the philosophy of reliable and ethical farming, promote local seasonal produce. There is always an eagerness to bring people from all walks of life together to revive and present local specialties.
Tirva Farms engages in agricultural practices that do not involve the use of chemicals of any kind. As a brand it stands for zero tolerance towards the use of chemical fertilizers, GMOs and synthetics. Tirva Farms implements all the principles of organic and sustainable farming through soil enrichment & conservation, crop rotation, all inclusive adequate eco system. It believes in effectively using the principles of organic farming to meet the needs of the present and future generations, environmental welfare and social and economic equity. They use techniques that are in harmony with nature and work to maintain soil fertility, prevent water pollution and protect biodiversity.
नोट:
अगर आपको यह खबर पसंद आई तो इसे शेयर करना न भूलें, देश-विदेश से जुड़ी ताजा अपडेट पाने के लिए कृपया The Lucknow Tribune के  

Facebook

 पेज को 

Like

व Twitter पर 

Follow

करना न भूलें...
-------------------------