Lucknow Metro Return the Lost Items of American Citizen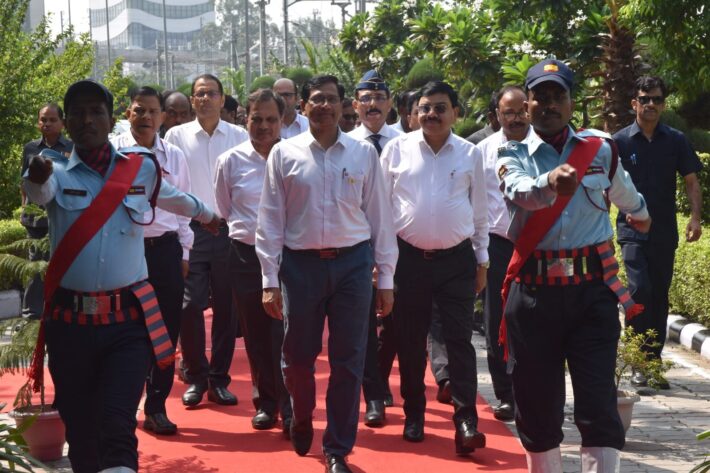 American Passenger's Lost Bag being Tracked Due to Tight Security System of Lucknow Metro
Foreign Traveler Thanked Lucknow Metro's Lost and Found Cell
 Lucknow: The lost and found cell of Lucknow Metro returned the 2 laptops, 3 speakers, book, 1 charger and a power bank to the American citizen. On the 5th of September, he was travelling from CCS Airport to Hazratganj Metro Station where he left his bag in the scanner. Unaware about the whereabouts of the bag, when he reached Hazratganj Metro Station, he was confused and clueless about the right location of the bag. He didn't remember where he left the bag. Observing that claimant didn't contact the Lucknow Metro authorities, the metro officials contacted him through an email. The team of Lucknow Metro officials decoded the password of the laptop and extricated the vital information needed to tack him. After retrieving the important contact details, the claimant was contacted and asked to collect his items in the forenoon at Transport Nagar Metro Station.
Today in the forenoon, the American Citizen, after receiving an email met the SCTO and returned his lost items. The claimant after receiving his lost items praised the honesty of the metro staff. He said that 'Lucknow Metro's surveillance and security system is highly advanced. The way they tracked me and contacted me shows the excellence of the metro officials. Their customer care services are outstanding. I am really thankful to the Lucknow Metro Officials and I hope that they maintain this legacy in the future too. The pro-activeness shown by the Lucknow Metro officials is unparalleled. ". Till now, UPMRC has returned Rs 30 lac cash, 150 laptops and 570 mobile phones to the verified owners.
Sushil Kumar, MD, UPMRC said that the Lucknow Metro is committed to provide best services to the people. The lost and found cell of Lucknow Metro has been doing a praiseworthy job. With each passing year, the ethics like honesty, credibility and trustworthiness are strengthening. I am sure that that in the future as well, we will put our best endeavours to make our surveillance and security system pro-active. Our metro officials have achieved the excellence in terms of providing best services to the passengers. I am hopeful that they will elevate this parameter of excellence further and other metros in the country will be motivated to follow our footsteps too.
नोट:
अगर आपको यह खबर पसंद आई तो इसे शेयर करना न भूलें, देश-विदेश से जुड़ी ताजा अपडेट पाने के लिए कृपया The Lucknow Tribune के  

Facebook

 पेज को 

Like

व Twitter पर 

Follow

करना न भूलें...
-------------------------