"Mann Ki Baat" program completed in the presence of the Mayor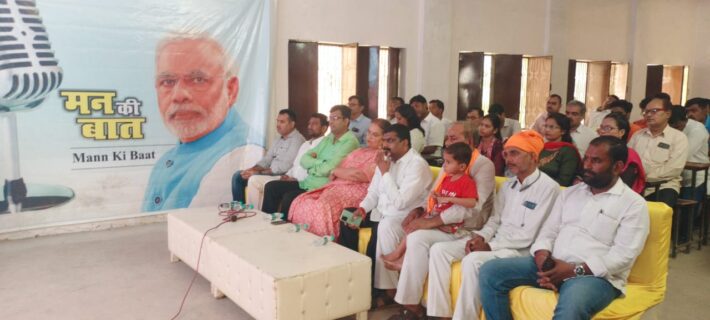 Lucknow:  Mayor Sushma Kharkwal was present at booth number 59 of Paschim Mandal-3, Sector New Hyderganj III A, near SBN Inter College, Narpat Kheda, near Hanskheda Road to listen to the Prime Minister of India, Narendra Modi through Akashvani "Mann Ki Baat" who participated in the programme.
The Mann Ki Baat program on  last Sunday of every month is broadcast through All India Radio, in which  Prime Minister  Narendra Modi addresses the people of the country.  The Prime Minister's voice and thoughts have to be conveyed to the common people of India. Even this time, the program was successfully organized by the Chief Guest,  Done in the presence of Mayor  Sushma Kharkwal. In which the Prime Minister mainly discussed the importance of sports, old people's school and women's development etc. In the said programme, the enlightened people of the booth were also honored by the Mayor.
Appreciating the Mann Ki Baat program, people were duly told about its purpose and importance. New Hyderganj third ward, where BJP has never won, this time the BJP has won, the area for this gave congratulations and best wishes to all the office bearers and workers including the Mandal President. The mayor said that development works will be done especially in the area. The residents of the area come to me with their problems at any time.
In the above programme, Honorable of New Hyder Ganj third ward. Councilor Vinod Kumar Yadav, Mandal President and Program Coordinator Mr. Arvind Mishra, Sector Coordinator Mr. Ram Naresh Mishra, Booth Committee members and other BJP office bearers and workers were involved.
नोट:
अगर आपको यह खबर पसंद आई तो इसे शेयर करना न भूलें, देश-विदेश से जुड़ी ताजा अपडेट पाने के लिए कृपया The Lucknow Tribune के  

Facebook

 पेज को 

Like

व Twitter पर 

Follow

करना न भूलें...
-------------------------