Mayor Sanyukta Bhatia graces Saraswati Vidya Mandir annual function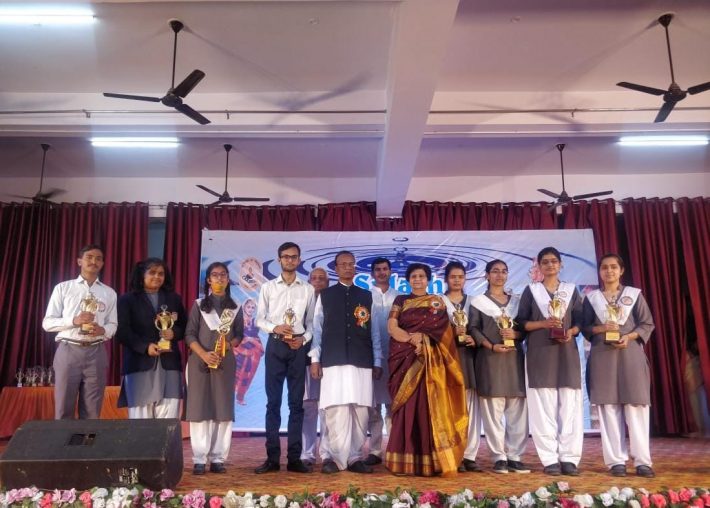 Lucknow: Mayor Sanyukta Bhatia honoured meritorious students, teachers on the occasion of annual festival of Saraswati Vidya Mandir. The annual festival  of Saraswati Vidya Mandir Senior Secondary School located in Aliganj Sector-Q was inaugurated by the Chief Guest, Lucknow Mayor Smt. Sanyukta Bhatia. On this occasion, the Manager of the school, Rajendra Singh welcomed Mayor Sanyukta Bhatia by providing her with shriphal and angavastra.
On this occasion, Mayor Sanyukta Bhatia honored the teacher of the school, Acharya Shri Dinesh Chandra Joshi for his hard work and dedication of 32 years, as well as for providing 36 years of service to Shri Chhatrapal Yadav, who was a diligent student of the school. The event also honoured Akshaya Tripathi, who got the highest marks in the 12th board examination, Vanshika Agrawal for the 10th board examination, honored Siddhi Samvedi by providing angavastra and shield for securing the first position in the maths science competition.
On this occasion, Mayor Sanyukta Bhatia said that Saraswati Vidya Mandir, established by Vidya Bharati across the country, is developing the students of India each year from high level education to their all round development, the feeling of Indian culture and nationality.
The teachers of Saraswati Vidya Mandir are providing moral education and practical knowledge along with bookish knowledge to the students.
The Mayor said that children are like clay which can be skillfully molded into any form. And right direction is being provided to the students of Saraswati Vidya Mandir.
During this cultural program was also presented by the students of the school.
Mayor Sanyukta Bhatia along with Chairman of Managing Committee Dr. RK Garg, Manager Shailesh Mishra, Treasurer Sachin Gupta, Ompal ji, Rajendra Babu, along with a large number of students and family members were present.
नोट:
अगर आपको यह खबर पसंद आई तो इसे शेयर करना न भूलें, देश-विदेश से जुड़ी ताजा अपडेट पाने के लिए कृपया The Lucknow Tribune के  

Facebook

 पेज को 

Like

व Twitter पर 

Follow

करना न भूलें...
------------------------- --------------------------------------------------- -------------------------------------------------------------------------------------------------------------------------------------------------