Medanta Hospital Launches Successful Liver Transplant Program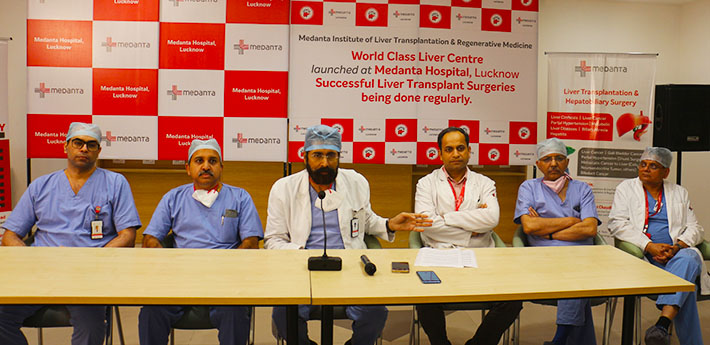 Lucknow: Medanta Hospital Lucknow has successfully performed its first two liver transplants. The transplants were done by Chairman of Medanta Liver Transplant Institute, Lucknow, Dr A.S.Soin, and his team of surgeons, Dr Amit Rastogi, Dr Prashant Bhangui, Dr Rohan Chaudhary; Director of Hepatobiliary Sciences, Dr Abhai Verma, and Anaesthetists Dr Vijay Vohra and Dr CK Pandey.
The two patients, first patient  businessman from faizabad  and second one is city physician were terminally ill with liver failure when they came to Medanta Hospital, and now with the hospital's world class liver transplant centre, both have recovered well and are looking forward to enjoying normal lives again.
Dr Soin said, "Now, Lucknow can boast of a truly world class liver transplant center. We are delighted to offer our experience of adult and paediatric liver transplants. Both Patients were challenging cases of advanced liver failure. They had been hospitalized many times and would not have survived more than a few weeks without transplantation."
Director of Hepatobiliary Sciences, Dr Abhai Verma, said, "We observed that first patient  liver failure had progressed over the previous 3 years despite all medical treatment, therefore we advised him liver transplantation, for which his 22-year-old son,  donated 60% of his liver. Now both are doing well 1 month after transplant. Donor has returned to his studies and patient is living a healthy life. In general, liver donors return to normal lives within a month, and the patients in 2 months."
Consultant Liver Transplant Surgeon at Medanta, Lucknow, Dr Rohan Chaudhary, said, second patient  required frequent hospitalizations because of his liver disease. There was no solution to his illness, other than a liver transplant. Donor, gave him the gift of life by donating a part of his liver. The donors and recipients regenerate their liver from half to full size within 2 months of the transplant,"
"Both patients' transplants took about 8-9 hrs, and donor surgeries around 6hrs. The surgeries went smoothly thanks to a well-coordinated team of surgeons, anaesthetists, technicians, nurses, and a state-of-the-art infrastructure. Our current success rates for patients are very high in adults and among children, with complete safety for donors", added Dr Soin.
"I had jaundice, and a massive collection of water in my abdomen. I could barely move or eat. Am grateful to my son who gave me a part of his liver, and my transplant team at Medanta, who saved my life with this complex transplant surgery in Lucknow itself", said an elated businessman.
"I would like to thank my Transplant Surgeons and Hepatologists for motivating and explaining me that transplantation is a safe procedure and due to this i could go ahead with this surgery and now I am doing well." said an obliged city physician.
नोट:
अगर आपको यह खबर पसंद आई तो इसे शेयर करना न भूलें, देश-विदेश से जुड़ी ताजा अपडेट पाने के लिए कृपया The Lucknow Tribune के  

Facebook

 पेज को 

Like

व Twitter पर 

Follow

करना न भूलें...
------------------------- -------------------------------------------------------------------------------------------------------------------------------------------------