Message of women empowerment given through cycling along with road safety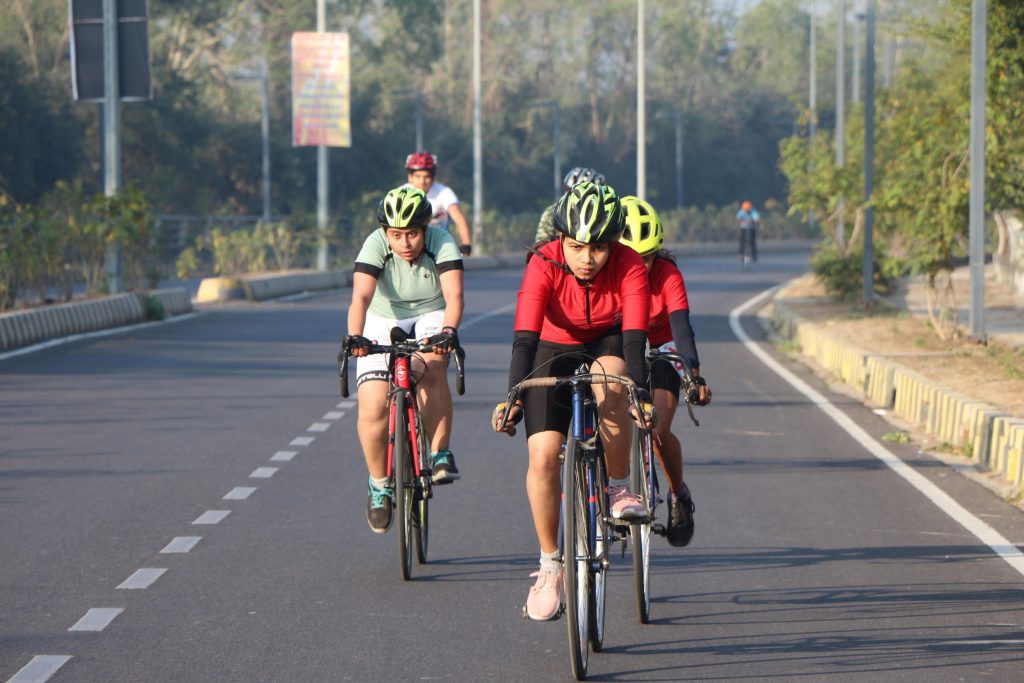 Dr. Amrita Ranjan honored with Lifetime Achievement Award (Posthumous) – 2022
Lucknow: Today women are showing their potential by coming forward in every field. This shows that women are not less than anyone. With this message, women and men cyclists participated with full enthusiasm in the cycling race organized on the occasion of International Women's Day. In this, Anushka and Sujata Pal topped in the women's category, beating everyone. On the other hand, Suraj and Amritanshu stood first in the men's category.
Organized by Pedal Passenger Cycling Association (PCA) under the aegis of Lucknow Cycling Association (LCA), this race dedicated to the eminent cyclist of the country, Dr. Amrita Ranjan, was flagged off by Anjali Chaurasia (Assistant Commissioner – Mobile Squad – Barabanki Commercial Tax Department). dispatched.
Starting from gate number four of Janeshwar Mishra Park and passing through various routes, 100 cyclists, including a large number of women, took part in this race that ended in Janeshwar Mishra Park itself. After the completion of the race, the Chief Guest of the closing ceremony Mr. Dhirendra Singh Sachan (IAS, Special Secretary, Government of Uttar Pradesh and Chairman, Uttar Pradesh Cycling Association) distributed the prizes.
The chief guest appealed to be aware of road safety and make cycling safe in the city and also said that cycling at least once a week to take care of the health of nature along with giving the message of health and fitness. should be adopted.
According to Organizing Secretary Anand Kishore Pandey (Secretary of PCA and Senior Vice President of LCA), Dr. Amrita Ranjan was posthumously awarded Lifetime Achievement Award-2022 during this period. Her husband Dr. Prabhat Ranjan received this award.
On this occasion, Lucknow Cycling Association President Utkarsh Tripathi, Secretary Anurag Bajpai, Technical Committee Rohit Singh and RK Maurya, Pedal Passenger Cycling Association President Rajesh Verma, Vice President Vaibhav Rastogi and Treasurer Arun Maurya along with Sandeep Joshi and Sanjay Agarwal were also present.
PhD in Computer Science and Associate Professor at AMIF Lucknow Dr. Amrita Ranjan's name is also recorded in Limca Book of Records. She traveled 1200 km with her husband. This record was made as a doubles by covering the distance in the shortest time i.e. 80 hours. Along with this, she has also participated in many ultra cycling races at national and international level including participating in 1200 LRM event in Paris.
Dr. Amrita Ranjan died in January 2022 when she along with her husband Dr. Prabhat Ranjan to be named in Wuka World Records, America (Guinness Book of Records) for making the record of fastest 2000 km cycling Was on a journey from Lucknow to Mumbai. During this, she had become a victim of a road accident. She also used to promote the message of save girl child through cycling.
list of winning players
Women's 10km Race :-
Roadie: 1. Anushka, 2. Tanu, 3. Ashita
MTB : 1. Sujatha Paul, 2. Namrata,
Men's 15km Race :-
Roadies: 1. Suraj, 2. Santosh Singh, Alam Khan
MTB : 1. Amritanshu, 2. Chinmaya, 3. Abhishek Pandey
नोट:
अगर आपको यह खबर पसंद आई तो इसे शेयर करना न भूलें, देश-विदेश से जुड़ी ताजा अपडेट पाने के लिए कृपया The Lucknow Tribune के  

Facebook

 पेज को 

Like

व Twitter पर 

Follow

करना न भूलें...
------------------------- --------------------------------------------------- -------------------------------------------------------------------------------------------------------------------------------------------------