MGM Healthcare's Heart and Lung Transplant Team Reaches Ground-breaking Milestone: Advancing Life-saving surgeries to New Heights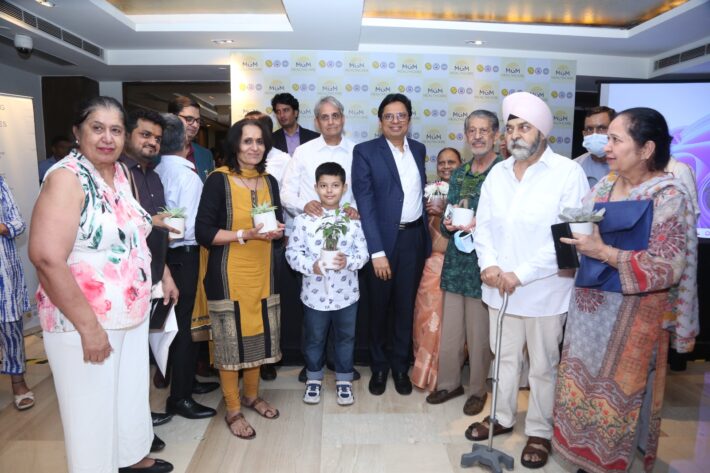 Delhi: MGM Healthcare's Institute of Heart and Lung Transplant and Mechanical Circulatory Support has performed 600 heart and lung transplants in India. The team is responsible of managing India's largest adult and paediatric heart and lung transplant programme. Patients from Delhi who had undergone transplant procedures at MGM Healthcare shared their experience and also their gratitude with the team of experts.
MGM Healthcare is proud to announce that we have completed more than fifty heart & lung transplants in patients from Delhi. Each of them were in critical medical conditions with heart or lung failure not responding to medical therapy and were saved through timely transplant surgeries.
One deceased donor may save eight lives, and the purpose of this gathering of organ donation recipients and the medical team is to raise awareness of organ donation and disseminate the word far and wide. MGM Healthcare seeks to foster societal change and establish a culture in which organ donation is commonly accepted, therefore saving many lives.
A 6-year-old boy from Jammu who underwent a successful heart transplant at MGM Healthcare was present and his family shared their experience during the event. He was brought to MGM Healthcare last year with cardiomyopathy and body swelling. The patient received a donor heart after three weeks of wait and underwent a successful heart transplant. He resumed to normal routine in couple of weeks.
A 55-year-old woman from Delhi, was diagnosed with interstitial lung disease (ILD). She was assessed by MGM Healthcare professionals and placed on the transplant waiting list. Following the transplant, the patient's hemodynamics progressively improved, and the tracheostomy tube was removed, allowing her to breathe properly at room temperature. The patient was discharged and is and is now living a regular life.
Dr. K.R. Balakrishnan, Chairman of Cardiac Sciences, Director of the Institute of Heart and Lung Transplant and Mechanical Circulatory Support, MGM Healthcare, said, "Although there are enough organs available for transplantation, the waiting list for transplants is prolonged due to a lack of organ donation awareness. India behind other nations in terms of having access to donated organs. One of the primary causes of this is a lack of awareness regarding organ donation."
Dr. Apar Jindal, Clinical Director & Consultant, Department of Lung Transplant & Interventional Pulmonology, "Lung transplant is advised to people who are suffering from an end stage lung disease. End-stage lung disease is defined as a condition that has progressed to the point where the lung function is seriously compromised. Most patients are diagnosed with a specific lung disease before it progresses to the end stage. As a result, anyone with end-stage lung disease may be considered for lung transplantation. It is critical for every patient to consult with the appropriate authorities in the area and receive the necessary treatment. As a result, we plan our lung clinics throughout twenty different cities on a a regular basis in order to see our patients and assist them with their problems."
According to Dr. Suresh Rao, Co-Director of the MGM Healthcare Institute of Heart and Lung Transplant & Mechanical Circulatory Support, "Patients with heart failure and lung failure are at an elevated risk of death and can be helped by timely interventions like heart transplants and lung transplant. Mechanical circulatory supports like ECMO and LVADs can be used as a bridge to transplant in very sick patients."
According to Dr.R.Ravi Kumar, Senior Consultant & Associate Clinical Lead, Institute of Heart and Lung Transplant & Mechanical Circulatory Support, MGM Healthcare, "The National Organ Transplant Programme (NOTP) has achieved remarkable success. Every year, more than 200 heart patients are given a healthy heart through this technique, saving their lives and allowing them to return to work and live happy, fulfilled lives. There are several patients in India who are in need of quality health opinions and advices, hence we as a team visit most of the major locations in the country frequently to help people benefit from our expertise directly."
Born out of a need for altruism, MGM Healthcare is obsessed with bettering patient experiences and improving clinical outcomes through expertise, passion and technology. The manifestation of this dedication to superlative health-caring is a state-of-the-art hospital on Nelson Manickam Road having 400 beds, 50 out-patient consultation rooms, over 100 critical care beds, 250+ Doctors, 12 Centers of excellence, 30+ Clinical Departments, 12 state-of-the-art Operating Theatres and 24 x 7 comprehensive Emergency Care. Here, a host of eminent surgeons and physicians wield a potent combination of skill and cutting edge technology to elevate care and outcomes to new levels. MGM Healthcare is the first hospital in Asia with the highest rated USGBC LEED Platinum-certified Green Hospital.
Over the past year, the team of clinical experts at MGM Healthcare have performed many innovative and complex surgeries in the pursuit of establishing trust and clinical excellence. MGM Healthcare designed and equipped with the latest in technology and equipment is poised to drive patient centricity and clinical excellence of both the domestic and international patients.
नोट:
अगर आपको यह खबर पसंद आई तो इसे शेयर करना न भूलें, देश-विदेश से जुड़ी ताजा अपडेट पाने के लिए कृपया The Lucknow Tribune के  

Facebook

 पेज को 

Like

व Twitter पर 

Follow

करना न भूलें...
-------------------------