Minister A.K. Sharma does a late night recce to check spread of communicable diseases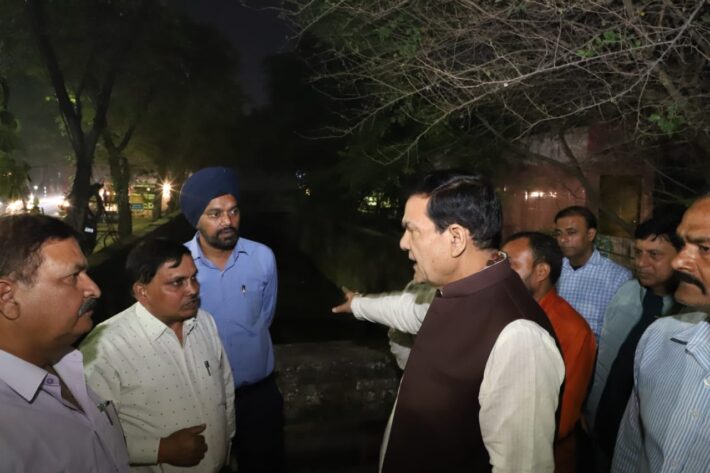 Lucknow: In order to prevent communicable diseases, the government conducted field inspections in various areas of the city to find out the situation and gave necessary instructions under surpervision of Minister, Urban Development Department, Uttar Pradesh. To see the efforts being made by Municipal Corporation Lucknow for the prevention of communicable diseases and the cleanliness system of the city, Urban Development Minister, U.P. Government  A.K. Sharma toured the city.
The Minister first inspected the area around Ram Bhawan located in Rajiv Gandhi II Ward of Zone-4. During the inspection, works like cleaning of the area, fogging, anti-larva spraying etc. were supervised. While inspecting the big drain (Gomti Nagar Drain) located in the area,  Instructions were given by the Minister to re-design the drain and do bio-remediation. At the time of inspection, After talking to Regional Councilor  Arun Tiwari and local residents, information was given about the situation regarding the area. Besides, the minister also encouraged the working sanitation workers.
After that the Minister visited the residence of  Vaibhav Gupta, a 19-year-old youth suffering from dengue in Nanpara House, Raja Ram Mohan Roy Ward, Zone-1 and inquired about his health. Besides, information was taken about the status of works being done to prevent communicable diseases in the area like cleaning, fogging, anti-larvae etc.
At the time of inspection, Municipal Commissioner  Inderjit Singh, Additional Municipal Commissioner  Avnindra Kumar, Additional Municipal Commissioner  Pankaj Kumar Srivastava, Additional Municipal Commissioner  Lalit Kumar, Chief Engineer (Civil)  Mahesh Verma and other officers were present.
​
नोट:
अगर आपको यह खबर पसंद आई तो इसे शेयर करना न भूलें, देश-विदेश से जुड़ी ताजा अपडेट पाने के लिए कृपया The Lucknow Tribune के  

Facebook

 पेज को 

Like

व Twitter पर 

Follow

करना न भूलें...
-------------------------