Minister Suresh Khanna felicitates Corona warriors for dedication to health services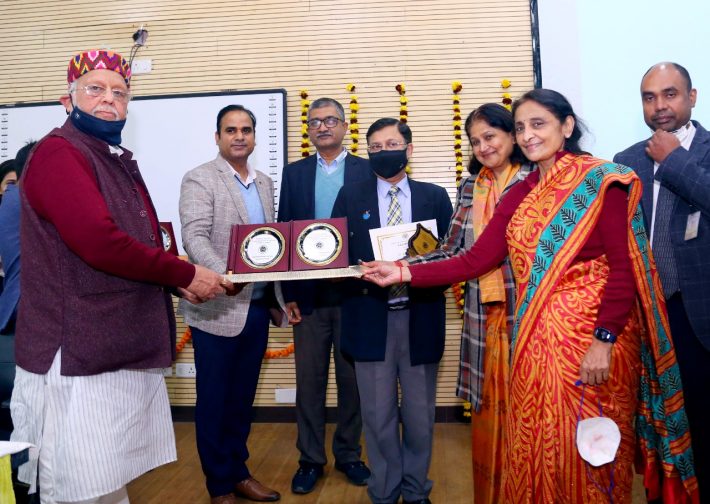 Lucknow: The Medical Education Minister of Uttar Pradesh,  Suresh Kumar Khanna felicitated the Corona warriors at the Academic Block of Dr. Ram Manohar Lohia Institute of Medical Sciences. During this, he launched the Covid-19 Knowledge Repository Portal/website. This website has been developed in collaboration with Department of Medical Education and Mamta-Health Institute for Mother and Child. All information related to Covid-19 including research done by medical colleges in the state can be obtained through this.
On this occasion, the Medical Education Minister expressed his heartfelt gratitude to all the Corona warriors. He said that success was achieved in preventing the infection of Covid-19 epidemic in the state. He said that when this disease first surfaced in Uttar Pradesh in March, 2020, the Medical Education Department was gearing up for the treatment of COVID isolation and deployment of ICU beds in all medical colleges as well as increasing testing facilities at all places. Guidelines were developed. Along with this training on ethics and prevention was also given.
Khanna said that evaluation of any service is necessary. While addressing the Corona warriors, he said that whatever he has got today in the form of honour is the result of his own hard work. Those who did good work in Covid, without caring about their life, future, family and children, they must be respected for their services.
He said that it is everyone's wish that they should be encouraged and respected for doing good work by them. He said that we have gone through very difficult situations. The news that is coming at the international level at present is worrying. Just as the Omicron of Covid-19 or other similar viruses that are spreading, there is a need to be careful. It is the responsibility of all of us to make people aware about this.
On this occasion, the Medical Education Minister felicitated the best performing Medical Colleges under various categories like Testing, Innovation, Research Publication, Patient Weight, Individual Goal Achiever with mementoes. Awarded to KGMU under the category of Maximum Samples Tested.