MoU  signed between Rohilkhand University and Mississippi Valley State University USA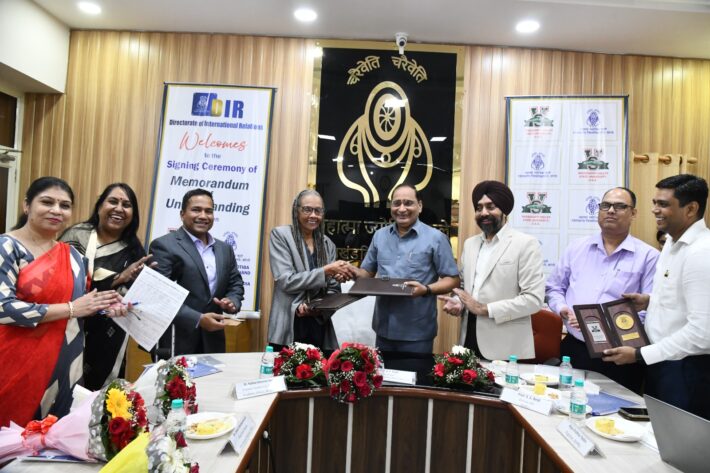 A.C.Saxena 
Bareilly: In the committee room of the Vice Chancellor's office of Mahatma Jyotiba Phule Rohilkhand University, a MoU was signed between Rohilkhand University and Mississippi Valley State University, USA for enhancing academic work and cooperation in the field of mutual education.
At the beginning of the program, Director of Directorate of International Relations Professor Sarabjit Singh Bedi met the chairperson of the delegation from America Dr. Kathy Golden (Senior Vice President) Mississippi Valley State University , Dr. Lokesh (Director International Relations) and Dr. Vandana Saxena. Professor CIE Education Department, Delhi University and introduced them to various activities and achievements of Mahatma Jyotiba Phule Rohilkhand University.
He told that the university has recently achieved NAAC A++ rank and the university is running various types of educational programs in its campus. Many international agreements have recently been signed by the university with different countries, on which continuous work is going on in the university.
Speaking on this occasion, Doctor Lokesh said that work was being done for this agreement for the last three months. He said that both the universities will benefit from this agreement and it will play an important role in the progress of both the universities.
Vice Chancellor of the University, Professor K. P. Singh said that various institutions sign the MoU but many times it is seen that they are not able to provide benefits to their institutions as per their understanding. Progress is not achieved by merely signing the statement; for this one has to move forward and work. He said that Mahatma Jyotiba Phule Rohilkhand University has also started taking benefits from the recent understanding.
The Vice Chancellor said that Both universities can jointly run dual degree programs, both universities can exchange teachers and students, important avenues can be created for credit transfer, and exchange of teaching work can also be done by forming a group of teachers. Also both the universities can share course structure with each other and run joint degree programs.
The Vice Chancellor told the delegation in detail about the achievements of the university and also introduced them to the upcoming plans of the university. Representatives of both the universities supported the Vice Chancellor and agreed to prepare an action plan for the same.
Vice Chancellor Prof. K. P. Singh said that Rohilkhand University is active globally in terms of educational activities. Through this agreement, we will join hands with Mississippi Valley State University, U.S.A We will work together in the interest of the students and will also provide financial assistance to teachers and students if needed . The University will motivate its teachers to go to foreign universities and foreign universities to come here and will provide financial assistance as much as possible so that the teachers and students of both the universities can take advantage of each other. The University has already started a few years ago courses in different foreign language and plans to conduct courses in many other areas in the future.
After this, a large discussion session was organized with the Deans of all the Faculties in which consensus was reached on several drafts.
On this occasion, Additional Director Prof. Bhola Khan, Prof. Naveen Kumar, Professor Yatendra Kumar, Professor Shobhana Singh, Assistant Director Dr. Atul Katiyar, Dr. Meenakshi Dwivedi, Dean Academic Prof. SK Pandey, Professor Tulika Saxena, Dr. Amit Singh, Dr. Anita Tyagi, Director from the Directorate of International Relations, deans and teachers of all the faculties, Registrar Ajay Krishna Yadav, Shri Tapan Verma, Sudhakar Maurya etc. were present. The program was conducted by Dr. Atul Katiyar.
नोट:
अगर आपको यह खबर पसंद आई तो इसे शेयर करना न भूलें, देश-विदेश से जुड़ी ताजा अपडेट पाने के लिए कृपया The Lucknow Tribune के  

Facebook

 पेज को 

Like

व Twitter पर 

Follow

करना न भूलें...
-------------------------