Mulayam Singh Yadav's daughter in law Aparna Yadav joins BJP in presence of party bigwigs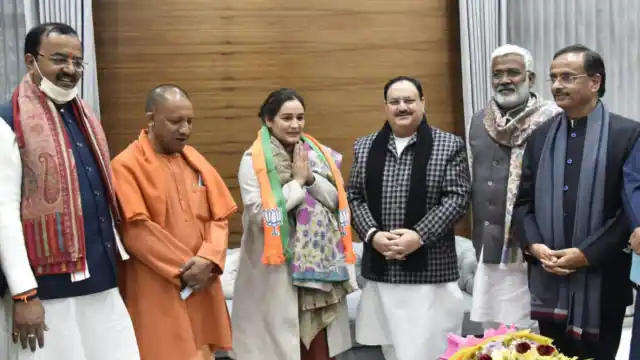 Lucknow/ New Delhi: In what seems to be a major blow to the Samajwadi party, wife of brother of Akhilesh Yadav, Aparna Yadav switched sides and joined the BJP . The move comes weeks before the Uttar Pradesh election. Aparna is the wife of Pratik Yadav, the younger son of Samajwadi Party patriarch Mulayam Singh Yadav. Those BJP leaders welcoming her referred to her as "Mulayam Singh's bahu (daughter-in-law)".
"I have always been inspired by Prime Minister Narendra Modi," Aparna Yadav said, wearing a BJP scarf.  Speaking at the occasion, she said, "I now want to try and do better for the country. I have always been very impressed by the schemes of the BJP and I will do my best in the party."
She had by her side Uttar Pradesh Deputy Chief Minister Keshav Maurya.
"I want to welcome her and say that Akhilesh Yadav is unsuccessful in his family as well as politics," said Maurya. He said Aparna Yadav decided to join the BJP after many days of discussion.
The crossover is significant given that many of its backward caste leaders, including three state ministers, recently crossed over to the Samajwadi Party. It is noteworthy that Aparna Yadav contested the 2017 UP election from Lucknow Cantt as a Samajwadi candidate but lost to Rita Bahuguna Joshi.
Aparna runs the social organization bAware. She has been in the news in the past for her praise of PM Modi. Her meeting with Yogi Adityanath in 2017 and visuals of them at a cow shelter made big headlines.
नोट:
अगर आपको यह खबर पसंद आई तो इसे शेयर करना न भूलें, देश-विदेश से जुड़ी ताजा अपडेट पाने के लिए कृपया The Lucknow Tribune के  

Facebook

 पेज को 

Like

व Twitter पर 

Follow

करना न भूलें...
------------------------- --------------------------------------------------- -------------------------------------------------------------------------------------------------------------------------------------------------