National Games occupies a special place in my heart – Rani Rampal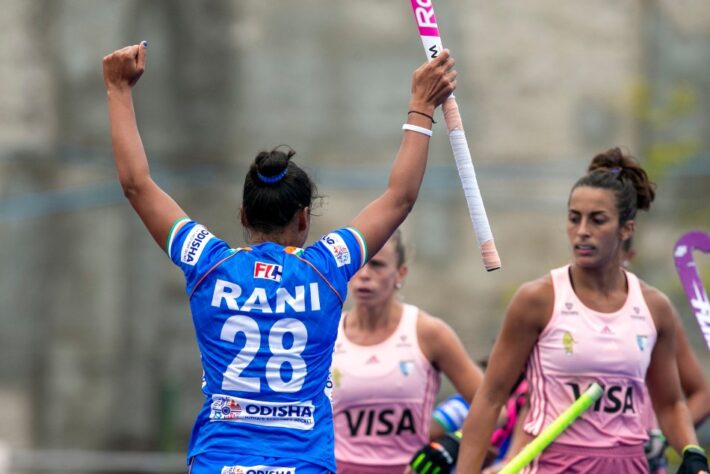 Panaji: Former Indian women's hockey team captain and veteran player Rani Rampal is part of the Haryana team for the 37th National Games. Rani herself said that the national games has always been close to her heart because while making her debut in it, she was selected for the Indian senior hockey team camp for the first time. Rani is the captain of the Haryana team, which is participating in the National Games for the fourth time. Under her captaincy, Haryana made a great start by defeating Tamil Nadu 8-0 in its very first match. This also includes a goal from Rani.
Talking about her experience at the National Games, Rani said, "The National Games is indeed a very special tournament for me because when I participated in them for the first time in 2007, it was from there that I was selected for the National Camp and Then from there I came to the senior Indian team. This has always been a memorable tournament for me and it feels great to play here because my journey with the Indian team started from here.
28 year old Rani has scored more than 120 goals for India in more than 250 matches so far. Apart from this, she is part of Hockey India's plan to prepare a women's under-17 team. Hockey India President Dilip Tirkey had recently announced the appointment of Rani as the coach of the women's under-17 team.
Rani, who participated in the National Games in 2007, 2015 and 2021, is happy that she is representing her state once again. Rani said, "This is my fourth National Games and I enjoy playing here. When a player plays for India, it is the most special moment for him, but it is a matter of pride to represent the state from where he started the game on any platform.
Rani, who was the captain of the Indian team in Rio and Tokyo Olympics, made her international debut in 2008 and that too for the Olympic qualifiers. At that time she was 14 years old and became the youngest player to play in the senior team for India.
Born in Shahbad Markanda, Yamunanagar, Haryana, which is considered to be the biggest nursery of hockey in Haryana, Rani is a true legend in women's hockey. Players like Rani playing in events like National Games not only enhance the beauty of such events but also help the young players to learn a lot.
When Rani was asked, how much a morale booster does your presence give to the Haryana team? On this Rani said, "Definitely when a national level player plays in your team, you get a kind of energy. When we used to play and if any senior player was playing in our team, we also got a great motivation. We also got a kind of confidence. There are many young talented players in my team and if they get something from my presence, then there would be no better contribution than my contribution to my team.
In the 36th National Games held in Gujarat, Haryana won the title by defeating Punjab. Rani was part of that team. Now she has once again come to the National Games with her team. When asked about the team's preparations, Rani said, "Right now we are focusing on one match at a time." After this we will focus on the semi-final and final matches. Whatever teams we face in these matches, we will decide our strategy accordingly. We would like to maintain our level of play because every team has come here with the aim of winning the title. We will not take anyone lightly.
नोट:
अगर आपको यह खबर पसंद आई तो इसे शेयर करना न भूलें, देश-विदेश से जुड़ी ताजा अपडेट पाने के लिए कृपया The Lucknow Tribune के  

Facebook

 पेज को 

Like

व Twitter पर 

Follow

करना न भूलें...
-------------------------