Naya Kshitij proves to be a whiff of fresh air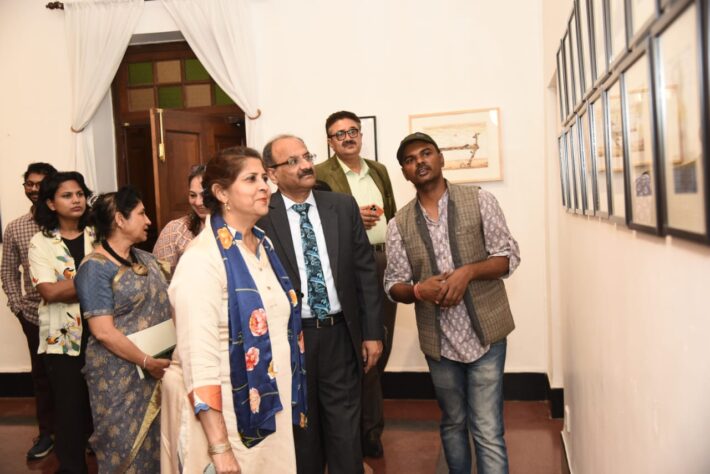 Lucknow: Every human being is associated with art in some way or the other and has his own perspective about it, his own way of seeing and thinking. He also uses various mediums of art to express his thoughts and feelings. For this, mainly the natural and social environment is of great importance.
Thoughts and emotions arise through these. A writer observes them very closely and presents every effect, concern, irony and also tries to give an awareness message.
One such young contemporary painter of Uttar Pradesh is Sanjay Kumar Raj, whose solo exhibition of 61 art works titled "Naya Kshitij" was organized  at Saraca Art Gallery, Hotel Lebua in the city. It was inaugurated by the chief guest  Arvind Kumar (I AS (Retd.) Chairman, Uttar Pradesh Electricity Regulatory Commission.
The curator of this exhibition is Vandana Sehgal.
Curator Vandana Sehgal says about the painter's works that Sanjay Kumar's work also has a glimpse of man's struggle with nature. He is very connected with nature. The rapidly changing scenario of the world is his main subject around which he creates his work.
Sanjay mostly works using watercolors on paper. He is seen expressing his concerns in a contemporary style.
There is a delicate quality to his work as he paints his subjects in a hyper-realistic style, in which every detail is clear. He also shrinks the scale to fill the frame miniature but also to make his ideas more visible.
Makes you stronger also. His subjects are mostly in the form of a 'context', which points towards some context.
But convey a different message and also tell a story that addresses contemporary concerns. To clarify this aspect, his 'Growth-2' depicts an elaborate seminal flower with steel rods emerging from it instead of stamens.
The steel bars are entangled with each other and on some of them some birds are sitting which are so small that when noticed, the shape of the flower changes compared to before. The frame has a pastel colored grid that fades in and out. It starts pointing towards the road network when one sees a small tricycle crossing one of them. A flock of butterflies reinforces their theme of 'paradise lost' and a manhole below confirms it perfectly.
The entire frame and story are connected by dotted lines that connect these different subjects while adding a creative gesture to the drawing as well as the prose. In the second frame, the pastel grid has been replaced by a grid of clouds, the dotted line has been replaced by a pointed arch that ties it all together. Sometimes the frame is made up of a series of identical boxes. Sanjay is proficient in the linguistic aspect of composition.
The syntactic structure or grammar he uses is almost perfect for telling the story, but his subjects (e.g. birds, pigs, animals, trees, milestones, manholes, piles of bricks, roadsides, fruits, flowers , pitchers, chimney stacks… all). 'Symbols' that convey… in the most complex way… in the most delicate language… the most tender… the most relevant message… the message of a dark new world! Through this surreal journey of his frame, it will force you to think, your thinking will also change…..
Coordinator Bhupendra Kumar Asthana said Sanjay Kumar Raj is a resident of Chandaut in Hamirpur district of Uttar Pradesh. He received his art education from Arts and Crafts College, Lucknow.
Presently living in Lucknow, he is engrossed in art creation. Sanjay says that I have been very close to nature since childhood and I have observed all its elements. Nature itself is very creative through my perception and experiences. It keeps changing its form. Its immense softness and warmth can be felt in villages and towns.
Creation, modernization, climate change, global warming and pollution, and its effects on our environment and eco-system today, and has been greatly inspired by the COVID-19 times. These are my main concerns which I try to express through my paintings. My works are truly a reflection of our current circumstances.
The environment and my surroundings become the subject of my art. It varies with time and place. My paintings focus on the journey of finding something that appears out of nowhere. This is a series in itself very close to our contemporary social and nature based conditions. I just try to depict them through colors. Sanjay is a national level artist. He has also received many awards and honors for his art. Exhibitions of his paintings have been organized in most of the states of the country. Besides, his personal collections of paintings are also in many important places. This exhibition will remain open for art lovers to view till 7 December 2023.
नोट:
अगर आपको यह खबर पसंद आई तो इसे शेयर करना न भूलें, देश-विदेश से जुड़ी ताजा अपडेट पाने के लिए कृपया The Lucknow Tribune के  

Facebook

 पेज को 

Like

व Twitter पर 

Follow

करना न भूलें...
-------------------------