NFDC ScreenWriters' Lab 2023 Unveils EIGHT Dynamic Writers & Scripts from Pan-India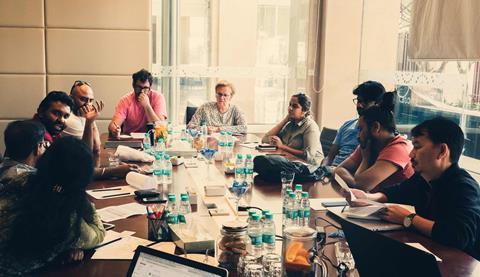 Mumbai: Eight projects of multiple genres, including magic realism, fantasy, horror/thriller, women's empowerment, cross-border politics, LGTBQ+ issues, and mental illness, have been selected for the 16th edition of NFDC Screenwriters' Lab, an ongoing initiative to develop, nurture, and promote original voices from all over India. The eight screen writers, who also happen to be filmmakers of ad films, short films, documentaries, and feature films, have written the selected scripts in multiple languages, including Hindi, Marathi, English, Urdu, Malayalam, Bengali, Odia, and Tibetan. Two of the writers are National Award Winners for "Best Marathi Film" and "Best Cinematography."
"We, at NFDC, strongly feel that a well-written script forms the foundation of a compelling story, engaging characters, and meaningful dialogue, all of which are essential elements of a successful film." said Shri. Prithul Kumar, Managing Director of NFDC, "We are at the forefront of not only training our writers to better develop their unique stories, but also pitch them successfully to domestic and international producers and investors at Film Bazaar, while keeping industry trends and practices in mind."
The three-part intensive workshop is an annual program that offers emerging and established screenwriters an opportunity to fully develop their screenplays under the guidance of acclaimed script experts from India and around the world.
This year's mentors include the founder of NFDC ScreenWriters' Lab Marten Rabarts (New Zealand), Claire Dobbin (Australia), Bikas Mishra (Mumbai), and Ketki Pandit (Pune).
Evaluators include Indian and international filmmakers, producers, and journalists Melanie Dicks, Cynthia Kane, Gyan Correa, Arfi Laamba, Siddartha Jatla, Udita Jhujhunwala, and Kachan Kalra.
The 2023 ScreenWriters' Lab participants and projects are (in alphabetical order, by last name):
Avinash Arun – "Boomerang" (National Award Winner for KILLA for Best Marathi Film)
Sanju Kadu – "Kosla (The Cocoon)"
Rohan K. Mehta – "Absent"
Neha Negi – "Chhawni (Cantt)"
Vatsala Patel – "Daant (Bite)"
Biswa Ranjan Pradhan – "Pramana Patra"
Diwa Shah – "Chab (Refuge)"
Savita Singh – "Ballad of the Circus" (National Award Winner for Best Cinematography)
Previous, award-winning projects that have originated from the NFDC Screenwriters' Lab include LUNCHBOX (Ritesh Batra), LIPSTICK UNDER MY BURKHA (Alankrita Shrivastava), DUM LAGA KE HAISHA (Sharat Katariya), TITLI (Kanu Behl), SHAB (Onir), A DEATH IN THE GUNJ (Konkona Sen Sharma), ISLAND CITY (Ruchika Oberoi), BOMBAY ROSE (Gitanjali Rao), and CHUSKIT (Priya Ramasubban), just to name a few.
नोट:
अगर आपको यह खबर पसंद आई तो इसे शेयर करना न भूलें, देश-विदेश से जुड़ी ताजा अपडेट पाने के लिए कृपया The Lucknow Tribune के  

Facebook

 पेज को 

Like

व Twitter पर 

Follow

करना न भूलें...
-------------------------