Nishad Party to focus on galvanizing support for NDA as 2024 nears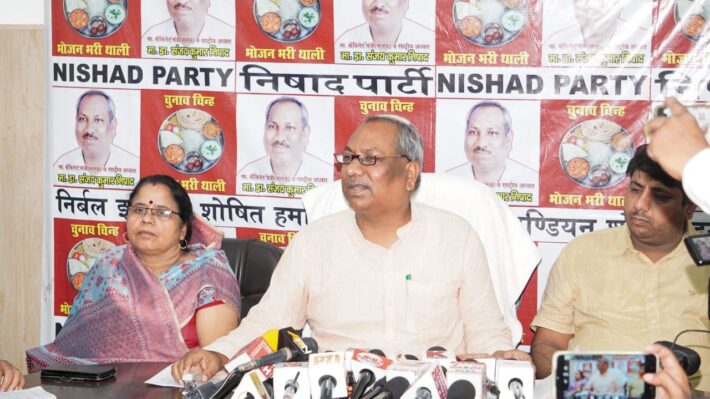 Lucknow: Nishad Party Supremo and Cabinet Minister (Fisheries Department) Dr. Sanjay Kumar Nishad while addressing the press conference at his official residence 01 Vikramaditya Marg in district Lucknow said that meeting of all cells of all states and districts of Uttar Pradesh has been called. Meetings of the Body, Mahila Morcha, Nishad Party Organisation, Yuva Morcha, Rashtriya Nishad Ekta Parishad, IT Cell and Media Cell have been called.
Nishad said that the main objective of the meeting would be to participate in the upcoming Lok Sabha elections and ensure the victory of the NDA. He said that mainly the workers and office bearers are being given training regarding the upcoming elections, along with a cadre training camp.
Nishad said that a meeting is being organized regarding the role of Nishad Party in the upcoming Lok Sabha elections, opinion will also be taken from the office bearers and workers regarding the Lok Sabha elections. He said that all in Nishad party of Uttar Pradesh have prepared a strategy for the Lok Sabha elections in three phases.
In the first phase, the Nishad party will prepare for 27 fishermen-dominated seats in Uttar Pradesh. In these 27 Lok Sabha constituencies, there are more than 4.5 lakh voters of fishermen community (17 ujatis including Kevat, Mallah, Bind, Dhivar, Rackwar, Batham, Tureha, Kashyap, Nishad), so in these 27 seats the booth committee, block committee.
He said the fishermen community has to be factored in and linked with the party and the organization. He told that the remaining 53 Lok Sabha seats will be added in the second and third phase, but as a first priority, special attention will be paid to the 27 Lok Sabha seats in the first phase.
Nishad told that Nishad party will contest elections in alliance on its symbol, as well as in 2024 Nishad party will send its party to Parliament. He said some of the concerned constituencies include places situated on rivers   Ganga, Yamuna, Betwa, Ghaghra, Rapti in Uttar Pradesh. In such a situation, the number of voters of Nishad society is very high, so a strong effort will be made to bring them in favor of NDA.
नोट:
अगर आपको यह खबर पसंद आई तो इसे शेयर करना न भूलें, देश-विदेश से जुड़ी ताजा अपडेट पाने के लिए कृपया The Lucknow Tribune के  

Facebook

 पेज को 

Like

व Twitter पर 

Follow

करना न भूलें...
-------------------------