No one can understand the importance of food donation more than an Indian: CM Yogi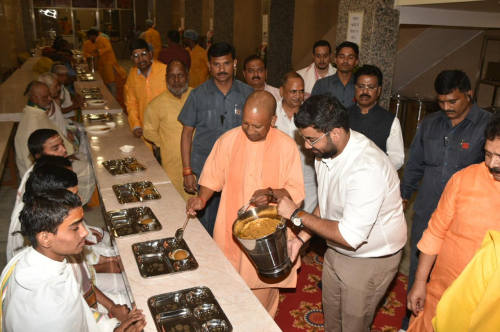 Varanasi / Banaras :  Chief Minister Yogi Adityanath said that food donation is considered a sacred act in Sanatan Dharma.
By saying 'Annam Brahma,' India's Vedic tradition has given immense importance to it. He said that no one can understand the importance of food donation more than an Indian. He described food donation for the devotees who come to Kashi along with the visually impaired students as "a very sacred deed."
The Chief Minister attended the inauguration event of Bhai Ji Anna Kshetra at Hanuman Prasad Poddar Andh Vidyalaya located in Durgakund, Varanasi. During the program, he said, "Inauguration of the Anna Kshetra
CM Yogi also met the children and inquired about their well being. He also inquired about the kitchen arrangements on the school premises.
The Chief Minister stated that those whom society once considered disabled and neglected were often abandoned by their families. However, Prime Minister Narendra Modi has given the society a new perspective to look at them by referring to them as 'divyang' (differently-abled). In this regard, the central and state governments have launched various programs. The program by this Trust is also part of such an initiative.
Religious and social organizations should also initiate such programs. If they undertake their responsibilities towards the nation and society with honesty, there will be no place for deficiency and poverty in society, he added.
CM Yogi said that Jaidayal Goenka established Geeta Press in Gorakhpur. When the publication of Kalyan Masik Patrika began 100 years ago and someone was to be chosen as the editor, it had to be someone who understood the essence of Sanatan Dharma. Hanuman Prasad Poddar Bhai Ji was chosen for this role and he dedicated his whole life to it.
Speaking more of Bhai Ji, the Chief Minister mentioned that even though Bhai Ji was not a practitioner himself, he used Kalyan as a medium to disseminate the values of Sanatan Dharma to every household. The service of Sanatan Dharma through Geeta Press is commendable.
The Prime Minister himself came to Gorakhpur for the concluding program of the centenary celebrations to express his gratitude. The event was inaugurated by the President. The Trust has given new vitality to Bhai Ji's memories", Yogi said.
On this occasion, State Government Minister Ravindra Jaiswal, Mayor Ashok Kumar Tiwari, District Panchayat President Poonam Maurya, MLA Dr. Neelkanth Tiwari, BJP District President and MLC Hansraj Vishwakarma, Mahamandaleshwar Santosh Das Ji Maharaj 'Satua Baba', associated with the Trust KK Jalan, Akhilesh Khemka, Rakesh Goyal etc., were present.
CM Yogi serves food to children
Meanwhile, Chief Minister Yogi Adityanath served food to children, saints and common people. These people greeted the Chief Minister, and when children welcomed him on the stage by giving roses, he treated them with love and chocolates. The children seemed happy after receiving chocolates from the Chief Minister.
नोट:
अगर आपको यह खबर पसंद आई तो इसे शेयर करना न भूलें, देश-विदेश से जुड़ी ताजा अपडेट पाने के लिए कृपया The Lucknow Tribune के  

Facebook

 पेज को 

Like

व Twitter पर 

Follow

करना न भूलें...
-------------------------