No religion can be bigger than humanity – Rajnath Singh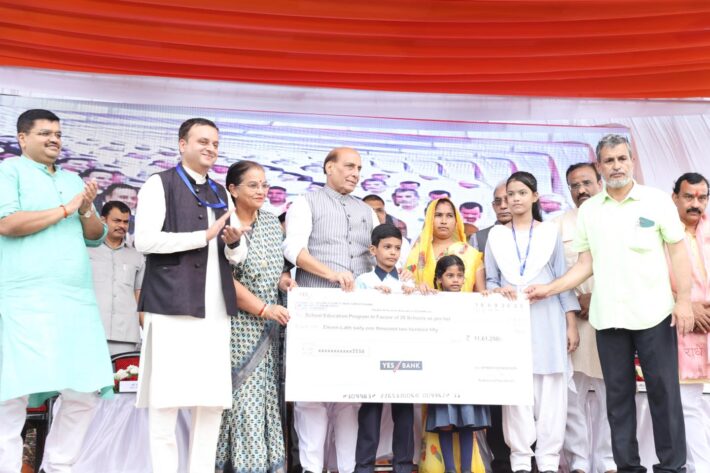 Lucknow: The inspiration of Lok Sabha MP from the city and the country's Defense Minister Rajnath Singh had such an impact on Lucknow's famous businessman Wafa Abbas that he created an organization by the name of Amber Foundation in which he is engaged in helping the poor and backward classes with his personal money.  Today, Rajnath Singh arrived at a ground near the Chowk of Old Lucknow to address thousands of people who had benefited from the Amber Foundation, whose encouragement made all this work possible.
Pleased with the work of Amber Foundation, Rajnath Singh assured to provide Rs 5 lakh on his behalf and said, 'I appeal to the people of Lucknow to come forward to help such foundations which are helping the poor. Apart from Defense Minister Rajnath Singh, senior advocate LP Mishra, Mayor Sushma Kharkwal, newly elected Lucknow city BJP president Anand Dwivedi, Member Legislative Council Mukesh Sharma and MLA Neeraj Bora were present on the stage.
Rajnath Singh said that no religion can be bigger than humanity. The Government of India did not discriminate against any caste, creed or religion in Ujjwal Yojana, Pradhan Mantri Awas Yojana, opening bank accounts, giving five kg ration or getting two vaccinations after Covid. He said that under the leadership of Prime Minister Modi, every possible effort is being made to bring the extremely poor out of the crisis of poverty.
Talking about the mission of Amber Foundation in collaboration with the city's famous Dhyeya Coaching to provide free civil services preparation to 300 promising girls from poor homes, Rajnath Singh said that a daughter of Lucknow city, Ritu Karidhal Srivastava is part of the ISRO mission to the moon. Was. He said that today daughters have joined the Indian Army and are busy protecting the borders of the country with rifles in their hands.
Rajnath Singh described the campaign of Amber Foundation to provide free eye check-up and distribution of spectacles to poor families as very important. He said that this will not only make it easier for people to work but students from poor families will also be able to complete their education better. Rajnath Singh asked Wafa Abbas of Amber Foundation to work towards developing the skills of both girls and boys to promote their skilling.
Amber Foundation collects the tuition fees of 1000 poor children of the city in schools. On this occasion, a check of Rs 11 lakh sixty one thousand two hundred fifty was given to the schools by Rajnath Singh's Kar Kamals.
Rajnath Singh said that we want to see a strong India. He said that in the past years, India's strength has been recognized globally. Today people listen with open ears to what India is saying.
On this occasion, Wafa Abbas of Amber Foundation said that when we met Honorable Rajnath Singh, he gave us a lot of encouragement. He said that give direction to the social service you do, instead of limiting it to just giving free ration or other things, do such work which brings far-reaching results. He said that if a person's life changes, his standard of living improves, then the city and the country will automatically progress due to that.
Wafa Abbas started implementing this inspiration of Defense Minister Rajnath Singh at the grassroots level. During the discussion, it was found that if the eye problems are improved then the income of many people can increase by 20 percent. Due to these eye problems, the daily life and financial condition of many people is getting worse day by day. These people are trapped in such a trap that it is difficult to get out of there. The poor are becoming poorer.
Wafa Abbas made it her mission to provide vision to the poor under the Amber Foundation. From time to time, Defense Minister Rajnath Singh kept asking about it and giving his advice. Many times he would call me to Delhi and discuss this work and suggest the way forward. As such cases started increasing in which wearing glasses started changing people's lives, their income increased or children's education improved, Wafa Abbas became more immersed in this work. He says: "Just like that, we kept getting immersed in this work and this mission kept getting bigger."
Wafa Abbas of Amber Foundation says: With the inspiration of Defense Minister Honorable Rajnath Singh Ji and our tireless efforts, all the projects of Amber Foundation like free eye camps, spectacle distribution and operations, free education of promising children and children of needy families, Collector Bitiya IAS. The mission of PCS coaching program is moving forward and new families are benefiting from it every day.
नोट:
अगर आपको यह खबर पसंद आई तो इसे शेयर करना न भूलें, देश-विदेश से जुड़ी ताजा अपडेट पाने के लिए कृपया The Lucknow Tribune के  

Facebook

 पेज को 

Like

व Twitter पर 

Follow

करना न भूलें...
-------------------------