NTPC Vindhyachal Celebrates 49th NTPC Raising Day with Grand Event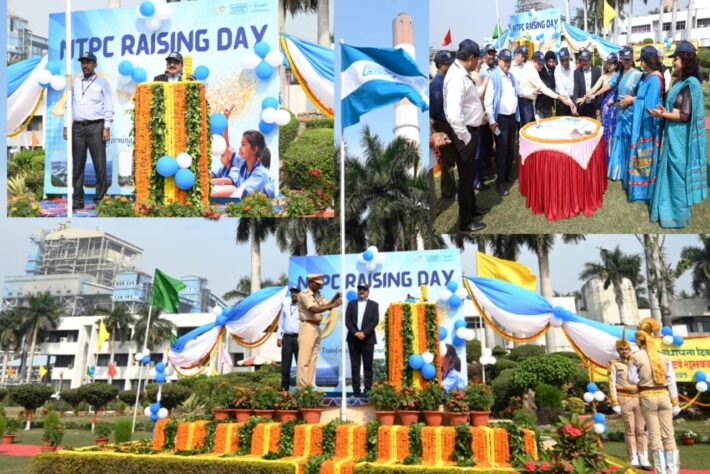 Ravindra Kesari
Vindhynagar: In commemoration of NTPC Limited Foundation Day, a grand event was organized at the administrative building in the NTPC Vindhyachal project on November 7, 2023.
The program, held on the NTPC Vindhyachal premises, featured the HOP (Vindhyachal), Mr. E. Satya Phani Kumar, hoisting the NTPC flag, and everyone present singing the NTPC anthem. Additionally, Mr. E. Satya Phani Kumar, the HOP (Vindhyachal), Mr. Rajesh Bharadwaj, General Manager (Operations and Maintenance), and other senior officials cut a ceremonial cake and released balloons into the air, expressing their joy and enthusiasm.
This grand occasion witnessed the presence of various dignitaries,Mr. Gurdeep Singh CMD, NTPC Limited addressed NTPC employees across all projects through a live telecast. Mr. Singh extended his heartfelt congratulations to everyone on NTPC Foundation Day, acknowledging the unwavering dedication and contributions of each NTPC member towards the company's unique growth in serving the nation. During his address, Singh shared insights on NTPC's achievements, expertise, and future goals. He discussed the company's role in energy generation, emphasizing its 24/7 electricity supply, safety at power stations, sustainable logistics, environmental compliance, energy transition, digitalization, and human resource development. Mr. Singh acknowledged NTPC's unparalleled contributions to the nation's development and urged employees to continue excelling in efficiency, reliability, and availability. During the webcast , all the employees attentively received his speech and noted his remarks.
Mr. E. Satya Phani Kumar, HOP (Vindhyachal), in his speech, mentioned that NTPC Limited is dedicated to fulfilling the electricity needs of the entire nation, was founded on November 7, 1975. He emphasized that NTPC's journey began with a coal-based power plant and had since expanded to a total installed capacity of 73,874 MW, encompassing coal, gas, hydro, small hydro, solar, and wind energy, as well as joint ventures. Among these, NTPC Vindhyachal stands out with a total installed capacity of 4,783 MW, making it the largest electricity production project in the country. Mr. Kumar highlighted NTPC Vindhyachal's significant accomplishment of producing 21,361 million units of electricity at an impressive 87.79% Plant Load Factor (PLF) for the financial year 2023-2024.
Furthermore, the event recognized and celebrated the dedication and invaluable contributions of NTPC employees. A total of nine employees were honored with the Power Excel Awards and Employee of the Year Awards to boost morale and acknowledge their significant contributions.
The program was managed by Rakesh Arora AGM (HR) and Ms. Kamna Sharma, Senior Manager (Human Resources) along with HR team and vote of thanks was delivered by Mr. Prabir Kumar Biswas, General Manager (Human Resources).
The NTPC Vindhyachal celebration not only marked the Foundation Day but also highlighted the remarkable journey of NTPC Limited in serving the nation's energy needs and its ongoing commitment to sustainability and excellence.
नोट:
अगर आपको यह खबर पसंद आई तो इसे शेयर करना न भूलें, देश-विदेश से जुड़ी ताजा अपडेट पाने के लिए कृपया The Lucknow Tribune के  

Facebook

 पेज को 

Like

व Twitter पर 

Follow

करना न भूलें...
-------------------------