Om Prakash Rajbhar keeps his next move under wraps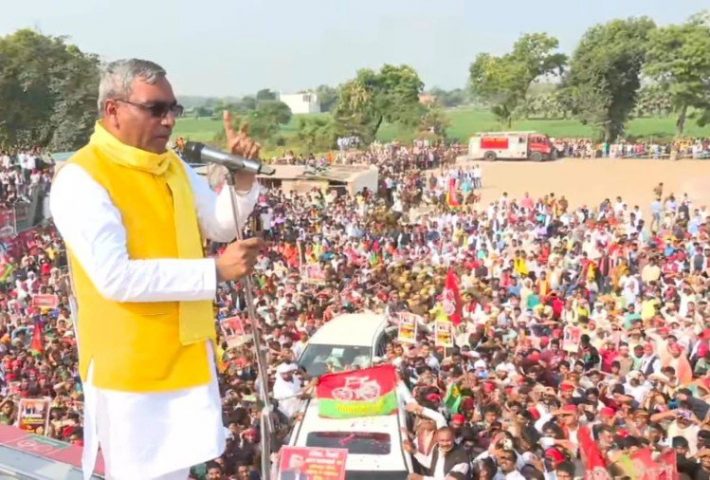 Lucknow: With the announcement of the dates for the 2022 UP assembly elections, the countdown for the elections has started. Meanwhile, BJP state vice-president Dayashankar Singh's visit to the house of SBSP President Om Prakash Rajbhar has become a topic of discussion in the political circles, which is now being interpreted differently.
Dayashankar Singh's third meeting with Rajbhar
Actually, BJP leader Dayashankar Singh has met Omprakash Rajbhar thrice in the last one month. On Saturday, Dayashankar's meeting with Rajbhar lasted for three hours between the two leaders in a closed room. According to Rajbhar, Dayashankar only wants to make him talk to the Chief Minister, but he refused. Rajbhar said in clear words that his alliance is with the Samajwadi Party and will remain there. SP has given him respect. Akhilesh Yadav is giving full respect. The decision regarding the distribution of seats will also be taken by January 12.
Will Rajbhar join BJP?
Actually, there is also news that BJP wants Omprakash Rajbhar to return to BJP's camp and this is the reason why Dayashankar Singh is visiting Omprakash Rajbhar's house again and again. On the other hand, Rajbhar says that other big leaders of BJP want him to come with BJP again. However, he turned down the offer.
Voting for the first phase from February 10
Here, the Election Commission of India has announced the schedule of assembly elections for five states including Uttar Pradesh. Elections will be held in UP in 7 phases. Voting for the first phase will be held on 10 February, second phase 14 February, third phase 20 February, fourth phase 23 February, fifth phase 27 February, sixth phase 3 March, seventh phase 7 March and 10 March.
नोट:
अगर आपको यह खबर पसंद आई तो इसे शेयर करना न भूलें, देश-विदेश से जुड़ी ताजा अपडेट पाने के लिए कृपया The Lucknow Tribune के  

Facebook

 पेज को 

Like

व Twitter पर 

Follow

करना न भूलें...
------------------------- --------------------------------------------------- -------------------------------------------------------------------------------------------------------------------------------------------------