On Super Sunday, changemakers with a spark of excellence felicitated on National Book Fair Stage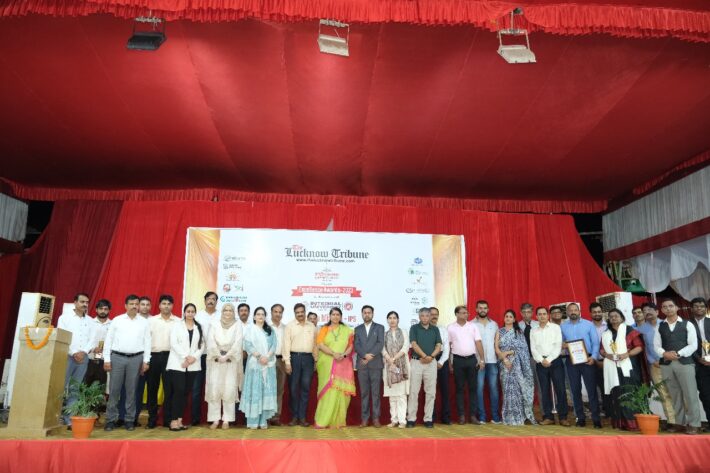 Lucknow: In today's virtual and hectic life with internet and mobile phones, the importance of stationary things has increased further. Along with book fairs, literary events should also be organised.
Enthusiastic responses are being received from book lovers, writers and stallholders of the heavily crowded 11-day National Book Fair going on at Balrampur Garden Ashok Marg.
In this fair with free entry based on the theme of Gyan Kumbh, where the creators and other personalities were honoured, the carefree voices of poetry also kept resonating. Former Director General of ASI, Dr. Rakesh Tiwari, who called the fair a meaningful annual event, bought books related to travels like Rog Birag in Ladakh, Arunachal Yatra, Civilization Ki Yatra Andher Mein.
Neil Gupta and Priyanshi Pal bought books like 21 Shakespeare Stories, Jaishankar Prasad Stories and Venus in First. Dr. Anant Shri Chaudhary bought the books Tragedy of Urdu Poetry and Pakistan's Shayari from Rajpal's stall while Radhika Pant bought a novel by Satyarth Prakash and Shivani along with two recipe books.
Devesh took books to crack management competition. Author Pankaj Prasun, who was awarded the Sahitya Ratna yesterday in the book fair, gave his poetic response and said – "Every year a wonderful fair is organized in our city, where reviews, criticism and discussions are held / people are immersed in the ocean of knowledge and science.
The four 'K's of literature – writer, reader, critic and publisher, are found under one pandal" Hindi Wangmay Nidhi's stall with 45 books published on Lucknow by local writers Shivani Chandra, Rupa Singh, Tamacha Lucknowi, Shishir Singh, Harish There are books by Kumar, Padmanath Pandey, Rachashree, Deepak Mehrotra Gapal, Dr. Karuna Pandey, Shikhar Joshi etc.
Rajkamal, Vani- Bharatiya Jnanpith, Rajpal, Divyansh Publication, Lokbharti, Prabhat Prakashan, Sangeet Natak Academy New Delhi, Hind Yugm, Samayik, Setu, Samyak, Prakashan Sansthan, Publications Department, Central Information and Broadcasting Department, Hindi Sansthan etc.  participated in the fair.  Along with this, there are stalls of Census Directorate UP, National Council for Promotion of Urdu Language, Urdu Academy Delhi, Sasta Sahitya Mandal, Gayatri Gyan Mandir, Vedic Sahitya, Urdu Academy New Delhi, Rampur Raza Library Publishers, Angel and many other publishers.
Ananya Dwivedi and Aadya Dwivedi gave a duet dance performance on Ganesh Panch Ratnam on the fair stage. Also, Ishnavi Patel, Adya and Kiranya Gupta gave dance performances on Manmohini Teri…, Kripalu Bhaj Man… and Bihari decorated in Man Mandir.
In the morning, a seminar was organized by Vishwa Sahitya Seva Trust and Nikhil Prakashan Group in which 108 writers were honoured. In this sequence, three books – Behavioral Addiction: A Comprehensive Perspective, Social Media: Digital Footprints on Mental Health and Process Addiction through Clinician's Lens, edited by Amity University's Assistant Professor Anshuma Dubey and Ayushi Gaur, were inaugurated by Prof. SHZ Zaidi and Dr. Krishna Dutt. Psychologists Dr. Neha Srivastava, Dr. Pooja Nahaur, Dr. Shweta Singh presented their views in the program conducted by Dr. Amita Dubey.
Guest Prof.  Zaidi and Dr. Krishnadutt described all three books as important. On behalf of the fair organizers and The Lucknow Tribune, at the Excellence Awards 2023 the chief guest was IPS Renuka Mishra along with Praveen Kumar Dwivedi, RK Sharan, Syed Md. Fauzan Akhtar, organizer KP Singh, fair organizer Manoj Singh Chandel and Akarshan Jain presented experts from health, education and agriculture sector namely Dr. Madhulika Singh, Dr. BP Singh, Dr. Upsham Goyal, Dr. Ved Prakash, Gaurav Bhardwaj, Dr. Nakul Sinha, Dr. Abhijit Chandra and Dr. Anamika Shukla etc. were decorated. Rakesh Mishra's book Kavi Ka Shehar was released on behalf of Rajkamal in the presence of writers like Dr. Harishankar Mishra and Akhilesh.
Late evening, a book launch and seminar program was organized by Khwahish Foundation. Organized by KT Foundation and Force One Books, the free entry book fair is partnered with Radio City, Vijay Studio, Join Hands Foundation, Bubchic, Origins, Star Technologies, Retrobee, Optikumbh, Magazine partners City Essence and Trade Mitra.
नोट:
अगर आपको यह खबर पसंद आई तो इसे शेयर करना न भूलें, देश-विदेश से जुड़ी ताजा अपडेट पाने के लिए कृपया The Lucknow Tribune के  

Facebook

 पेज को 

Like

व Twitter पर 

Follow

करना न भूलें...
-------------------------