Only BJP has talked of the poor says J.P. Nadda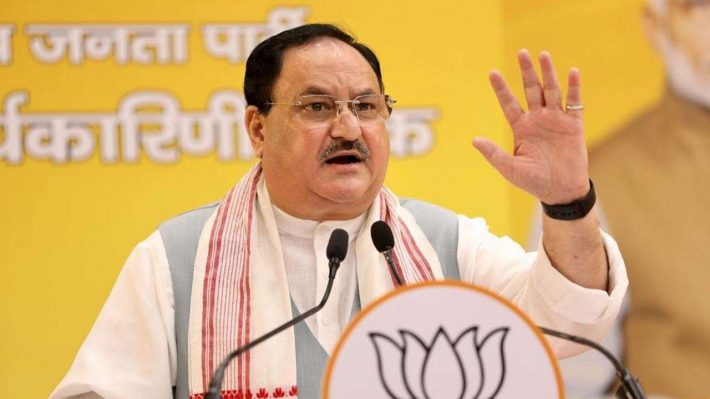 Bhadohi: Bharatiya Janata Party (BJP) President JP Nadda has said that Samajwadi Party (SP) President Akhilesh Yadav or former Congress President Rahul Gandhi, who was born with a silver spoon, has nothing to do with the problems of the poor, whereas the pain of the poor has nothing to do with poverty.
Under the leadership of Prime Minister Narendra Modi, who is closely watching, the BJP is working to bring the people standing at the last rung of the society including villages, poor, deprived, Dalits in the mainstream.
Addressing an election meeting in Sitamarhi, Bhadohi, Nadda said on Saturday that the Modi government has done the work of filling the plate of the poor. When Prime Minister Narendra Modi opened Jan Dhan accounts for the poor, the opposition was making fun of him. Akhilesh born with a silver spoon, Rahul said what will happen to the poor with a bank account.
He said that all political parties and politicians talk about elections in their own way, but except BJP, all the people giving speeches in front of you say that we will do this and that. Whenever BJP workers speak from the stage, they say that we have done what we said, they will do whatever they say.
Nadda said that we are asking Akhilesh ji what you have done for the people of Uttar Pradesh, but no reply is coming from him. When it is their job to open illegal arms factory and protect the goons, what will they do for the public?
He said that BJP is a national party and a party associated with ideas. Article 370 could be abolished from Jammu and Kashmir only because of your vote for BJP. It is because of your vote that Prime Minister Narendra Modi gave freedom to crores of Muslim women from the brunt of triple talaq. BJP President said that if any party does the work of bringing villages, poor, deprived, victims, oppressed, Dalits, people standing at the last rung of society, mothers and sisters, farmers, youth in the mainstream, then it is Bharatiya Janata Party. . The Samajwadi Party had betrayed the Nishad Party. While bringing Nishad Party into the mainstream, the BJP government is doing the work of giving respect to the words of Nishad Raj.
नोट:
अगर आपको यह खबर पसंद आई तो इसे शेयर करना न भूलें, देश-विदेश से जुड़ी ताजा अपडेट पाने के लिए कृपया The Lucknow Tribune के  

Facebook

 पेज को 

Like

व Twitter पर 

Follow

करना न भूलें...
------------------------- --------------------------------------------------- -------------------------------------------------------------------------------------------------------------------------------------------------