People who doubt existence of Lord Shri Ram and Lord Shri Krishna are casting doubts on Sanatan: CM Yogi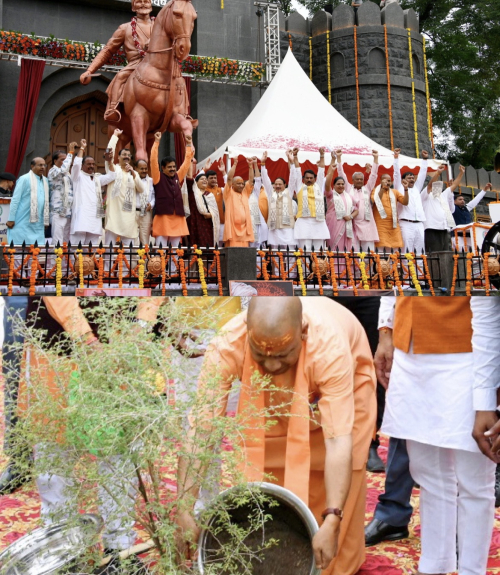 Indore :  Hitting out at Udhayanidhi Stalin, son of Tamil Nadu Chief Minister MK Stalin, for his controversial remarks on Sanatan Dharma, Chief Minister Yogi Adityanath said that people who believe in the tradition of invaders are insulting Sanatan Dharma.
Participating in the Shri 'Ahilyotsav' program organized on the 228th death anniversary of Lokmata Devi Ahilyabai Holkar at Rabindranath Natya Grih on Wednesday evening, Yogi said, "People who take pride in the traditions of Sanatan Dharma are actively engaged in the welfare of the people. At the same time, Sanatan Dharma is carrying forward the campaign of cultural nationalism with complete fearlessness. "Yogi Adityanath also took a swipe at the opposition alliance 'I.N.D.I.A.' and emphasized that those questioning the existence of Lord Shri Ram and Lord Shri Krishna are, in essence, questioning the foundation of Sanatan Dharma. He further stated that these are the same individuals who have historically disrespected India and its cultural heritage.
During this time, the CM said, "Just as Jagatguru Adi Shankaracharya had established four Peethas for the cultural unity of India, similarly, in the 18th century, Lokmata Devi Ahilyabai played an important role in uniting the culture of India."
CM Yogi Adityanath mentioned that the Shri Ahilyotsav Samiti has been on the death anniversary of Lokmata Devi Ahilya for 100 years, spreading her principles and teachings to the people.
He said that the present Kashi Vishwanath Temple is the gift of Lokmata Ahilya. "Lokmata had erected a magnificent temple in Kashi in the 18th century. She was the driving force behind the renovation of the Somnath temple. When you travel from North to South in India, you will discover that Lokmata Ahilya played the most significant role in preserving and enriching Indian culture, keeping it vibrant and alive.
CM Yogi Adityanath highlighted the significance of Ram Rajya as an ideal system in India. "Ram Rajya represents a system characterized by the absence of discrimination, where uplifting the person in the lowest position holds utmost importance."
He mentioned that when Mahatma Gandhi was asked about the type of state India should have, he advocated for Ram Rajya, a system deeply rooted in ancient traditions where the voices and concerns of common people were prioritized.
He claimed that Pandit Deendayal Upadhyay had also discussed Antyodaya, which is based on the idea of Ram Rajya. "He had stated that in order to advance India's economy, we would need to focus on those at the bottom rather than those at the top", Yogi said.
Former Lok Sabha Speaker Sumitra Mahajan, MP Shankar Lalwani, Mayor Pushyamitra Bhargava, Shri Ahiyotsav Samiti Chairman Ashok Kumar Danga and other dignitaries were present in the program.
नोट:
अगर आपको यह खबर पसंद आई तो इसे शेयर करना न भूलें, देश-विदेश से जुड़ी ताजा अपडेट पाने के लिए कृपया The Lucknow Tribune के  

Facebook

 पेज को 

Like

व Twitter पर 

Follow

करना न भूलें...
-------------------------