PM Modi in Kashi to drum up support for BJP in last phase polls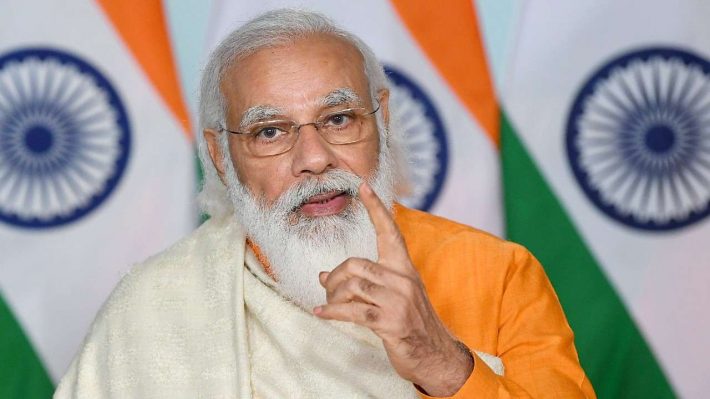 Varanasi: Prime Minister Narendra Modi will hold a road show in Kashi. Just a day before the campaign for the seventh phase of elections is over, the BJP has thrown its strength to make the roadshow historic. About a dozen Union ministers, including Home Minister Amit Shah, National President JP Nadda, have camped. Chief Minister Yogi Adityanath reached Varanasi to know about the preparations for the road show. BJP Kashi region president Maheshchand Srivastava said that the Prime Minister will reach Babatpur airport on Friday at 2.15 pm on a two-day visit. Before this, he will address a public meeting in Mirzapur.
The Prime Minister will land from the airport at the police line helipad in an army helicopter. From here he will go to rest at the Circuit House. He will leave for Maldahiya for a road show at 3.30 pm. The roadshow will begin with a conch shell after garlanding the statue of Sardar Patel at 4 pm. In the year 2014, when the Prime Minister had reached Kashi to contest elections for the first time, he went to the Collectorate to enroll in the Collectorate while doing a road-show from this place. BJP has given strength to repeat the eight-year-old historical show once again. Preparations are being made at every level. People are being invited. The Prime Minister's road show will end with Swastivachan at the Godauliya entrance of Kashi Vishwanath Dham via Maldahiya, Lahurabir, Kabirchaura, Maidagin, Chowk. The 3.2 km long road show will be completed in three hours.
After darshan-worship at Vishwanath temple, the vehicle will reach Lanka intersection via Godauliya intersection, Madanpura, Assi, Ravidas Gate at a slow speed. Here Mahamana will pay homage by garlanding the Malviya statue. After this, Naria, Sunderpur, Bhikharipur will reach the guest house located in Bareka campus. The Prime Minister will spend the night here. On March 05, he will go to address a public meeting at Khajuri in Sewapuri assembly constituency from here. The PM will interact with the enlightened people at Raman Niwas located in Mahmoorganj from 10 am to 11 am.
नोट:
अगर आपको यह खबर पसंद आई तो इसे शेयर करना न भूलें, देश-विदेश से जुड़ी ताजा अपडेट पाने के लिए कृपया The Lucknow Tribune के  

Facebook

 पेज को 

Like

व Twitter पर 

Follow

करना न भूलें...
------------------------- --------------------------------------------------- -------------------------------------------------------------------------------------------------------------------------------------------------