Politics overtakes development in Ghosi by – election says Yogi Adityanath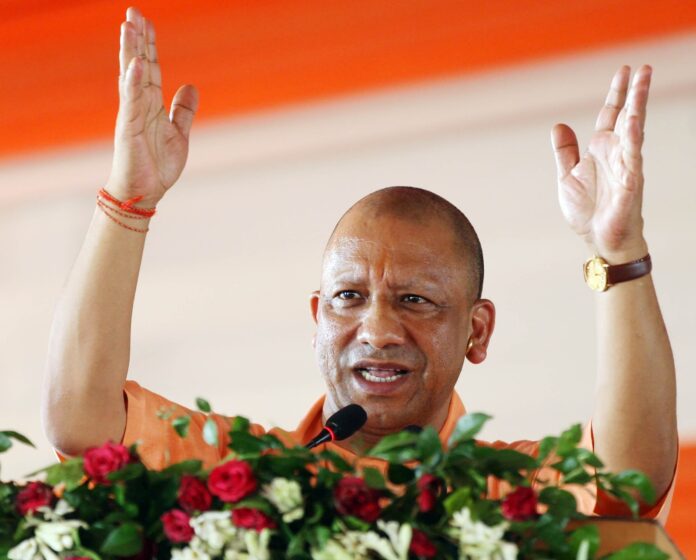 CM Yogi targets opposition at public meeting organised in support of BJP's Dara Singh Chauhan for Ghosi assembly by-election
Do not be misled by those with 'Nepotism' in their genes: Yogi
CM attacks SP: We took a stand against rioters when Mau was in flames
Ghosi: Launching a frontal attack on the opposition, Chief Minister Yogi Adityanath said that their main agenda revolved around advancing their own interests rather than the progress of Ghosi.
Addressing a public meeting organised in support of BJP's Dara Singh Chauhan for Ghosi assembly by-election, the Chief Minister said, "Only those who have seen the Mau riots of 2005 will understand the importance of Ghosi. During that period, the SP government was in power, but it appeared ineffective in addressing the situation. However, we, as a responsible force, took a decisive stand against the rioters, irrespective of caste divisions."
The CM continued, "Those who once instigated riots in this region now find themselves dependent on wheelchairs and begging for their lives."
He emphasized that while others discuss PDA (pichre, Dalit and alpashankhak), his government has diligently pursued "Sabka Saath, Sabka Vikas" (Development for All) under the guidance of the Prime Minister. This approach aims to establish a governance framework devoid of discrimination.
Describing Ghosi as a land of sages, he remarked that one's real character becomes evident during trying times. "During the COVID crisis, the character of Congress was not hidden from anyone, and the SP supremo was also hiding in his home. Then remember that Modi and Yogi were ready to serve you. Free vaccination doses were given out, and assistance was provided to the less fortunate. No one can now violate the rights of the poor, and everyone benefits equally from major projects."
CM Yogi pointed out lack of effort on part of SP in relation to sugar mills, while highlighting his government's commitment to expanding these sugar mills in Ghosi. "The Community Health Center, ITI, and Polytechnic in this Ghosi were all established during the tenure of BJP representatives", he informed.
CM Yogi also spoke about prior ban on Janmashtami celebrations during SP government, which the BJP has revived. He also discussed plans to connect Ghosi with the bullet train.
Taking a swipe at the SP further, CM Yogi commented, "These are the people who open fire at the devotees of Lord Ram, while we are dedicated to the construction of the Ram Mandir. Today, there are 4 lane roads in Ghosi. Whether it is Gorakhpur or Varanasi, we have built roads that have reduced their distance from Lucknow significantly."
CM Yogi pointed out that Congress and SP barely paid attention to this region, and he criticized the SP for changing the names of Bhimrao Ambedkar and Kanshi Ram University as per their convenience.
"What can be a bigger insult to great men than this? The Samajwadi Party sounded the trumpet of social injustice. Hate is in their genes. The talk of development coming from their mouths in this circumstance sounds absurd. During their rule, only a select few, including the chacha-bhatija and family members, thrived, while the state's development was hampered, resulting in a employment crisis for the youth."
He added: "Today, the double-engine government is working in the center and the state. Efforts are being made to take this pace of development to every village and every corner."
CM Yogi highlighted the BJP's success in civic bodies, where the party's flag was raised in all directions, securing victories in all 17 bodies. He called for the same results to be replicated in Ghosi.
Regarding Dara Singh Chauhan, CM Yogi said, "Subah ka bhoola shaam ko ghar aa jaye to use bhatka hua nahi kehte (someone temporarily strays or makes a mistake but ultimately returns to the right path or home, they are not regarded as lost or misguided). Dara Singh has also returned home and is a veteran of politics."
CM Yogi emphasized that the people of Ghosi do not need to seek help from anyone; his government is dedicated to serving them. "No one can come between you and Ghosi's growth. Only we can do this work."
He concluded by requesting cooperation from everyone for the region's growth and prosperity.
Apart from BJP candidate Dara Singh Chauhan, Surya Pratap Shahi, Om Prakash Rajbhar, Sanjay Nishad, BJP State President Bhupendra Chaudhary, Dr. Shankar Nishad, Ashish Patel, Anil Rajbhar, Sahajanand Rai, etc. were also present on the stage during the public meeting.
नोट:
अगर आपको यह खबर पसंद आई तो इसे शेयर करना न भूलें, देश-विदेश से जुड़ी ताजा अपडेट पाने के लिए कृपया The Lucknow Tribune के  

Facebook

 पेज को 

Like

व Twitter पर 

Follow

करना न भूलें...
-------------------------