Preserving culture of Tharu tribe is a focus area says Jaiveer Singh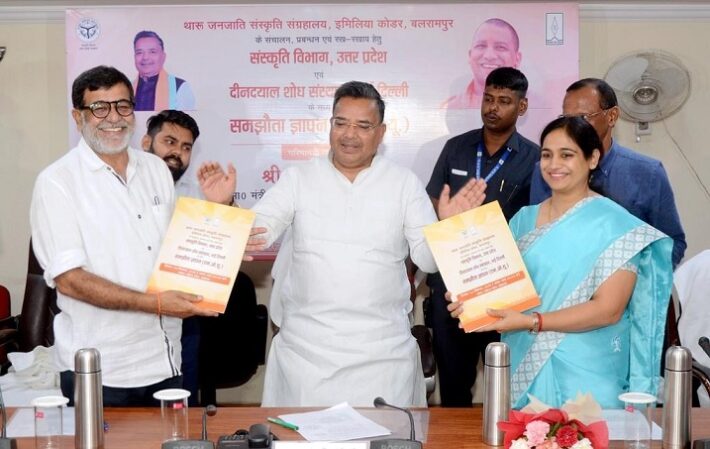 Lucknow: Uttar Pradesh Tourism and Culture Minister Jaiveer Singh said that the successful Chief Minister of the state Yogi Adityanath has made the history of Tharus immortal and preserved their heritage by preparing a long-term strategy for their social, economic and educational upliftment.
The work of bringing it to the ground is underway. He said that the sacrifice and contribution made by the Tharu tribe to save the culture and heritage of the country will always be remembered. The state government is committed to preserving the heritage of the Tharus.
Minister Jaiveer Singh was speaking on the occasion of execution of MoU between the Culture Department, Uttar Pradesh and Deendayal Research Institute, New Delhi for the operation, management and maintenance of the newly constructed Tharu Tribal Culture Museum in Emilia Kodar district Balrampur at the Directorate of Tourism.
He said that to preserve the beliefs, traditions and culture of the Tharus, this modern museum has been constructed on the border of Nepal. Now for the next thirty years it will be managed and maintained by Deendayal Research Institute, New Delhi.
The Tourism Minister said that the famous thinker Nana ji Deshmukh had lit a fire for the social upliftment of the forest dwellers and tribal communities. Nana did important work in the fields of agriculture and education and worked to connect the downtrodden and forest dwelling class of rural areas with the mainstream of development. He said that this museum will act as a place of inspiration for the new generation in taking forward the background of Tharu culture, heritage, food, clothing and their way of life. He said that the Tharu tribe had made an important contribution in saving the unity and cultural heritage of the country in the war with Maharana Pratap and the Mughal invaders 700 years ago.
On this occasion, Atul Jain, General Secretary of Deendayal Research Institute, New Delhi, said that this is a good opportunity to revive the history of Tharus and express gratitude for their contribution. He expressed his gratitude to the state government for trusting Deendayal Research Institute. Managing Director Ashwani Kumar Pandey appreciated the contribution of Tharu tribe. Director Tourism Prakhar Mishra said that this museum will also attract tourists and tourists will be excited to know about Tharu culture. Tourism advisor J.P. Singh also expressed his views on this occasion.
Dr. Srishti Dhawan, Director, Museum Directorate, Culture Department expressed gratitude to DDRI and the dignitaries present on this occasion. On the occasion of signing of the MoU, Deputy Director Tourism Kalyan Singh and Assistant Director Tuhin Dwivedi and other officers and employees were present.
नोट:
अगर आपको यह खबर पसंद आई तो इसे शेयर करना न भूलें, देश-विदेश से जुड़ी ताजा अपडेट पाने के लिए कृपया The Lucknow Tribune के  

Facebook

 पेज को 

Like

व Twitter पर 

Follow

करना न भूलें...
-------------------------